Tubes, tubes, tubes, tubes! What if I told you that you buy a classic 60's Stereo 70 style integrated amplifier, built to modern specs with all of the advancements in reliability and performance gained over the last 50 years, that can accommodate not only EL34s, but 6550 and KT88 beam triode tubes as well, for less than $2,000? Over the last few years after our good friend Walter Liederman took over control of LSA (Living Sounds Audio), LSA has introduced a host of amazing new products for both the Loudspeaker and Headphone market the latest of which is the LSA VT-70 Tube Integrated Stereo Amplifier/Headphone Amplifier. Having recently reviewed their LSA Discovery Warp One Stereo Amplifier and being a huge fan of tube amps, I was more than pleased to find out I would be given the opportunity to listen to and review the VT-70. This is one half of a two-part article, this portion dealing with VT-70 in a two-channel Loudspeaker system and the other half the VT-70 as a headphone amplifier can be found Here on our sister site Headphone.Guru.
LSA VT-70 Tube Integrated Stereo Amplifier/Headphone Amplifier: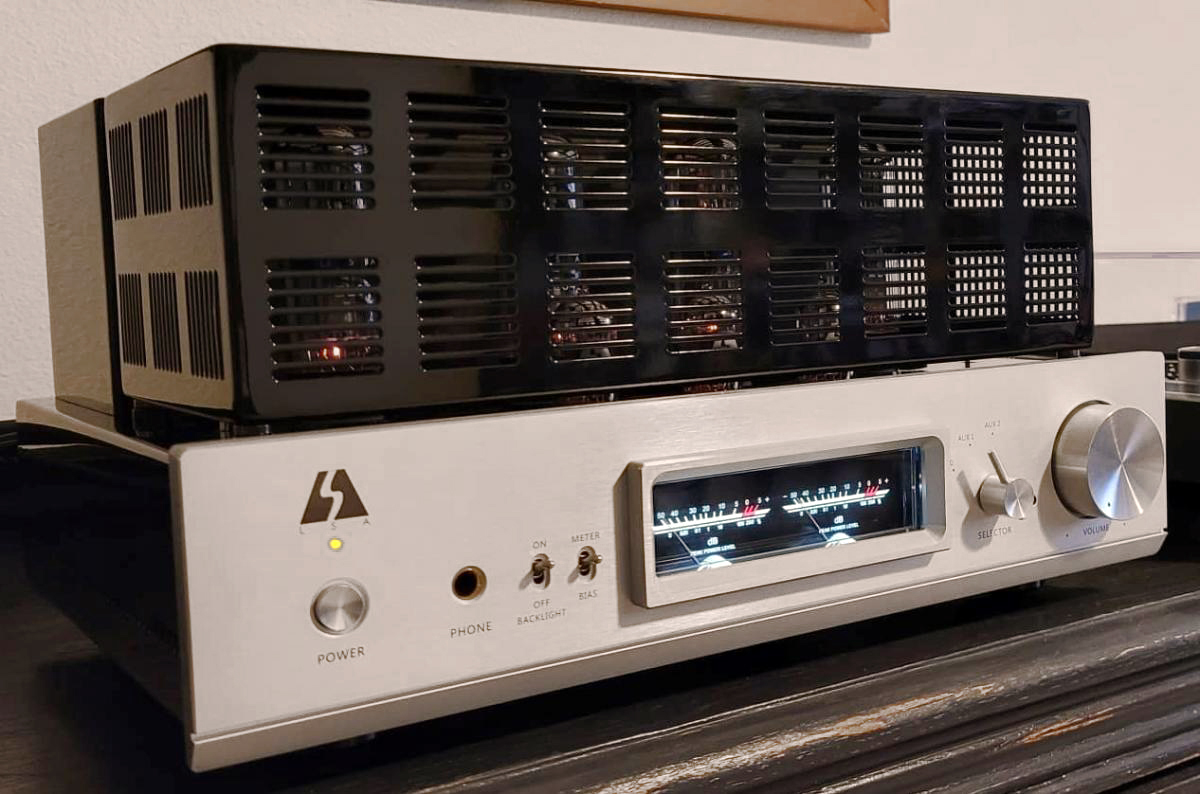 The LSA VT-70 Tube Integrated Stereo Amplifier/Headphone Amplifier is a classic Ultralinear Class AB 35 Watt per channel tube amp, featuring four EL34 tubes (6550s or KT88s can also be accommodated for tube rollers) with a pair of 12AU7s and one 12AX7 on the front end. A quick look inside shows that it is a blend of old vs. new with a balance of modern circuit boards and point to point wiring, which has the advantage of reducing production costs while maintaining sonic integrity, that along with the fact that it is sold Internet Direct from Underwood HiFi, is why the VT-70 can be offered at a fraction of the cost of other similar designs.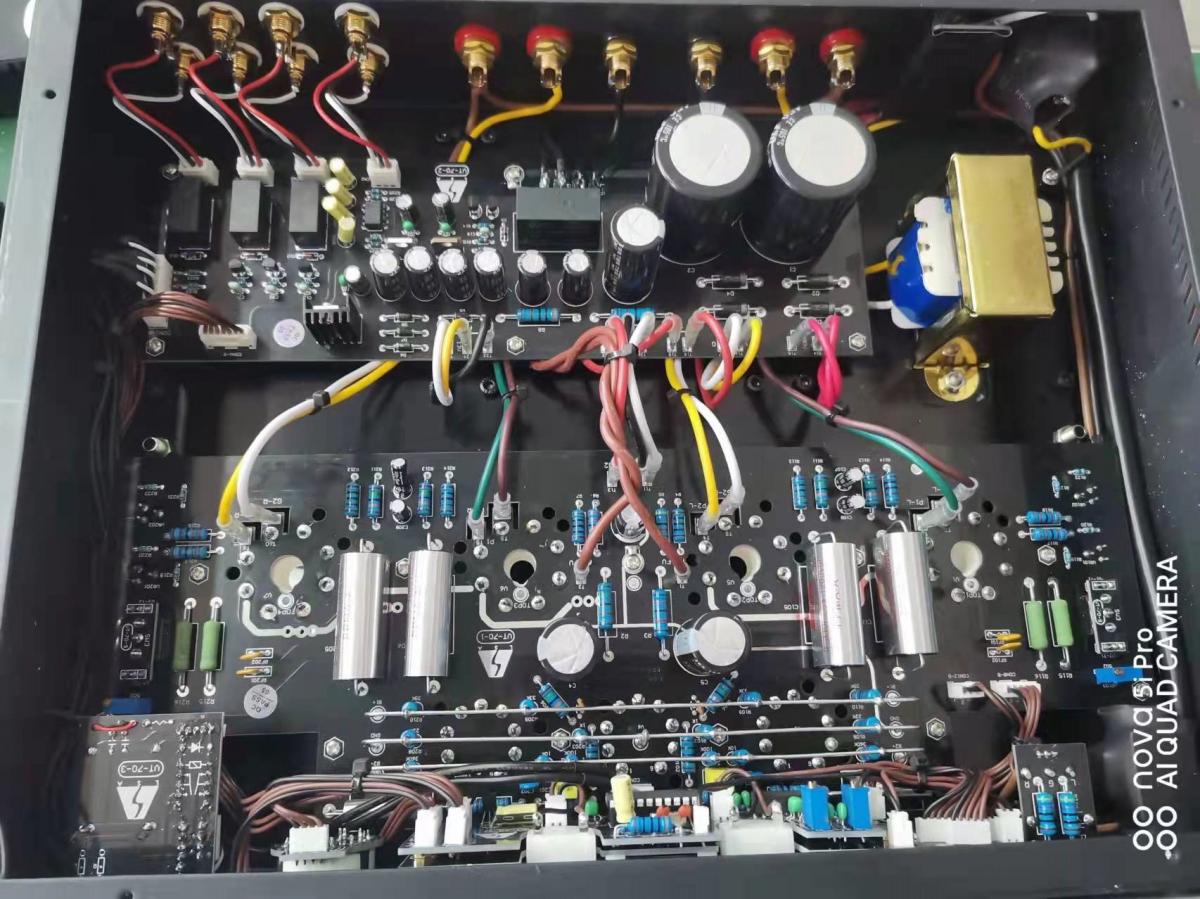 Appearance-wise it is simply gorgeous, with a piano black chassis, transformer covers, and tube cage, and a brushed aluminum faceplate and knobs, alongside chromed toggle switches, plus dual VU meters set in the center. Secured by banana plug style fasteners, the tube cage is easily removed to reveal ceramic tube sockets and the easily accessible bias adjustments. To make tube rolling a breeze, the VU meters double as bias adjustment meters as well as power meters. The tubes included in my unit were LSA branded so I cannot speak as to their provenance, but swapping out for NOS tubes of your choice can only make a great thing better. At some future date, I will probably swap out the EL34s for a set of KT88s and do a follow-up review.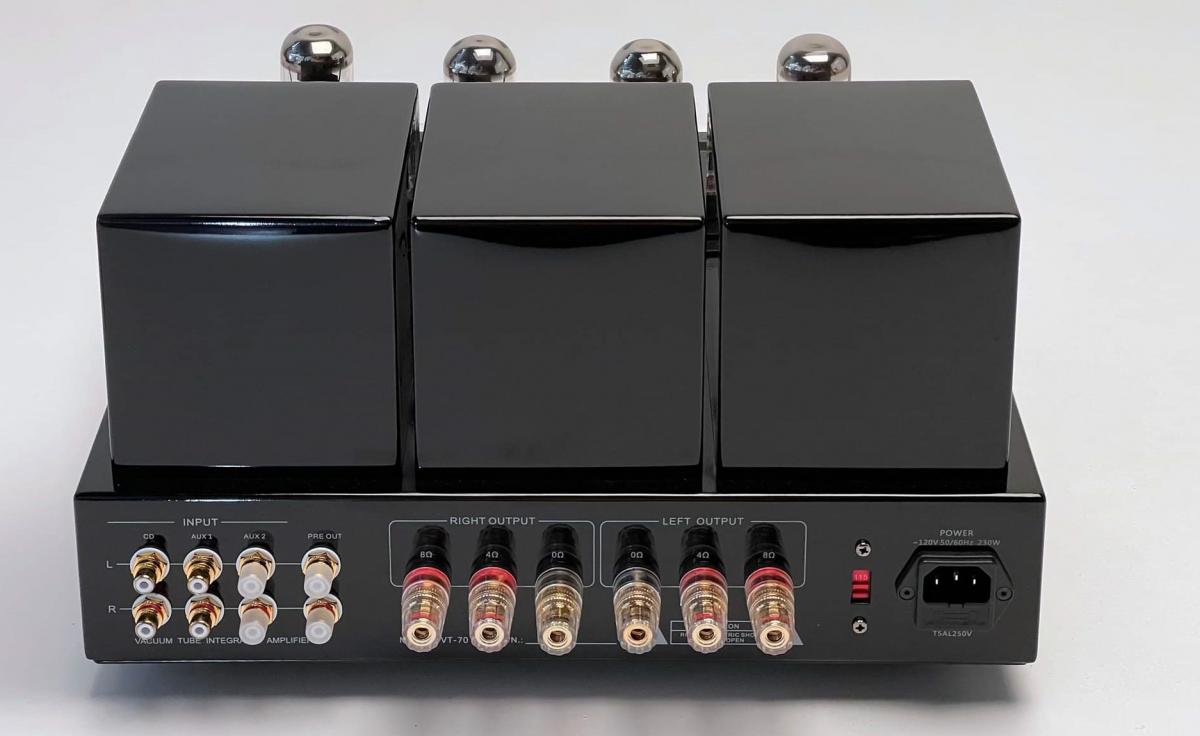 For layout, on the front panel you have (left to right facing the front panel) the power button (with a power LED directly above), a ¼" TRS headphone jack, a backlight switch (On/Off), a meter switch (Meter [VU]/Bias), the VU meters, the Selector knob (CD/Aux 1/Aux 2) which interestingly has a metal bar through it as indicator, the IR receiver, and the Volume control (with an LED inset as indicator). On the top, you have the three input tubes in the front row, then the power tubes behind that with the bias meter switches and ports to reach the bias controls to the right and left of those, and in the back the three transformer blocks. On the back (left to right facing the rear panel) you have the three single-ended RCA inputs (CD, Aux 1, Aux 2), the single-ended RCA preamp output (note: this is meant for use with a self-amplified subwoofer with its own built-in crossover, there is no crossover and the VT-70 is not meant to be used as a preamp and needs to be connected to speakers or headphones while in operation.), the speaker outputs (five-way binding posts with separate taps for 8 Ω or 4Ω), a 110/220 input voltage switch, and the power receptacle.  For accessories, the VT-70 includes a remote control with a metal housing (volume and mute only).
Living with the LSA VT-70 Tube Integrated Stereo Amplifier/Headphone Amplifier:
I was very excited to receive the LSA VT-70 Tube Integrated Stereo Amplifier/Headphone Amplifier because not only do I just love tube amps, it gave me an opportunity to run my prototype subwoofer with its own amplifier and electronic crossover (using the LSA Discovery Warp One and inline 50Hz low pass filters) which I threw together as soon as I unboxed the VT-70, putting on Genesis' "Can-utility And The Coastliners" ("Foxtrot" – DSD) and was instantly enchanted with the sound of the VT-70. The rig used for this review was my Audio-gd R2R-1 DAC as source, powered by a Core Power Technologies A/V Equi=Core 1000, and for cabling Cardas Iridium single-ended RCA interconnects, Cardas Iridium power cords, and a Cardas Clear USB cable, and for speakers I used my prototype non-resonant, bipolar, point source speakers, with and without the subwoofer.
I began my serious listening tests after completing my review of the VT-70 as a headphone amplifier for Headphone.Guru, and decided to start with a little jazz to wit "House of Arches" by Amir Bresler (24-bit/44.1kHz – Qobuz). The depth of soundstage was excellent and the drums sounded like they were in the room, with extremely fast attack and the bass was tight with layered resonant tonality. The electronic keyboards simply weren't to my taste, so I quickly switched to a different artist after sampling several songs.
My next experiment was country artist Jeremy Ivey's "Invisible Pictures" (24-bit/96Hz – Qobuz), the first track again opened with eclectic percussion, but the second track "Trial By Fire" consisted of acoustic guitar, piano, flute, strings, and vocal. Again the depth of field was spectacular as was the dynamics, with the guitar set about 6 feet away, with the vocals a bit behind that, and the piano further back still and the strings in the rear. As with everything I had heard so far, the musicality was immense, with a clear neutral tonal balance and a warm tight bottom end.
Switching to my regular test list, it was time to really pull out the stops and put on my 24-bit/96kHz vinyl rip of Robert Shaw and Atlanta Symphony Orchestra's performance of "The Firebird Suite" from "Stravinsky: The Firebird; Borodin: Music from Prince Igor". I needed to move a little forward to get the proper width of soundstage (a full orchestra is fairly wide), but the depth of field remained and the ability to see each musician sitting squarely in their seat separate from the others was palpable. The resolution and detail were exquisite offering up a great sense of space in a large concert hall.
Next up was Sonny & Cher and "I Got You Babe" ("Look At Us" – 24-bit/192kHz). Though the recording was mono, the feeling of attending a live stage performance was still there, and their voices were honeyed and sweet. The musicality of this amplifier is simply the best I have heard with these speakers.
Conclusions on the LSA VT-70 Tube Integrated Stereo Amplifier/Headphone Amplifier:
I am tempted to say that for the money this is the best amplifier I have ever heard, but that qualifier doesn't ring true as the LSA VT-70 Tube Integrated Stereo Amplifier/Headphone Amplifier is really just a fantastic sounding amplifier regardless of price. It is hard to imagine it sounding better, but I am pretty sure that switching to NOS tubes would only have a positive effect. My one regret is not breaking out my turntable, but I currently don't have the space, but as good as the R2R-1 is, I have no doubt that analog would have certainly been a magical experience so I may revisit at a future date, most likely when I am able to upgrade the tubes.
I am fully in love with the LSA VT-70. The liquidity and musicality of the sound are epic, and I can't wait to give it a try with KT88s, though financially that is a bit down the road. For the time being, the VT-70 will remain as my reference amplifier for all speaker tests not to mention personal listening. I cannot recommend this amplifier enough, dynamic, balanced, and musical with a huge three-dimensional soundstage and precision imaging at what is for a tube amp, pennies. Add on top of that a reference-quality headphone amplifier and it is the perfect solution for the budget audiophile.
Manufacturer's Website: https://www.underwoodhifi.com/products/lsa-amplifiers
Price: $1,199 (introductory price, regular $1,399)
Specifications:

Power Output: 35W + 35W (RMS 8 ohm)

Ultralinear design, Class A/B,
THD: 1% (1kHZ),
Frequency Response: 20Hz-40kHz,
Input Sensitivity: 200mV,
Input Impedance: 100k Ohm,
Output Impedance: 4 ohm, 8 ohm,
S/N Ratio: 88dB,
G.W shipped: 48 pounds

Amp weight 46 pounds
Power Consumption: 230W,
Tubes used: 12AX7*1, 12AU7*2, EL34*4, (can be used KT88 or 6550 as well)
Size: 14.75″w x 8.85″h x 11.5″d

2 year warranty and 6 months on tubes