Covid 19 caused a lot of issues with the economy, including the cancellation of Highend HiFi and Headphone shows causing a major crisis in the industry that still exists today. On the other hand, many people stayed inside and that helped the personal audio market as more people were working from home which increased sales of both headphones and personal audio gear.
Personally, I was dealing with the loss of my daughter Michelle and major health issues that resulted in in-hospital stays and not being able to attend many gatherings. Thank the good doctors at Deborah Heart and Lung for saving my life with heart surgery that makes me feel better each day, so for me, Axpona was a blessing to attend. Big hugs to the Underwood HiFi (//www.underwoodhifi.com/) team with both Wally and Mark helping us get to Chicago and Liz and Mark for working with us to make this a work and reunion tour for Gary and me to see old friends, and make some new ones.
Moon Audio
Drew Baird and his trusty employee Daryl were on hand showing some of the best in the higher-end brands that included dCS, TEAC, Aurender, and Chord. Drew also took about an arsenal of different high-end headphones to showcase all the best in DACs and music servers that sounded incredibly good.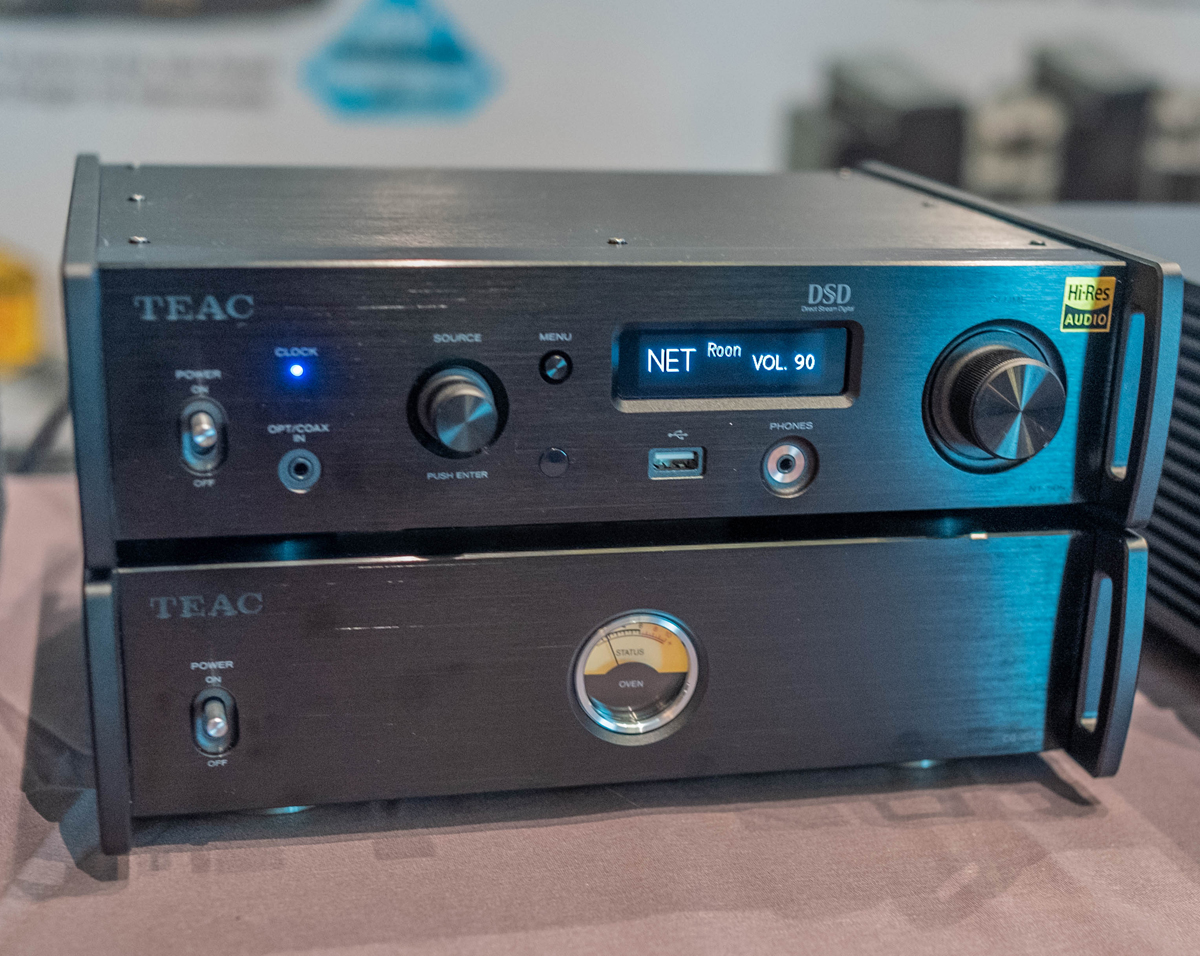 The TEAC NT-505-X USB DAC Network Player and CG-10M Master Clock Generator external clock, shown here, were priced at $2249 for the DAC and $1799 for the clock. Liquid sounding and able to decode anything thrown at it.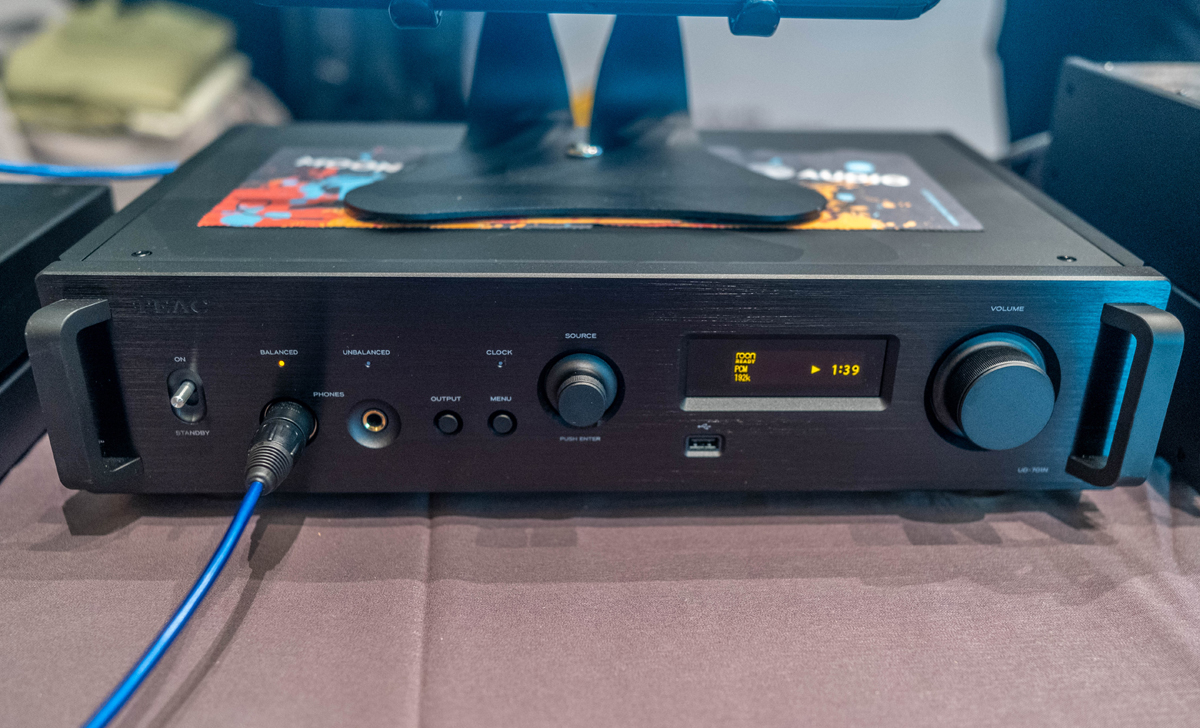 The TEAC UD-701N USB DAC / Network Player all-in-one piece that includes a headphone and streamer for $4299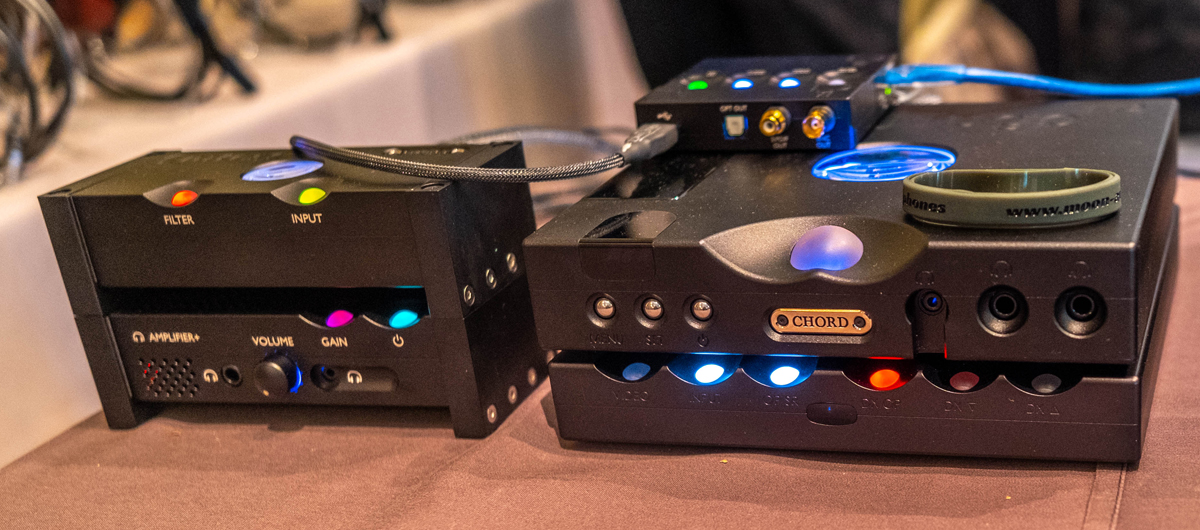 Chord's Qutest DAC $1945 and their $1795 Annie Desktop Integrated Headphone Amp, from the mind of Rob Watts, could also drive small speakers. Next to it, we see the Chord 2YU Digital Interface $745, Hugo TT 2 DAC & Headphone Amplifier $5995, and Hugo M Scaler $5295.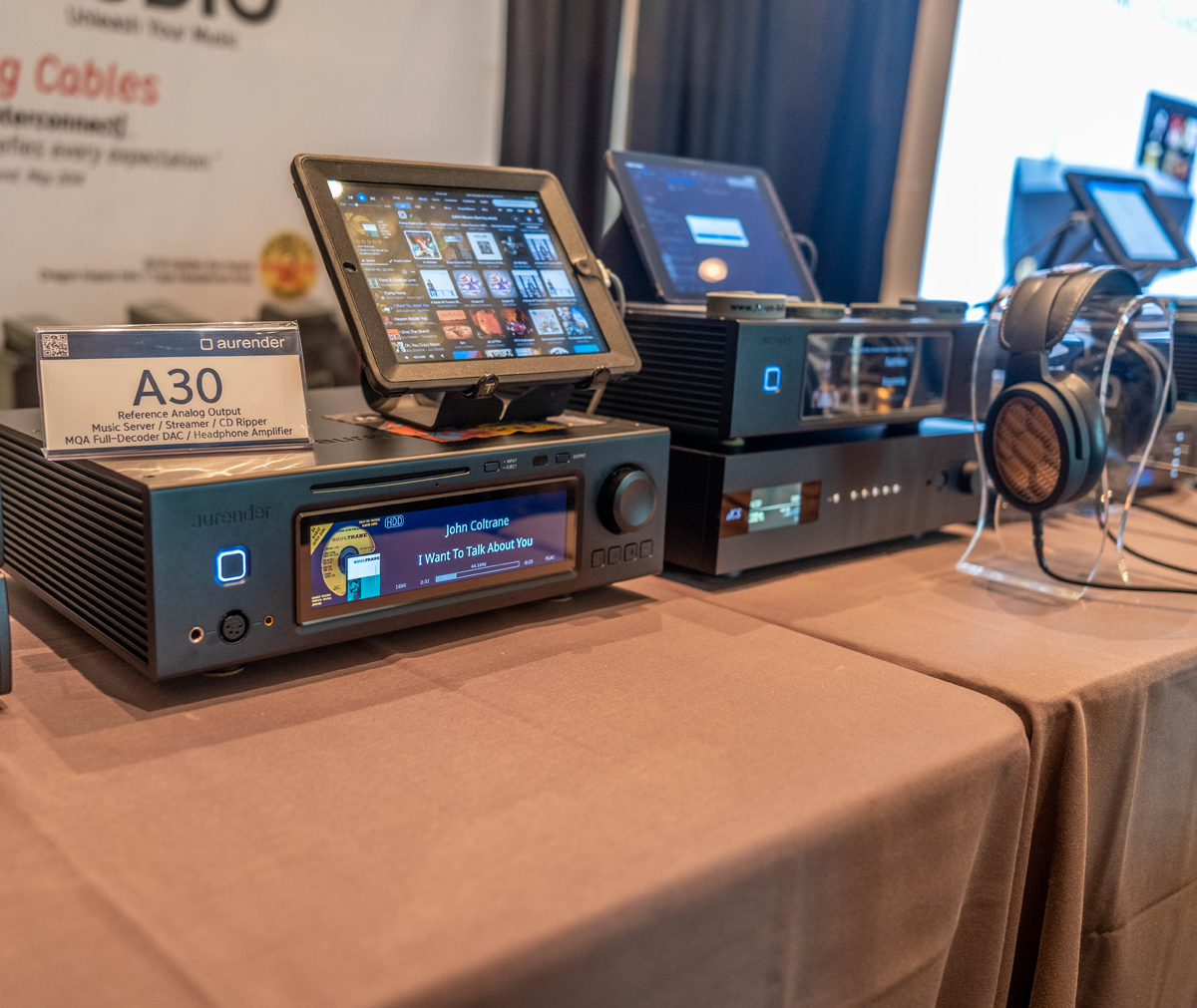 A30 Caching Music Server and CD Ripper is an Aurender reference analog output music streamer that decodes MQA and high-resolution files and can also rip CDs. The DAC is fully decoupled and includes a reference-quality amplifier. Priced at $18000 it provides musicality without compromise.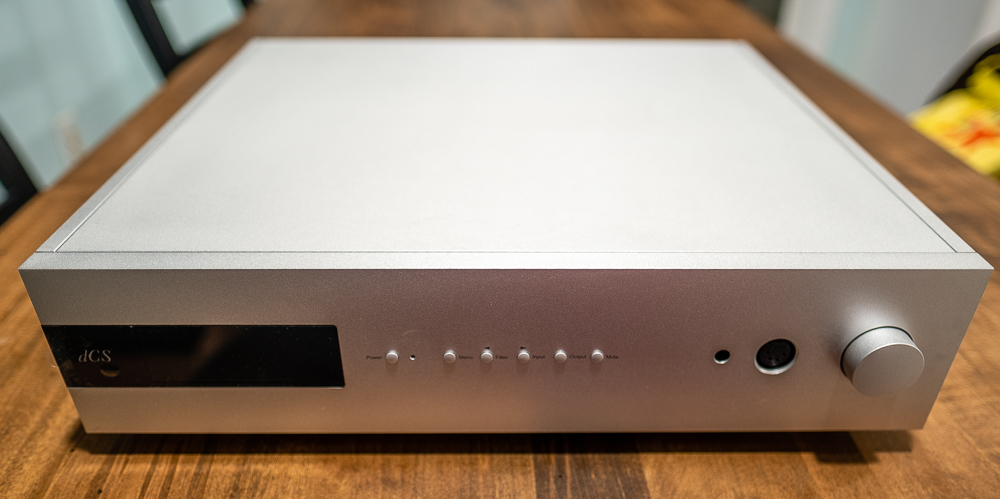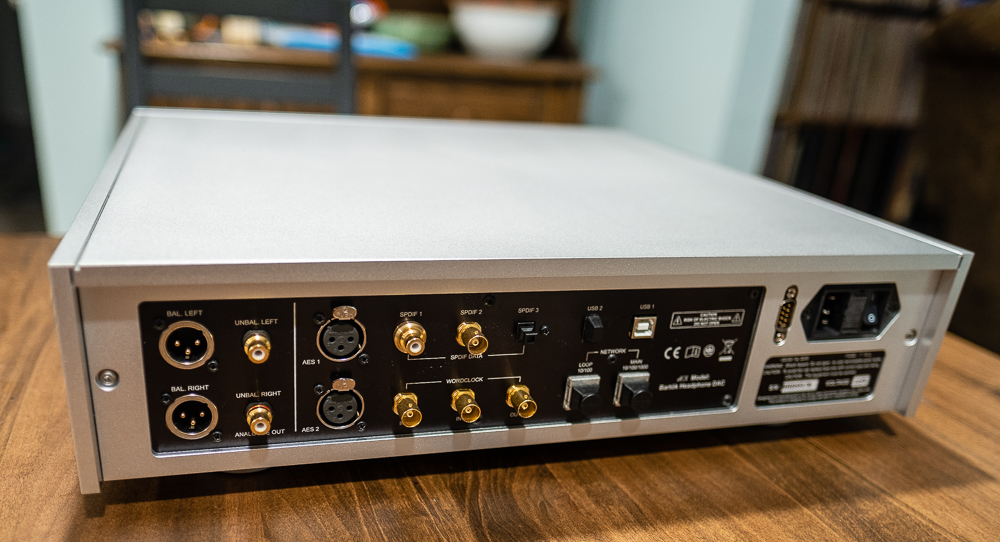 Drew had two dCS Bartoks on the table. Priced at $19950 it is one of the best dCS products and our product of the year in 2020. The Bartok uses their Ring DAC technology with high-quality headphone amps that reproduce music as recorded, uncolored and magical one of the finest products on the personal audio circuit. Reviewed here by myself you'll find complete details on what the Bartok is capable of, one of the best products I have ever reviewed in the last 10 years.
EarMen/Auris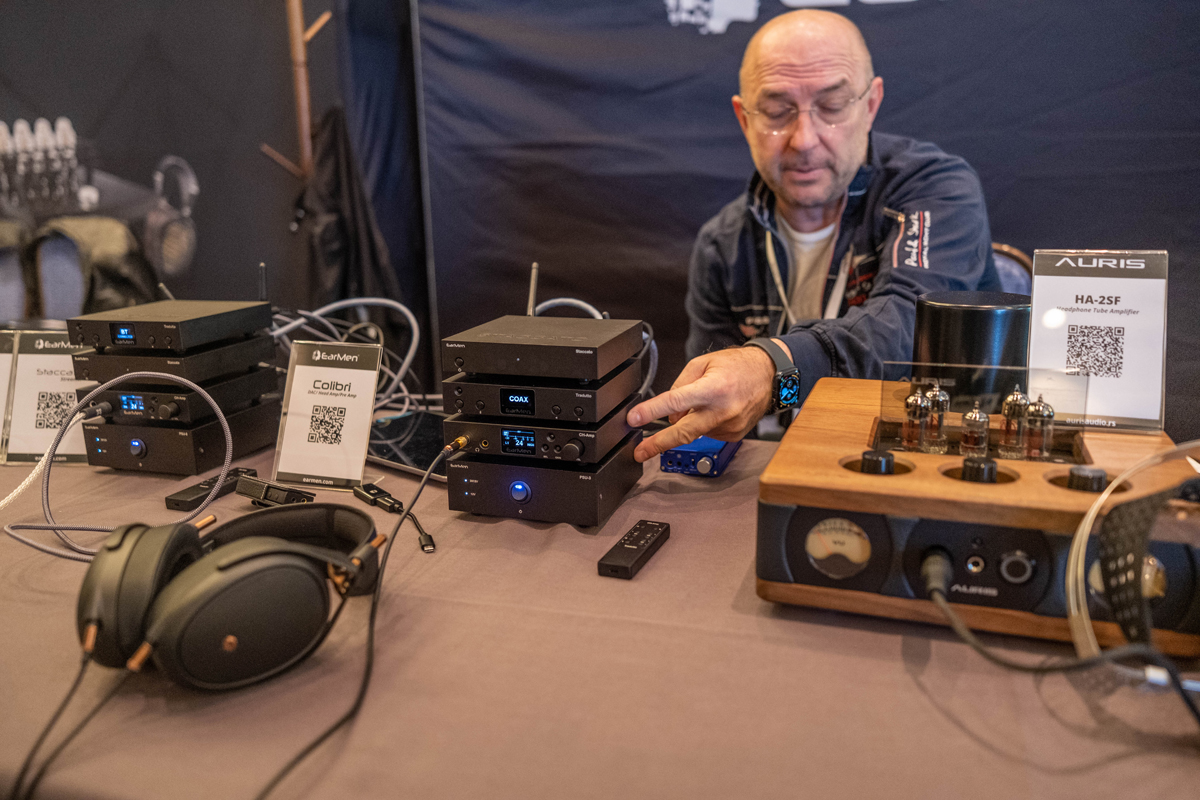 Miki Trosic founder of Auris and Earman was showing the Earman stack with his new Blue amplifier currently in production and priced at $800.
Wells Audio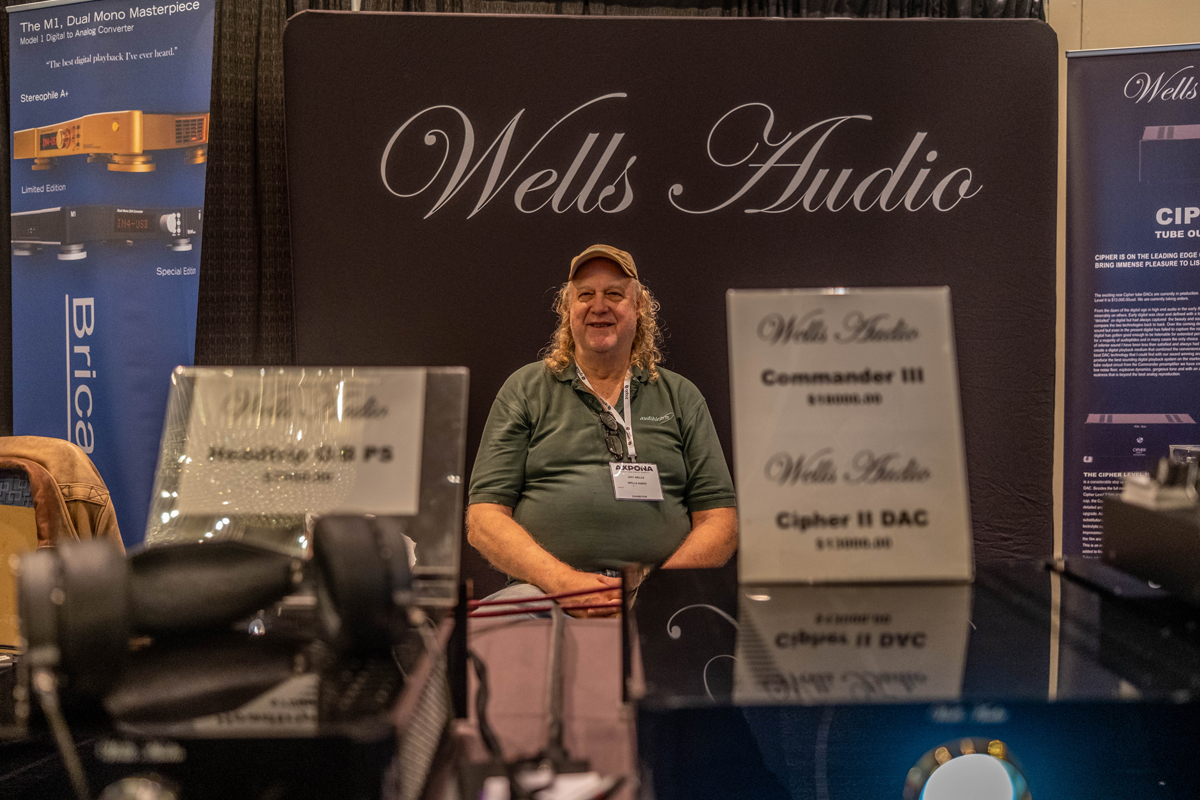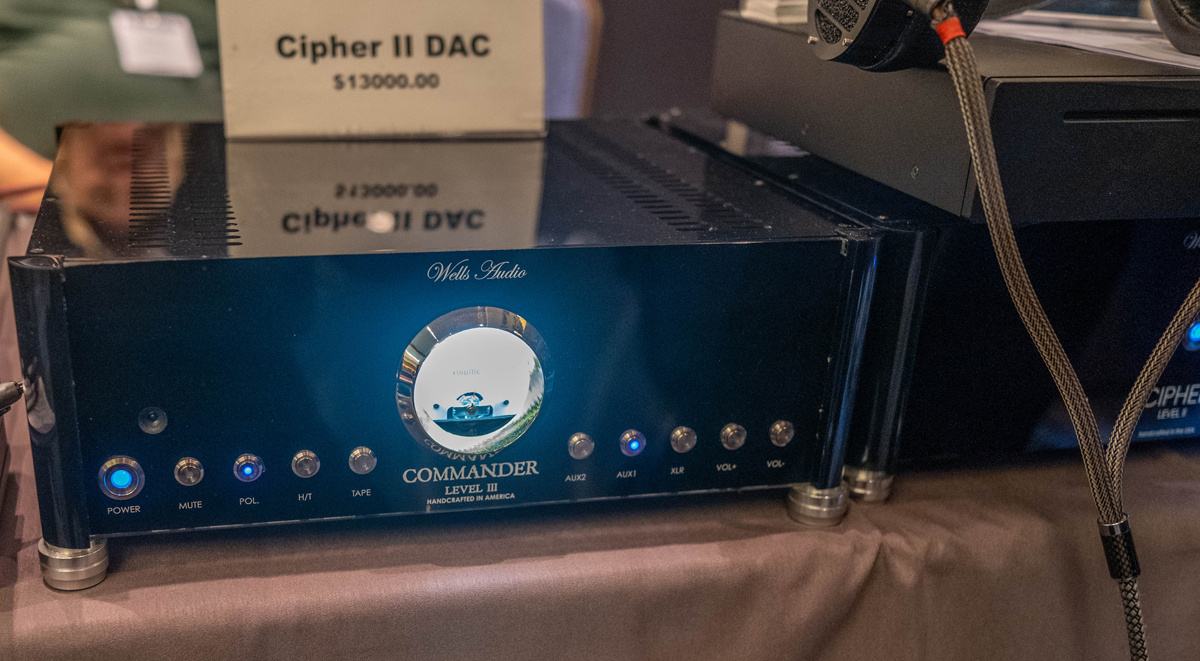 Jeff was showing his Wells Audio Commander II Level III Tube Linestage Preamp $18000 along with his beautiful Wells Audio Cipher II DAC reviewed here by Gary Alan Barker and priced at $13000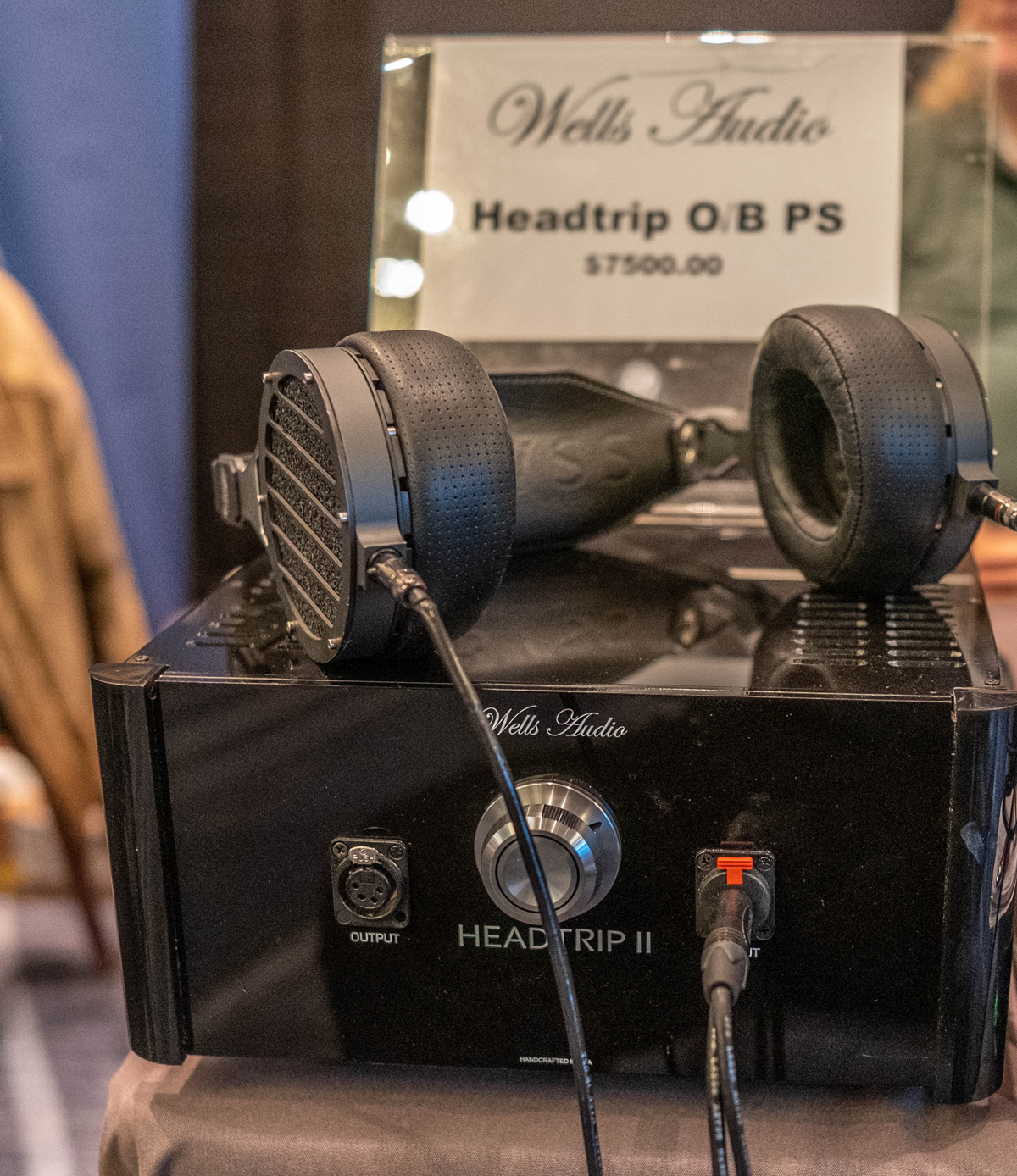 The Wells Audio Headtrip II is a no comprises amplifier that is pure music and will drive the most demanding headphones. Shown with the mighty Abyss headphones it produced stellar sound with exceptional musicality.
Mytek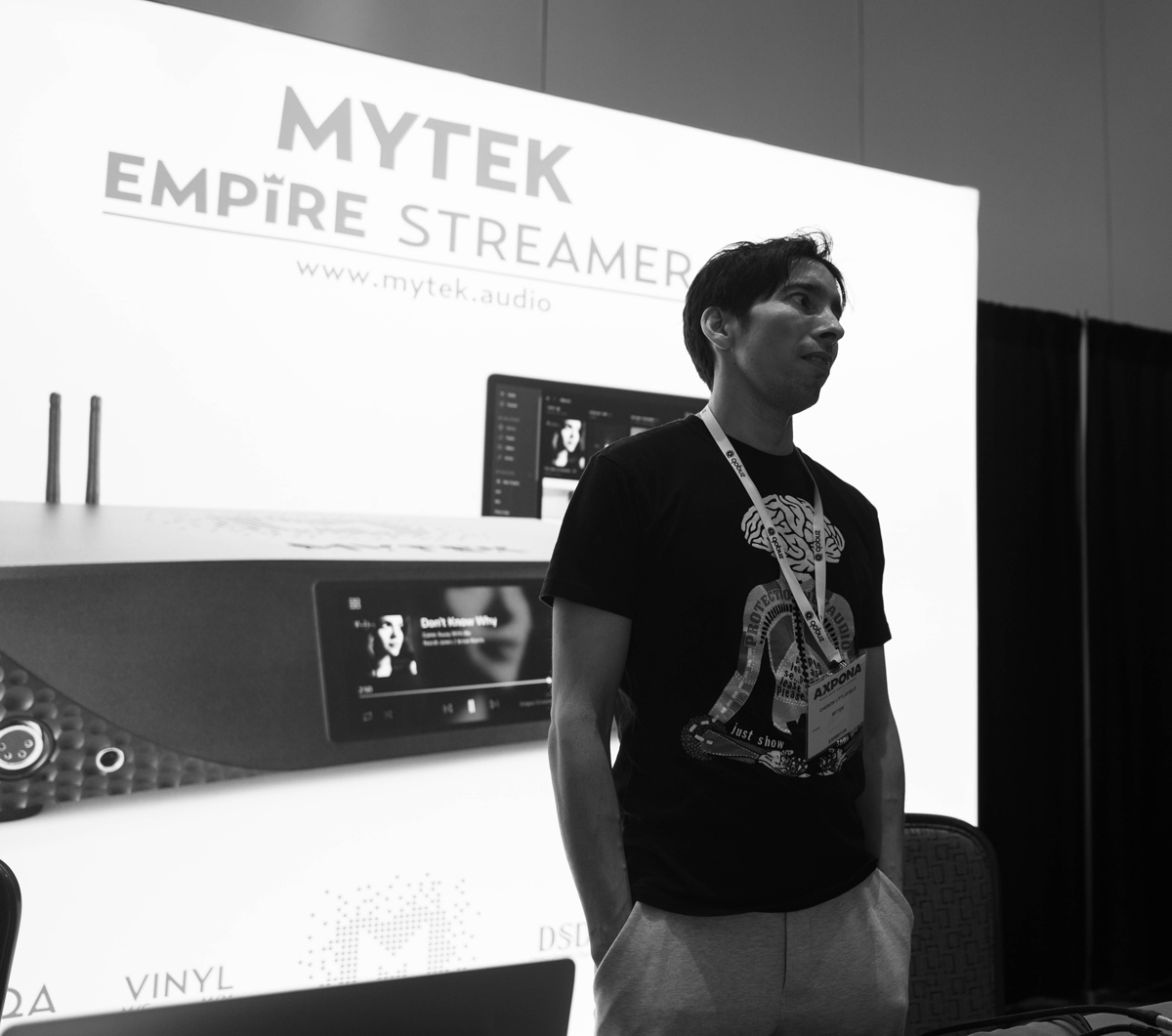 Choban was working both the booth and the room that Mytek had.

The Mytek Manhattan Bridge Roon Roon Core System/DAC/Headphone Amp Phono/Preamp is priced at $7995.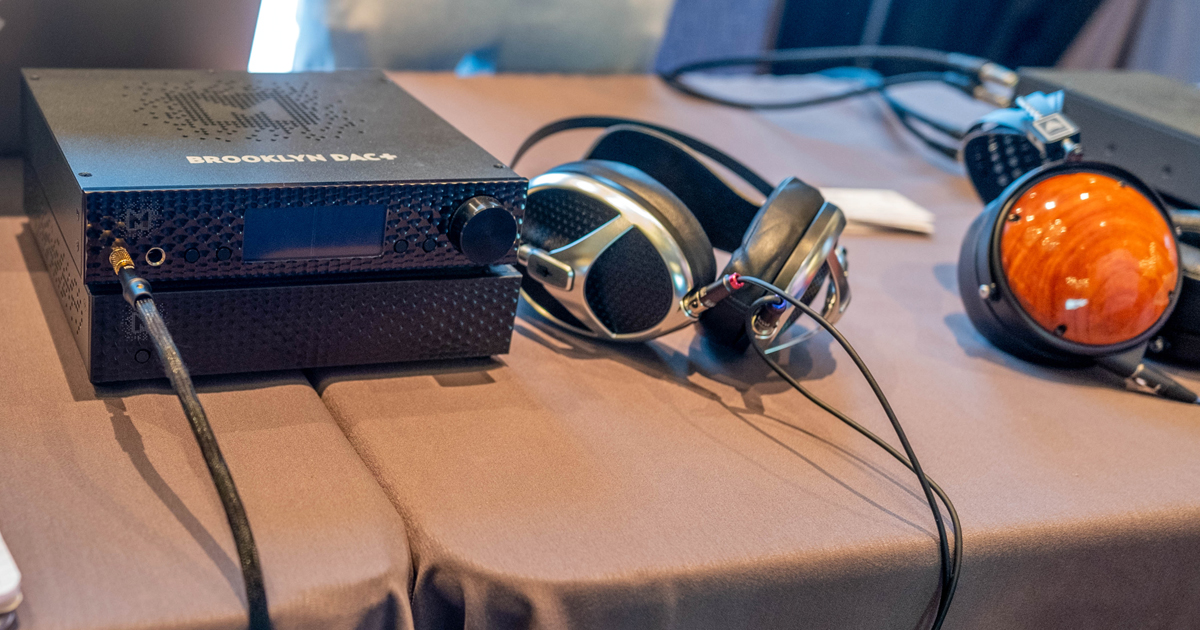 Mytek Brooklyn Bridge II Roon/Brooklyn Amp+ combination priced at $5995 for Dac /amp combo still sounds magical and works excellent streaming all your favorite music.
Swan Song Audio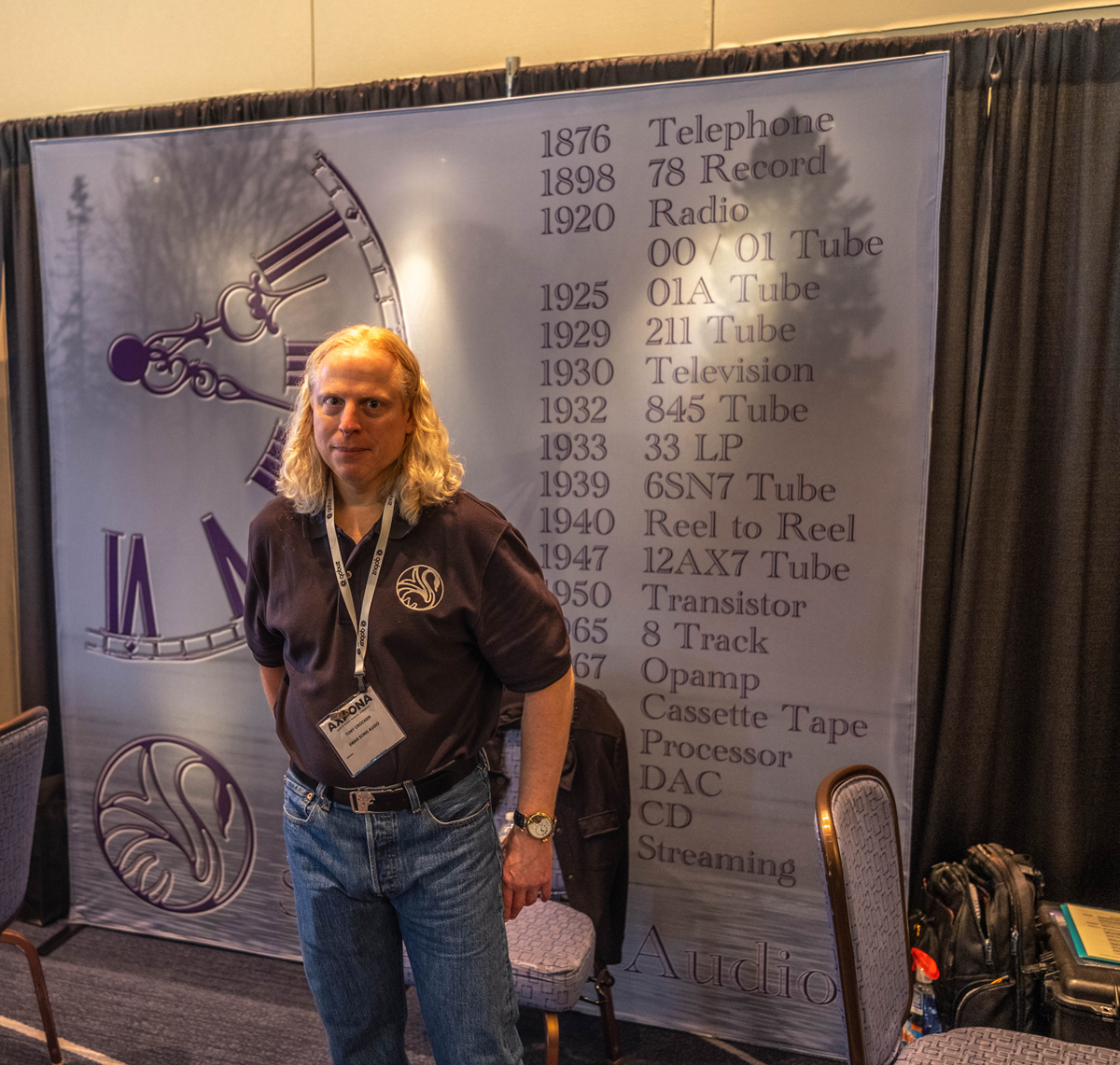 Tony chief designer and researcher for Swan Song Audio who develops and customizes all his products.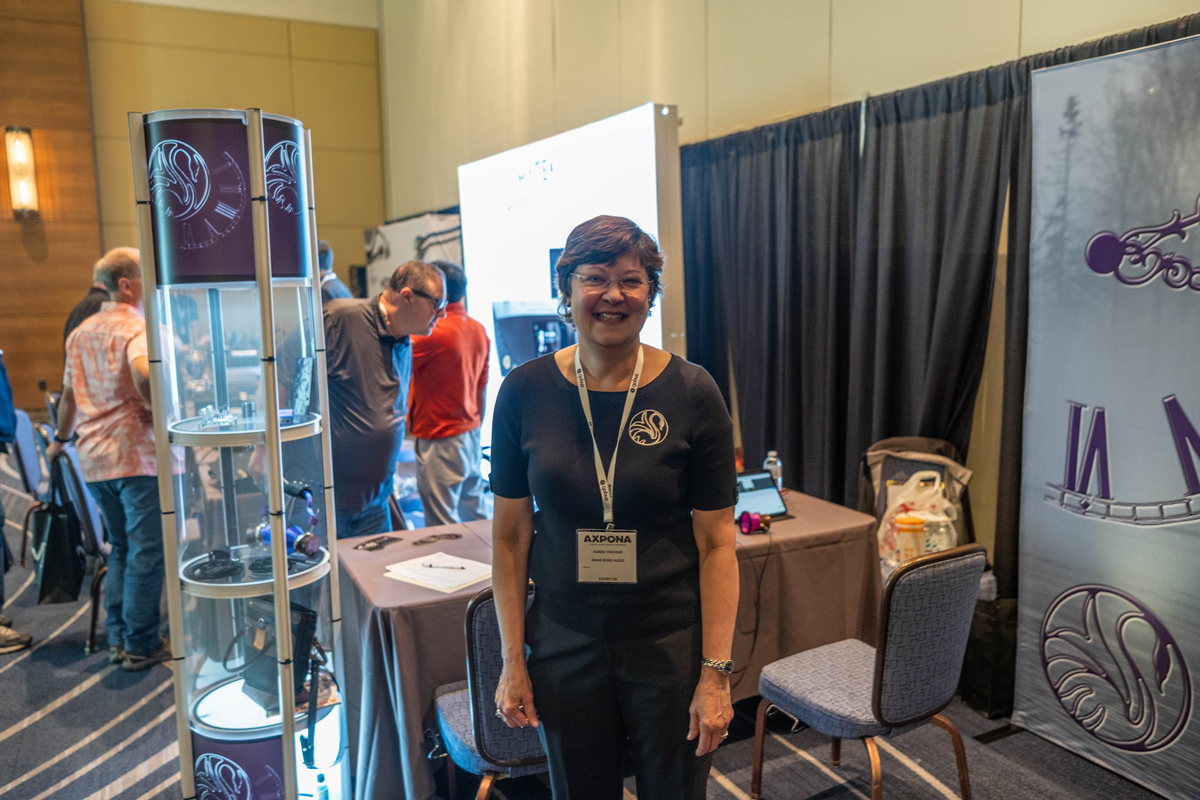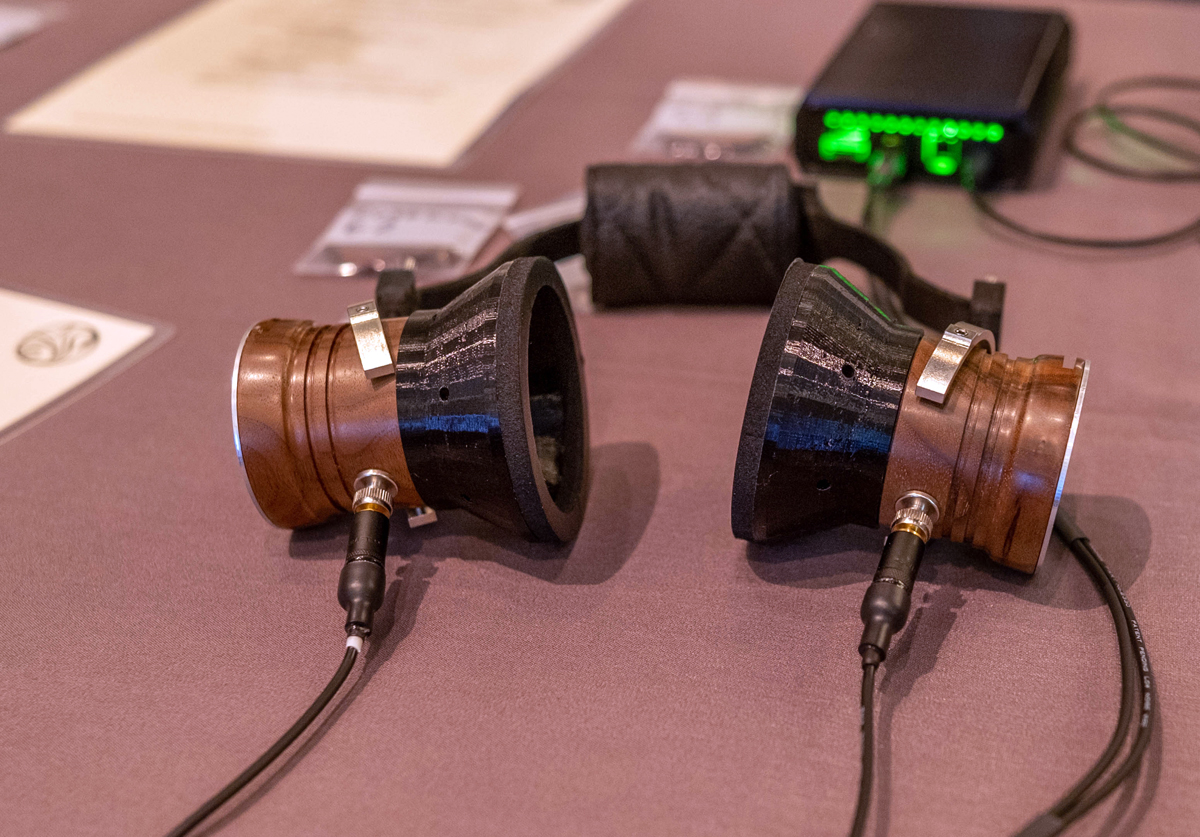 Swan Song Audio NHoord 40 MM Headphones for $1850 are tunable by the listener and are also offered in a 50MM driver version for a larger sounding soundstage with more musicality for $2250. The bass and treble extension are bigger sounding with a wider soundstage. Call Tony and he will design one for you based on your personal listening experiences.
HiFiMan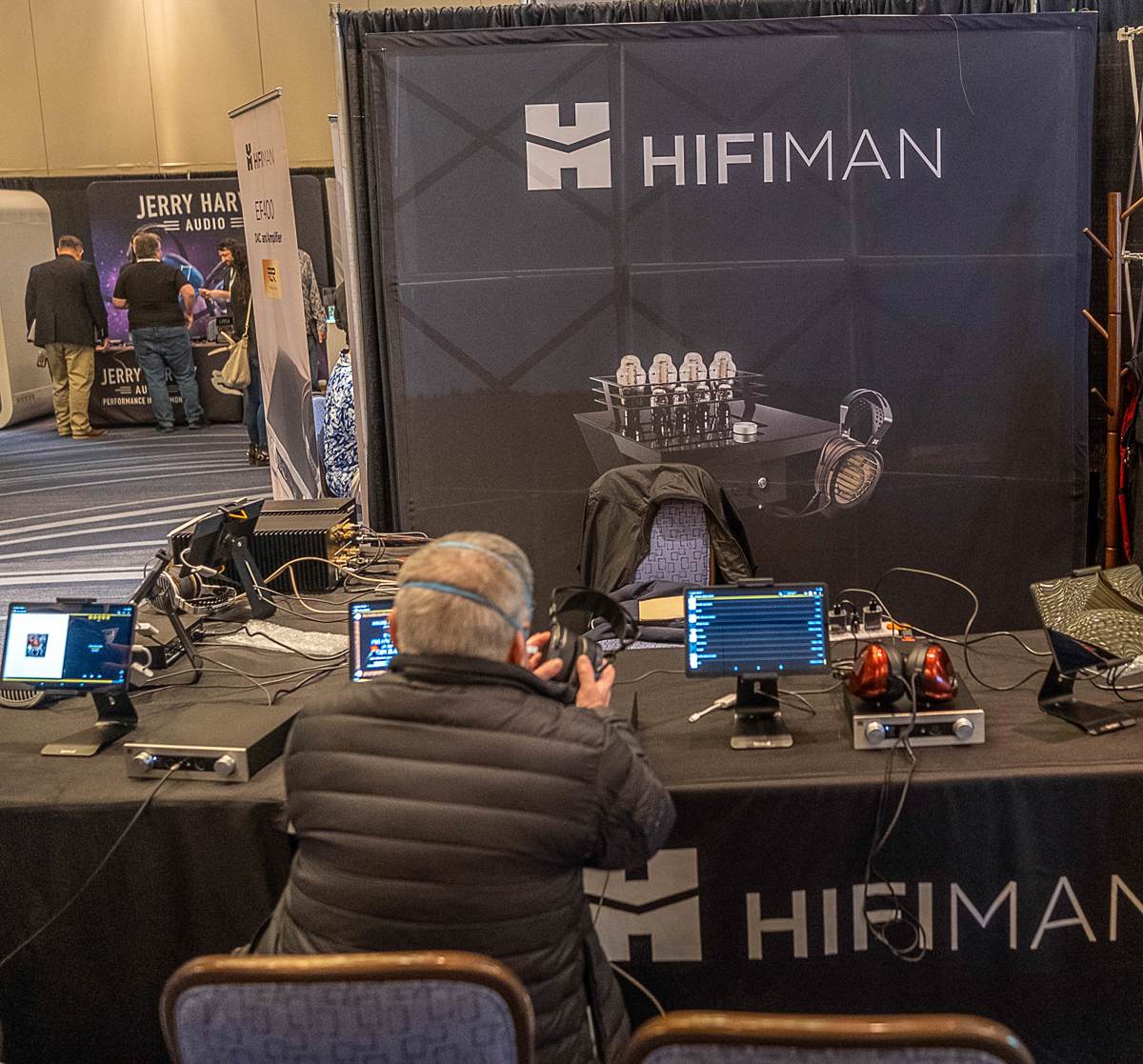 HiFiMan was there with their line of outstanding Headphones, DAC/Amplifiers, DAPs, and IEMs including their legendary HiFiMan HE1000se $3500 and HiFiMan SUSVARA $6000 Planar Magnetic Headphones as well as their class-leading HiFiMan SHANGRI-LA $50000 and HiFiMan SHANGRI-LA jr $8000 Electrostatic Headphones.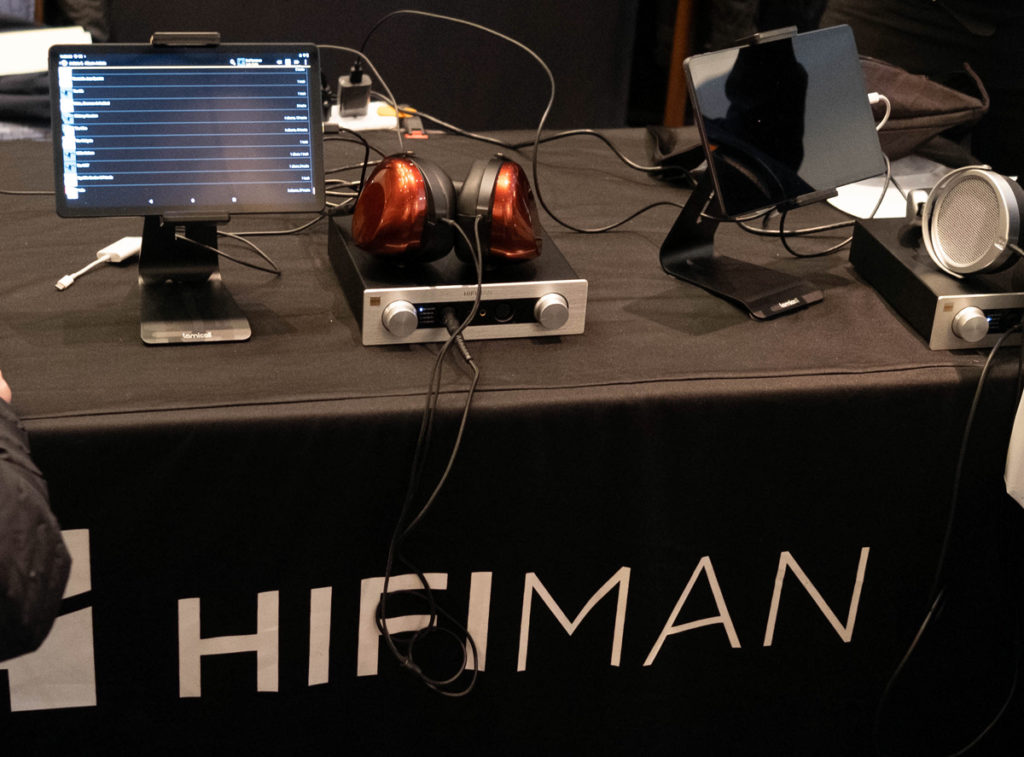 Of Special interest were their fantastic new HiFiMan Diva Pro $329 (with Bluemini R2R DAC/Amp see the review here) and HiFiMan HE-R9 $749 (with Bluemini R2R DAC/Amp) both available packaged with HiFiMan's incredible new HiFiMan Bluemini R2R DAC/Amp. They are pictured here playing through HiFiMan EF400 Balanced Desktop DAC/Amplifiers $599 which also incorporate HiFiMan's unbelievable HIMALAYA R2R DAC chip.
Focal Naim America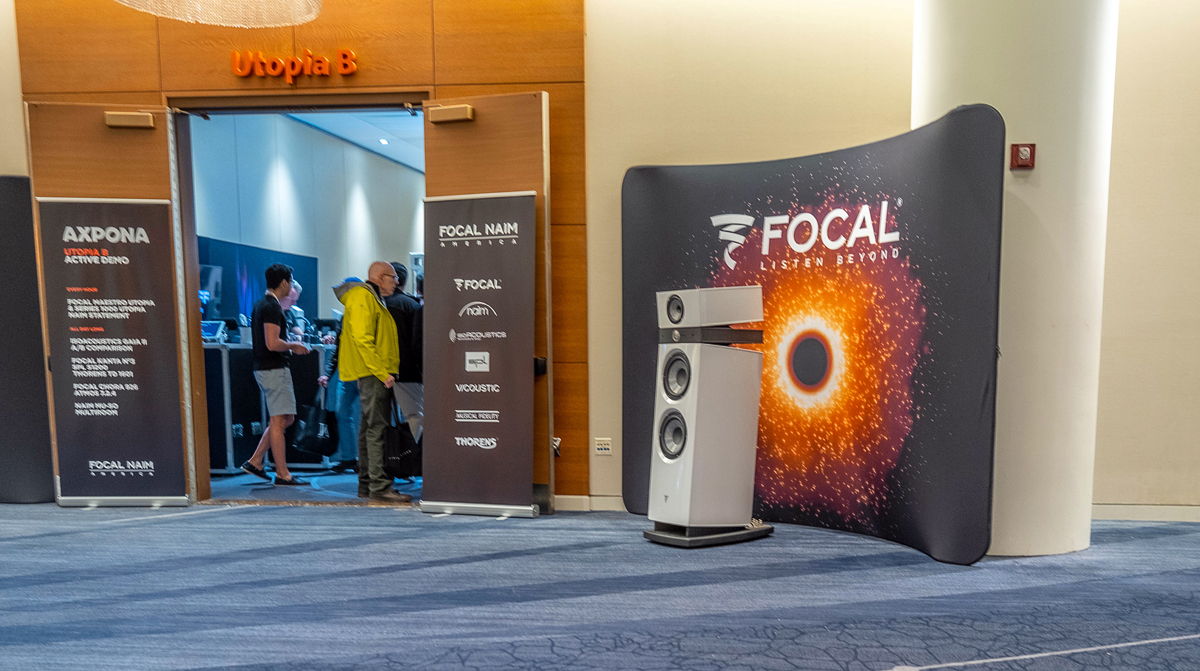 Focal was attending and it was great seeing all the good folks. I spent time chatting with Wendy Knowles and Romaine Vet from Focal. Gary Alan Barker is doing a detailed report on the room and products.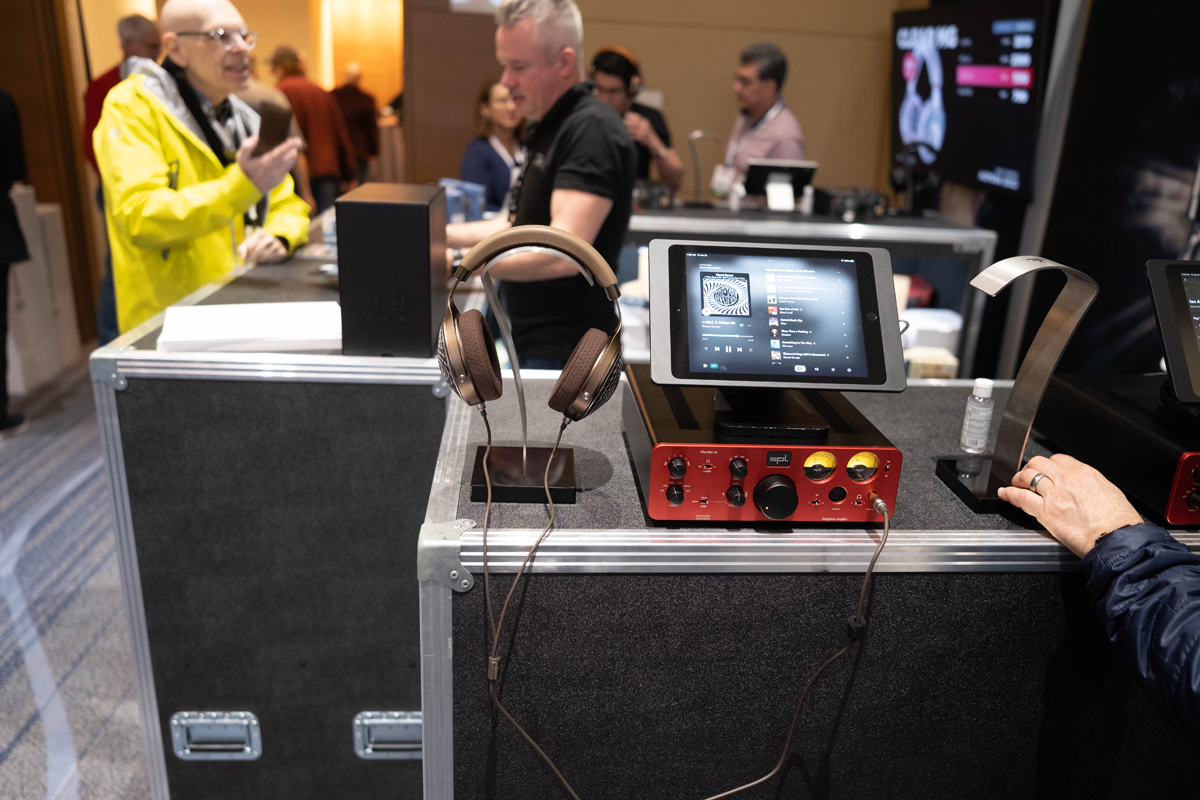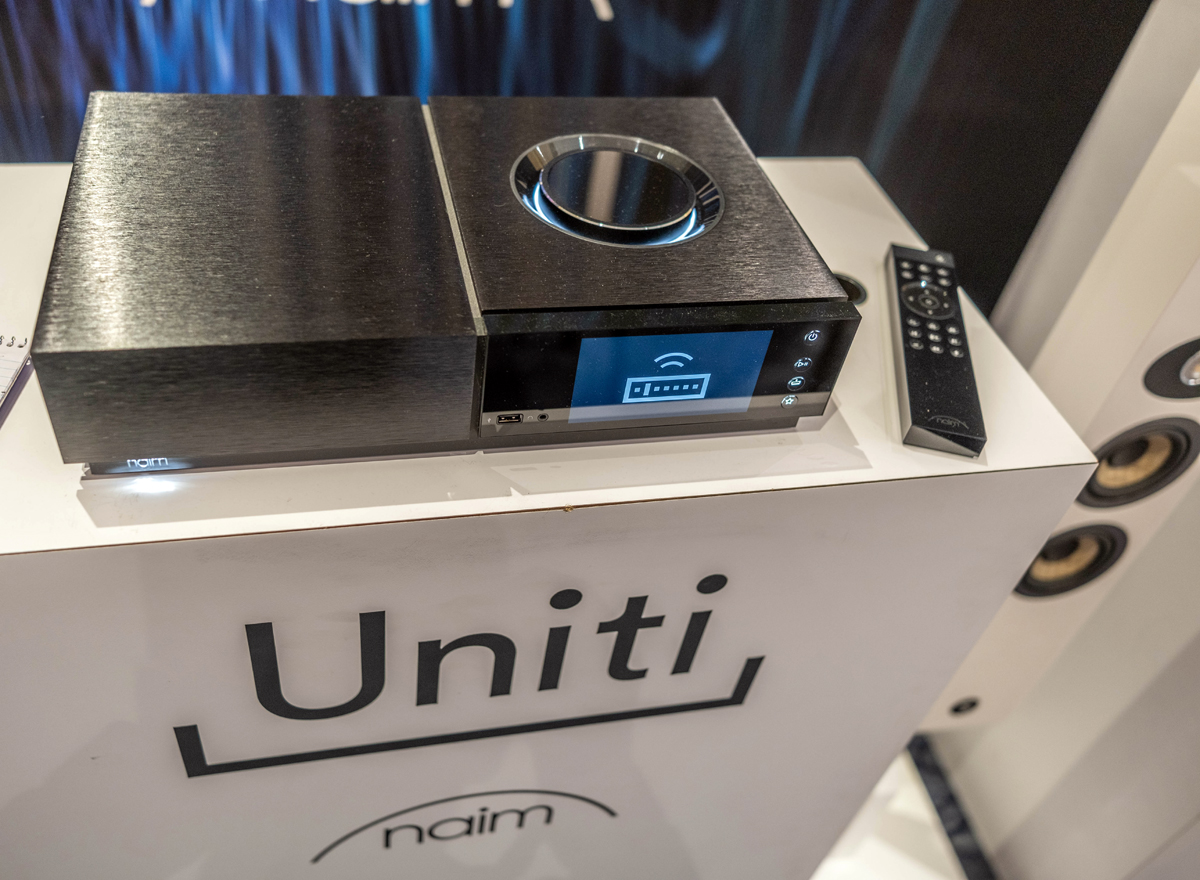 Unity priced at $3799 has a list of features and sounds incredible as an all in one solution from Naim

Full List of Features:
Chromecast built-in
AirPlay
TIDAL
Spotify Connect
Bluetooth (apt HD)
Internet Radio
UPnP (Universal Plug "n" Play)
Digital Input (S/PDIF)
Analog Output
Headphone Connectivity
Storage Connection
HDMI ARC (Standard Edition Only)
Multiroom Streaming
File Formats (WAV, FLAC, DSD, AAC, AIFF, Apple Lossless, WMA, Ogg Vorbis, MP3)
Wireless Updates
Roon Ready
Qobuz
Listening to Naim Atom and Utopia finished off my show coverage. Gary Alan Barker has more on this room. The Focal Utopia Headphone priced at $4399 is still one of the best sounding headphones on the market and pairing it with Unity makes it a memorable listening experience.
Stay tuned for Part 3 of our extensive AXPONA 2022 coverage, once again thanks to our good friend Walter Liederman of Underwood HiFi, https://www.underwoodhifi.com/ , the best place to find high-end audio at affordable prices.