Welcome to our continuing multi-part coverage of AXPONA 2022 once again thanks to our good friend Walter Liederman of Underwood HiFi, https://www.underwoodhifi.com/, the best place to find high-end audio at affordable prices. As AXPONA cater to the Personal Audio community as well as the two-channel loudspeaker community, we will be running these reports on both Headphone.Guru and HiFiAudio.Guru simultaneously.
Focal Naim America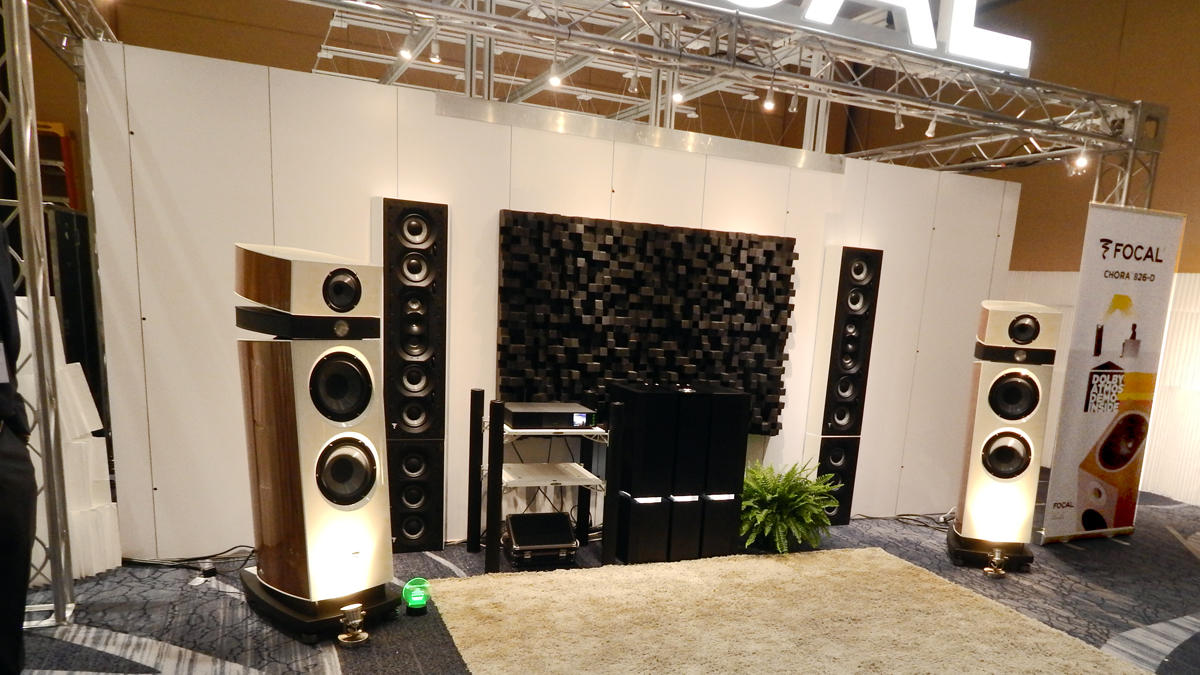 The winner of loudest sound at the show goes to the Focal Naim America Atmos demonstration. The Focal Naim America room was the very last exhibit I attended at the show as it was in a part of the building I didn't know existed and the show ended an hour earlier than I expected. When I noticed people were starting to pack up, I looked them up in the show guide knowing they were something I did not want to miss, then rushed over in time to see the end of the presentation and was totally blown away.
The main system consisted of a pair of Focal Maestro Utopia Speakers ($37,999 each), a pair of Focal 1000 IWLCR Utopia In-wall Speakers ($7,599 each), and a pair of Focal IWSUB Utopia In-wall Subwoofers ($2,899 each) powered by Naim Statement separates (1 NAC S1 preamplifier and 2 NAP S1 mono power amplifiers $389,997USD for all three pieces) with a Naim NDX2 Network Music Player ($8,799) as the source.
Also on display for your listening pleasure was the whole line of amazing Focal Headphones coupled with Naim Uniti Atom Headphone Edition DAC/Preamp/Headphone Amplifiers, as well as SPL Headphone Amplifiers.
On static display was the Naim Unity line paired with Focal On Wall 302 Loudspeakers on Focal On Wall 302 Stands, a Naim Mu-so for Bentley Special Edition, and the legendary Thorens Turntables.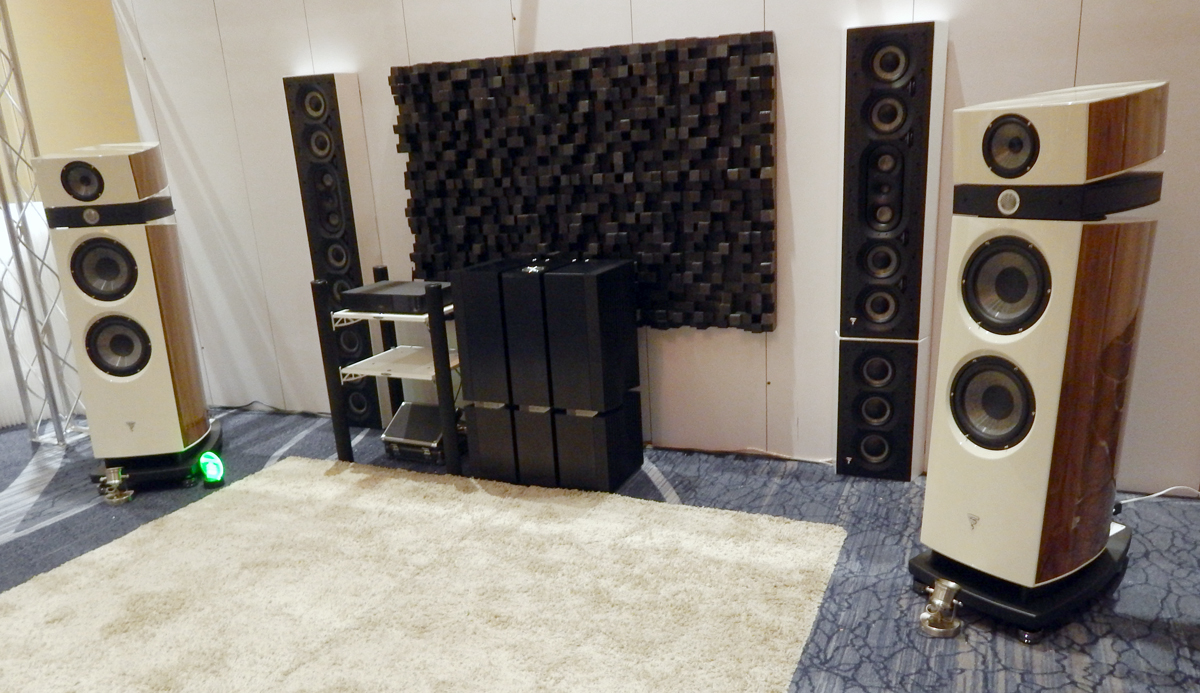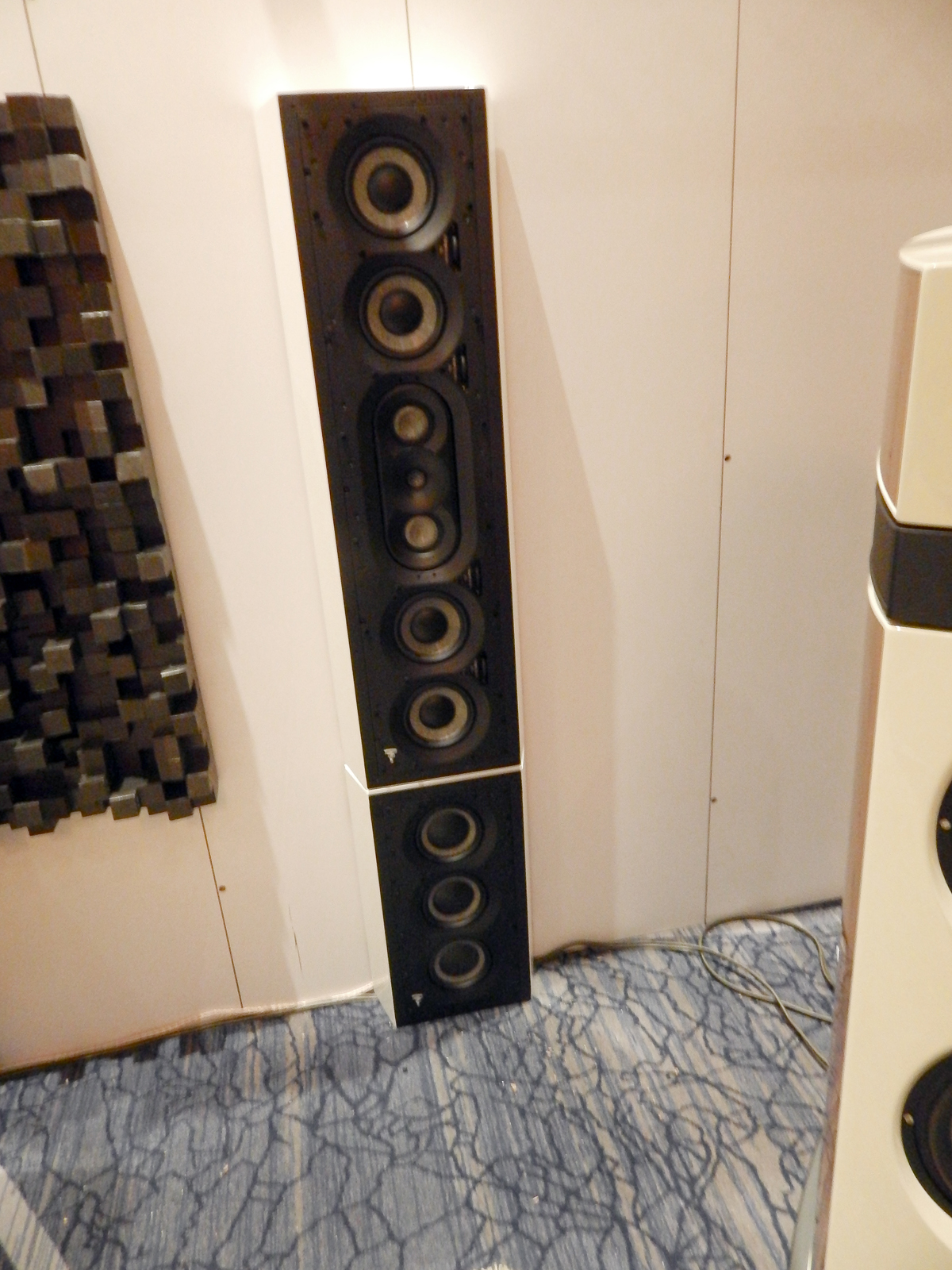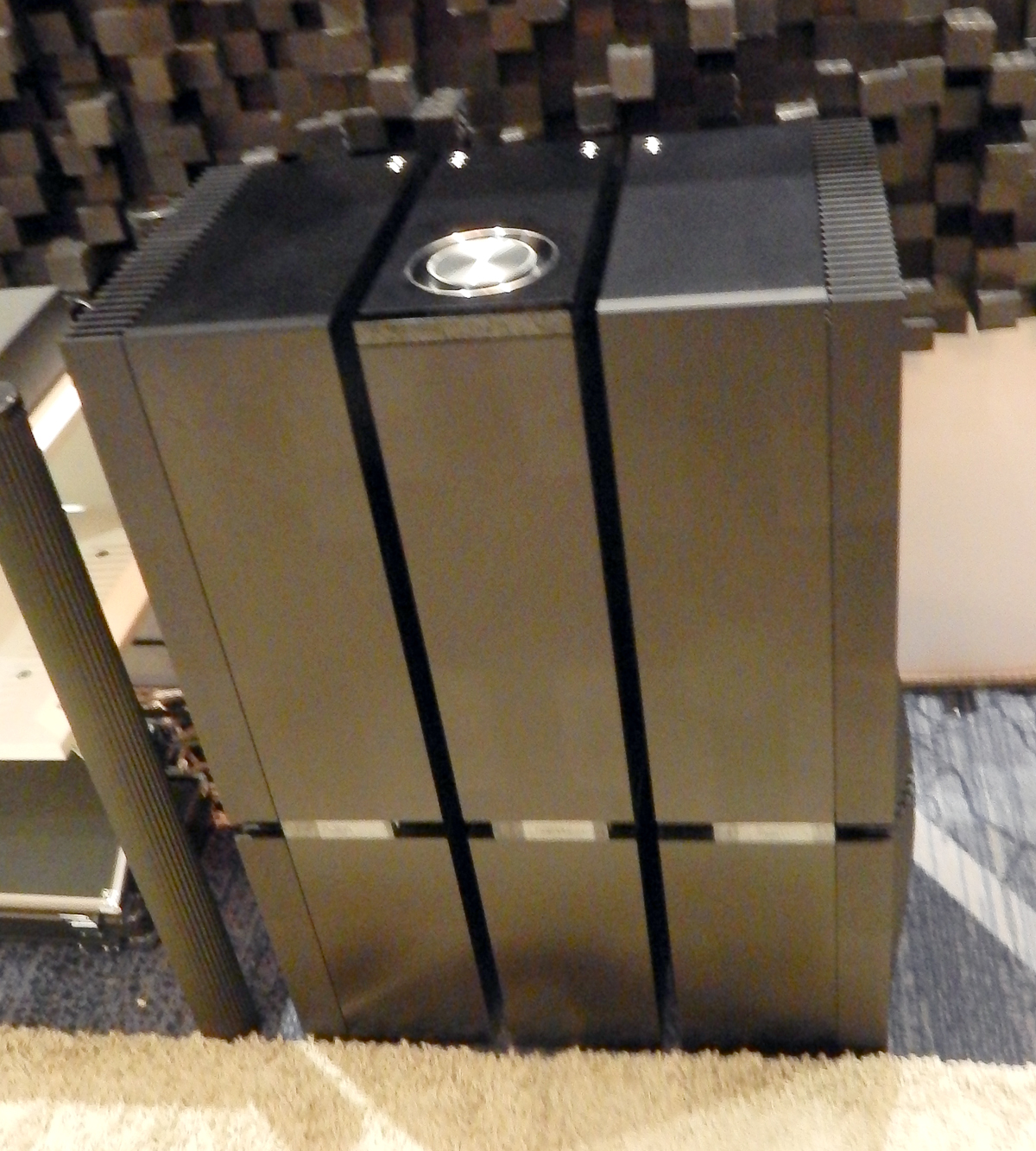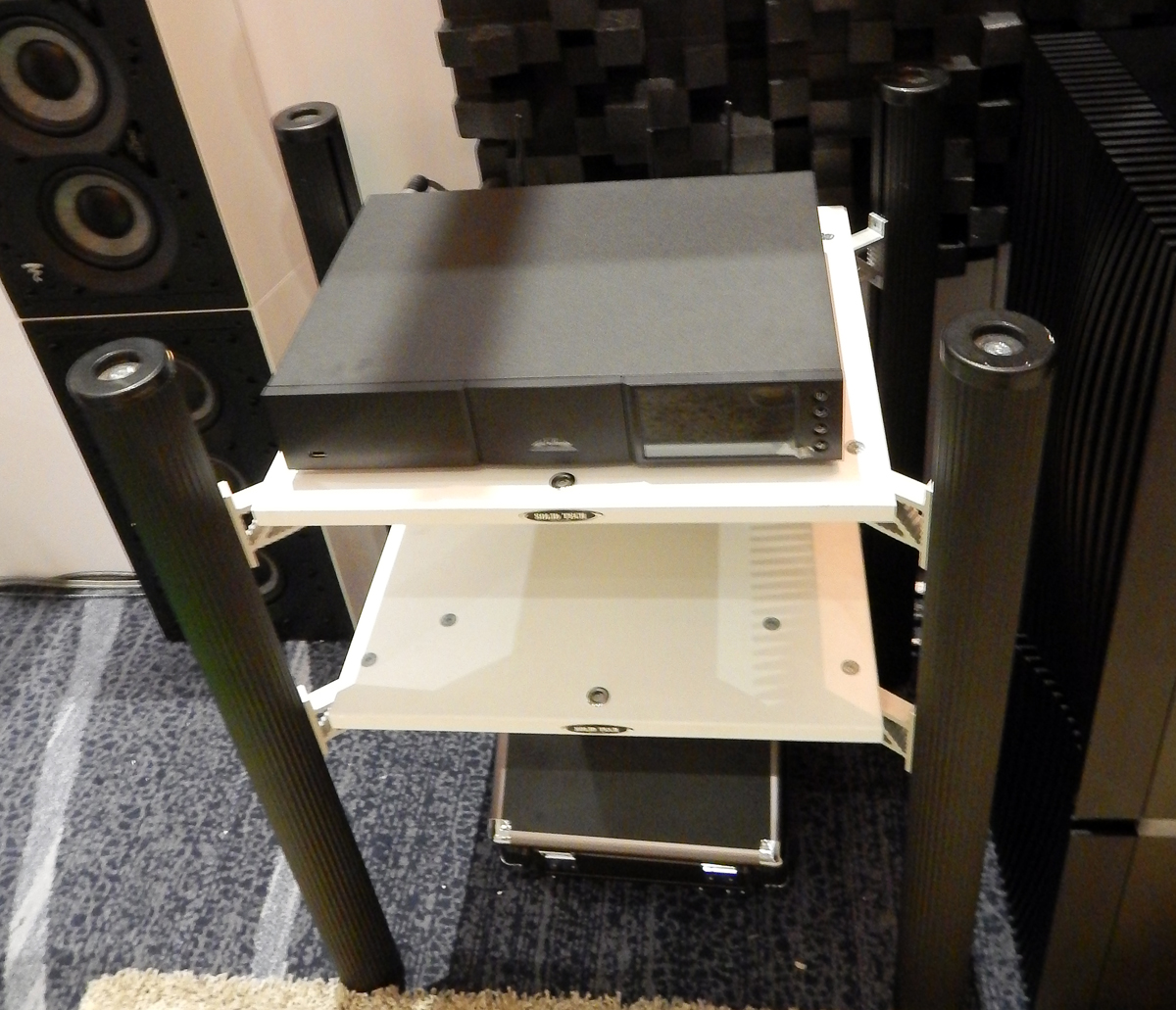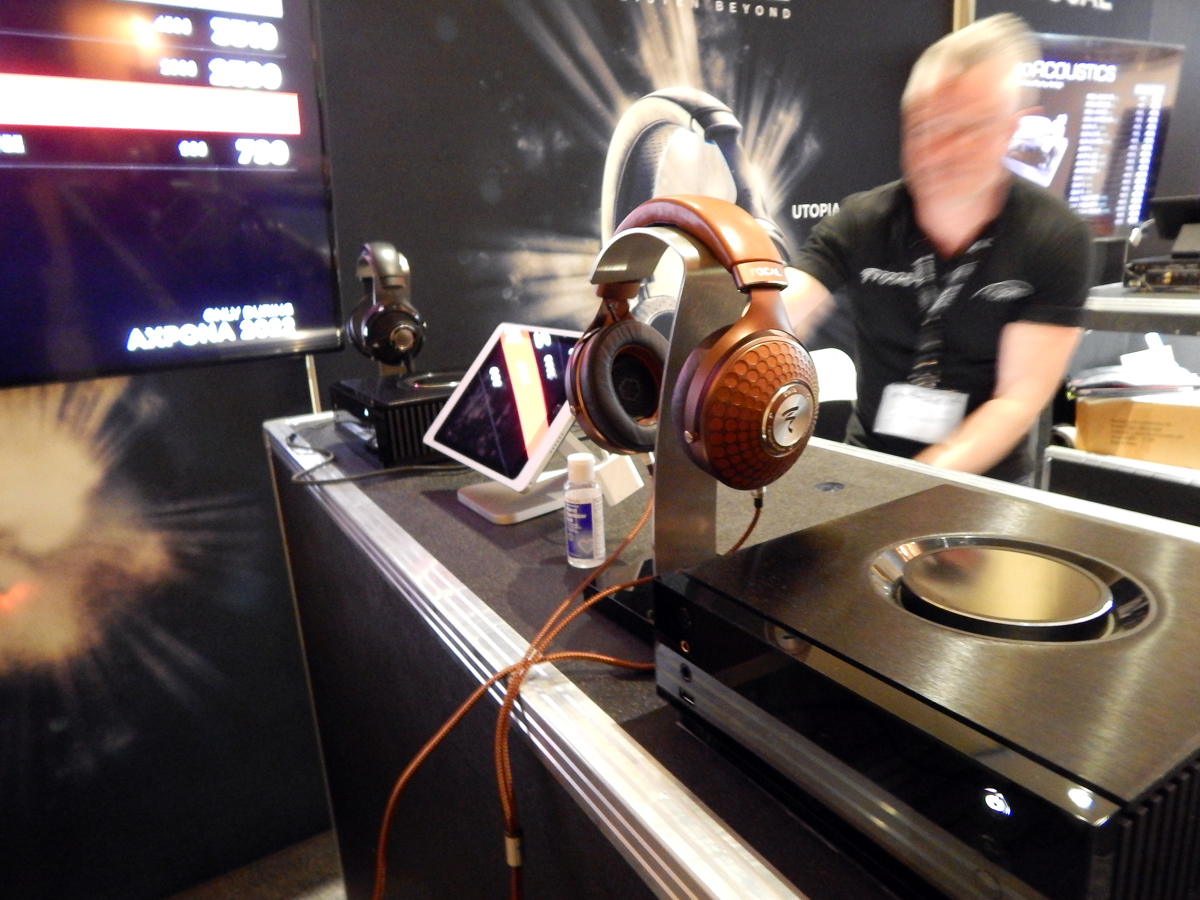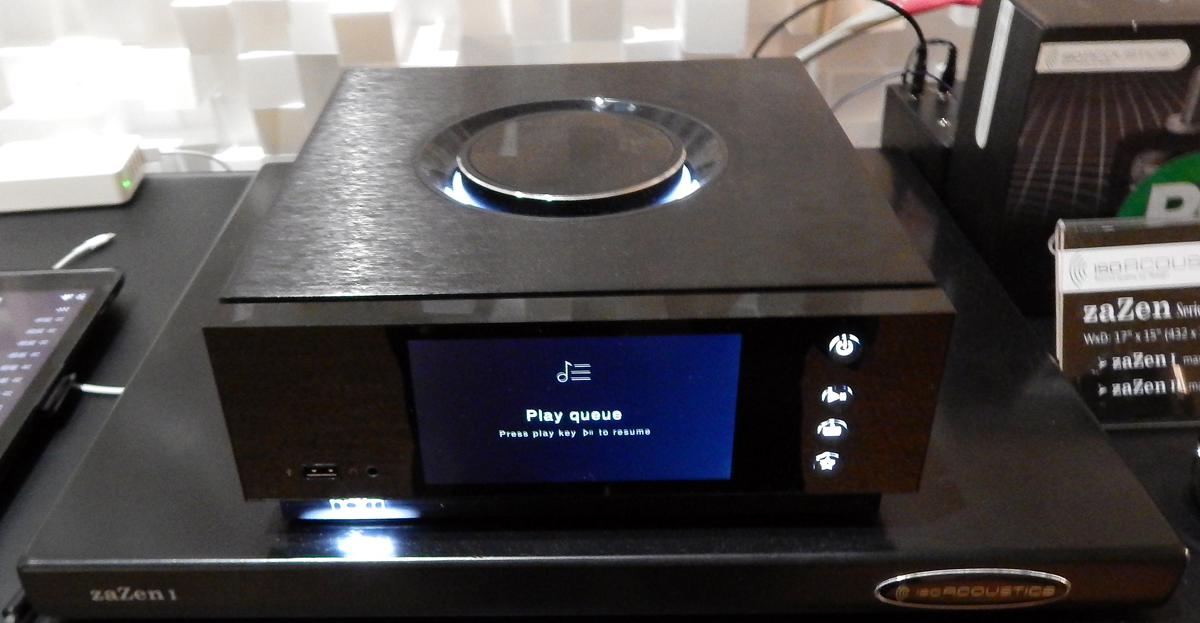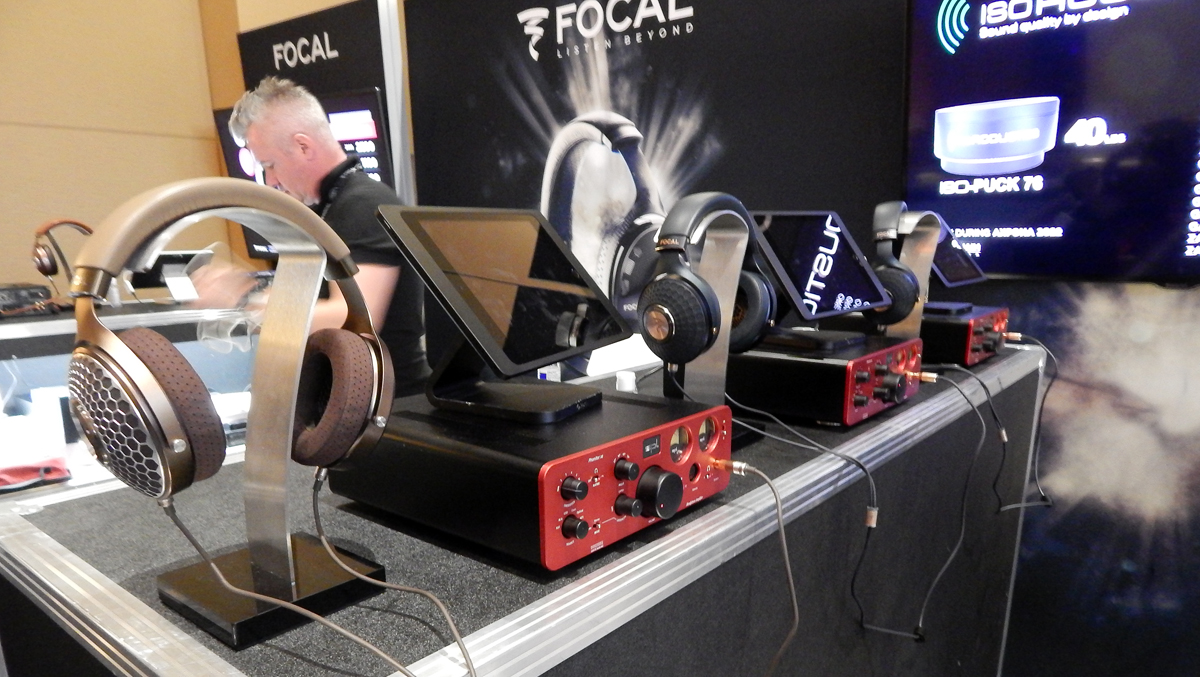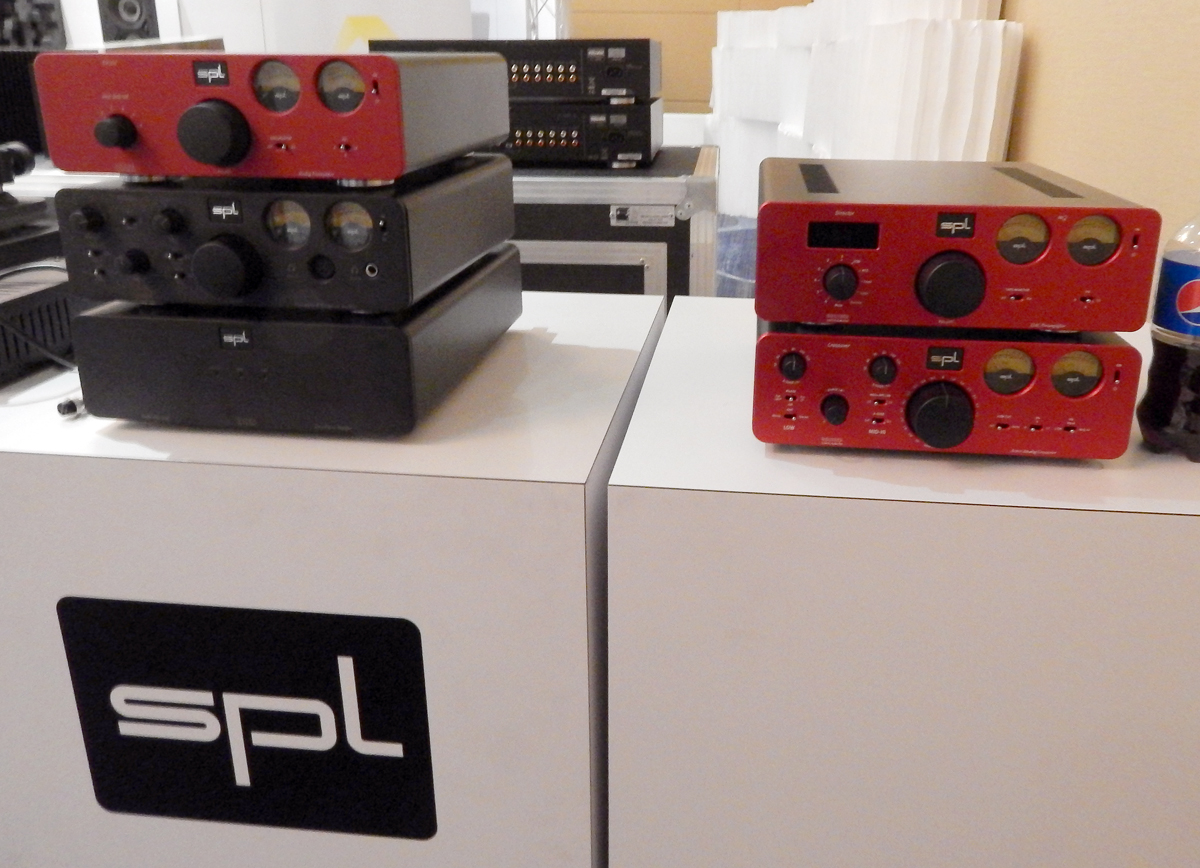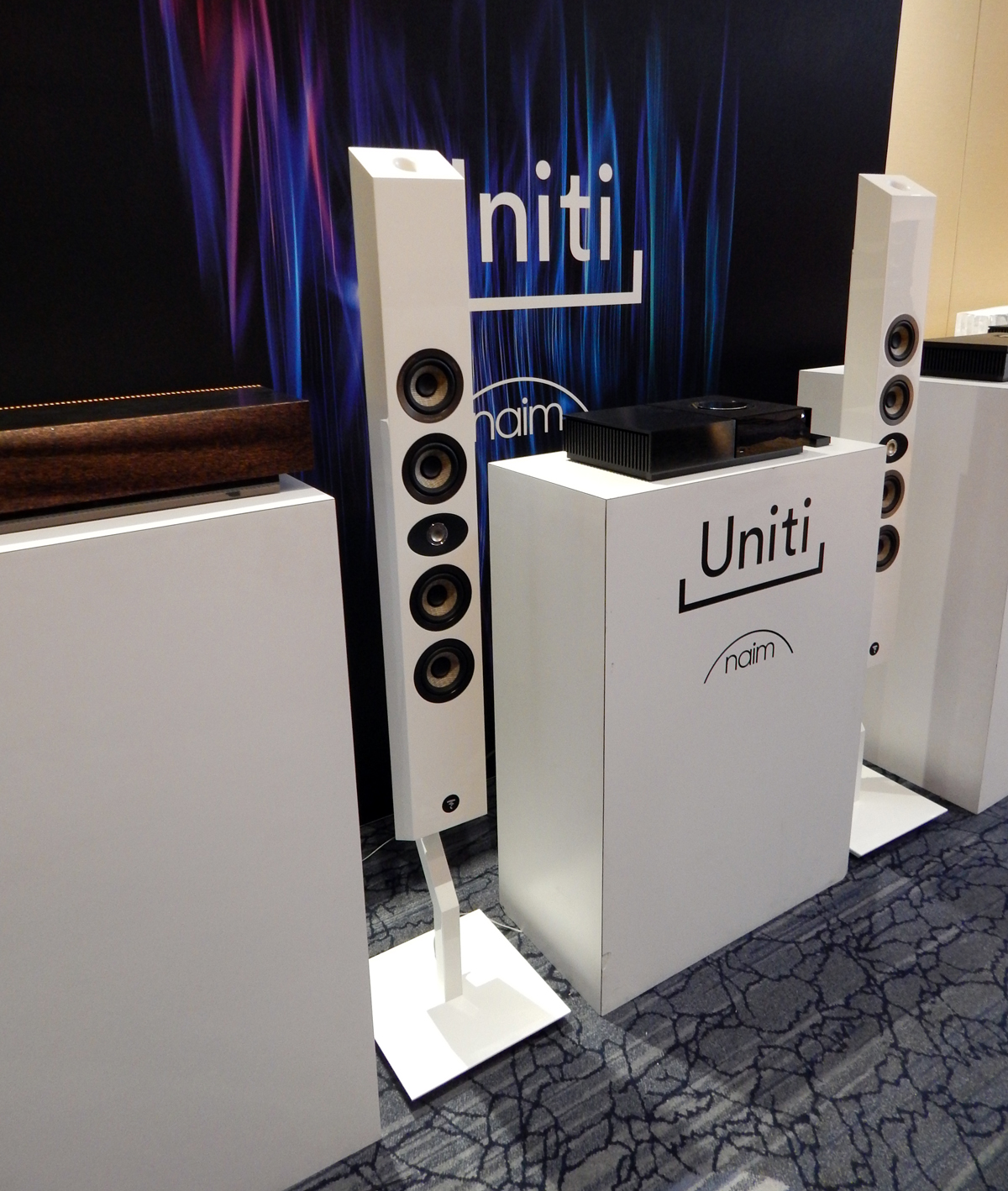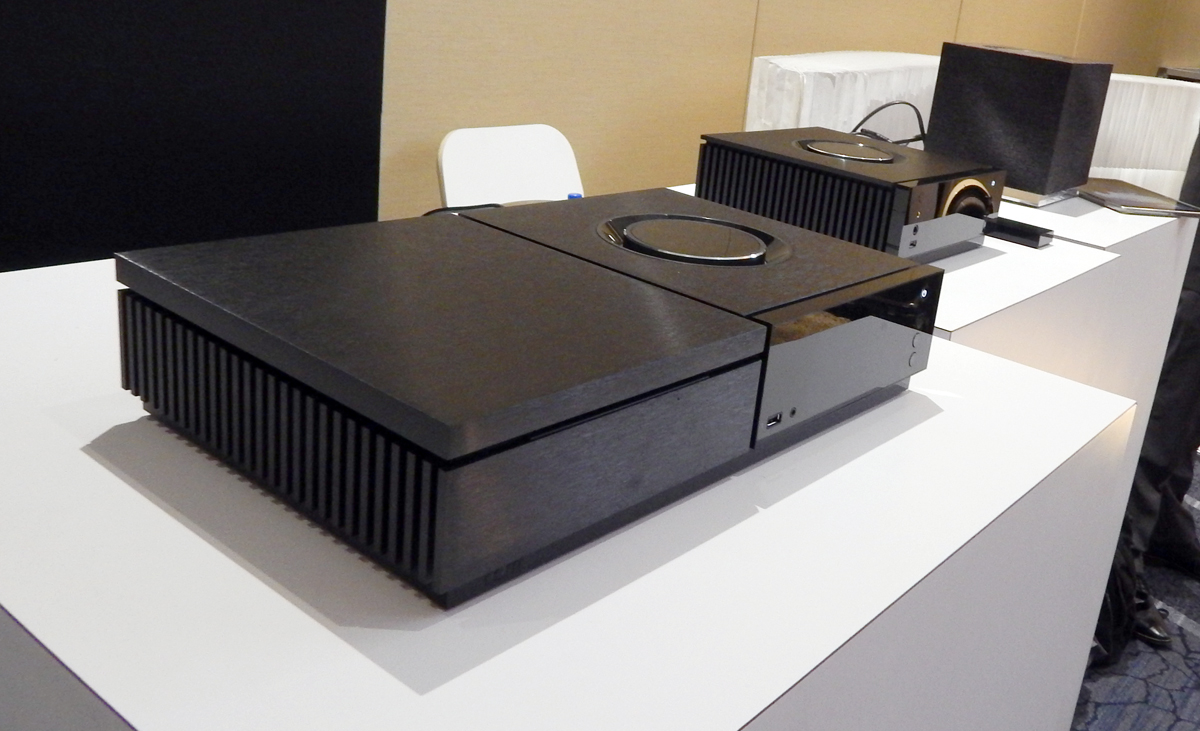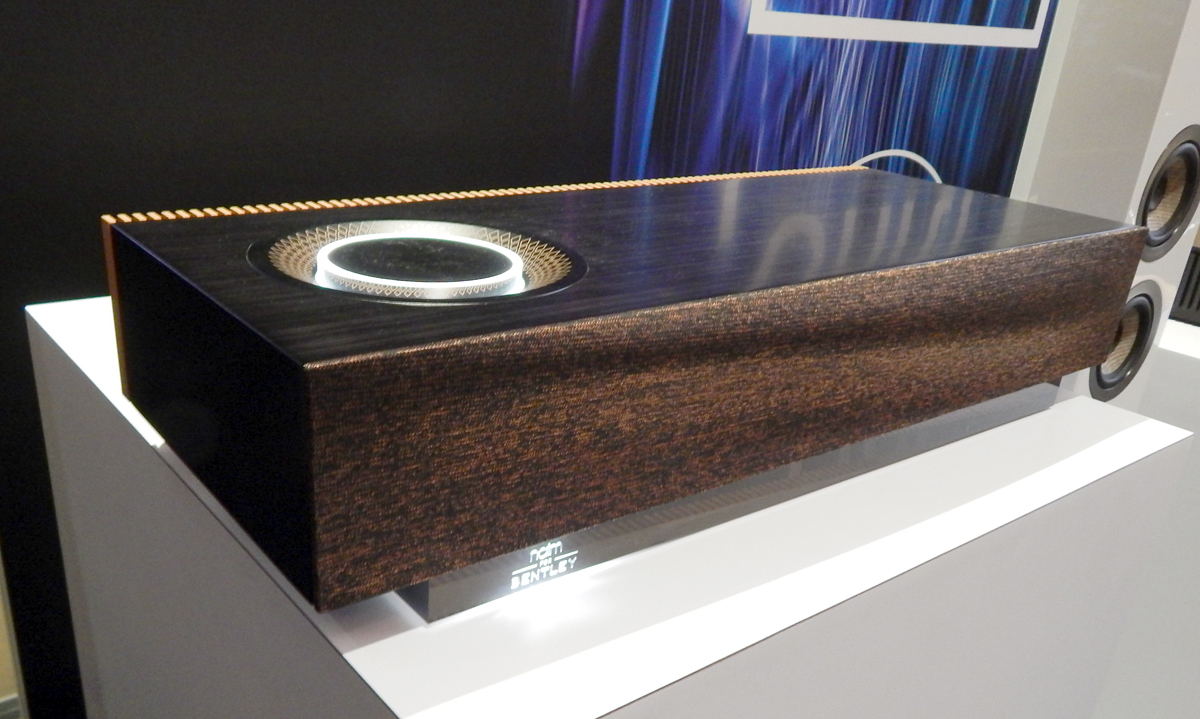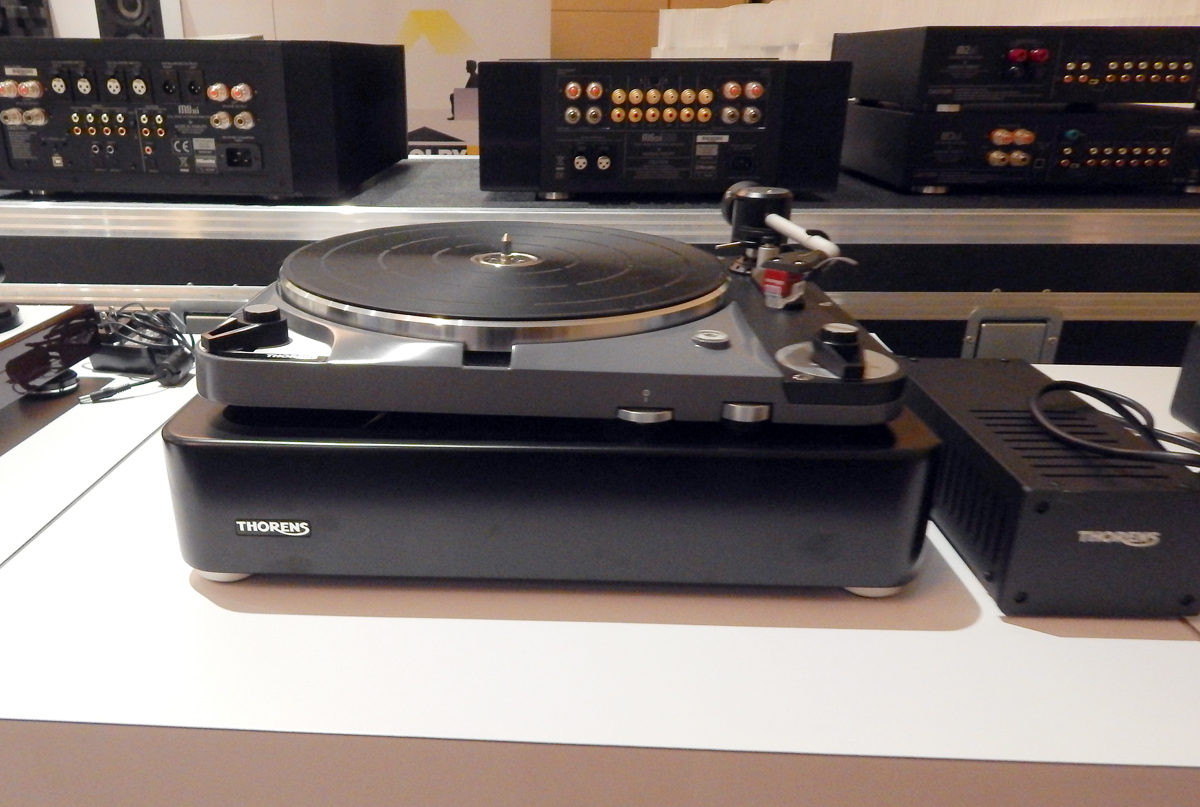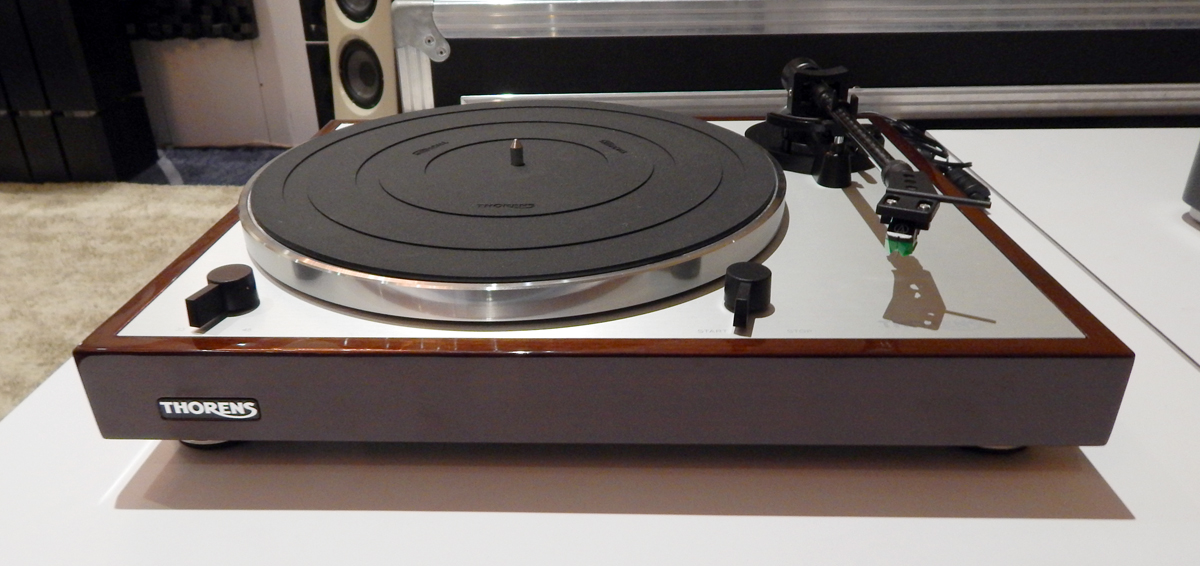 NAD/Bluesound/PSB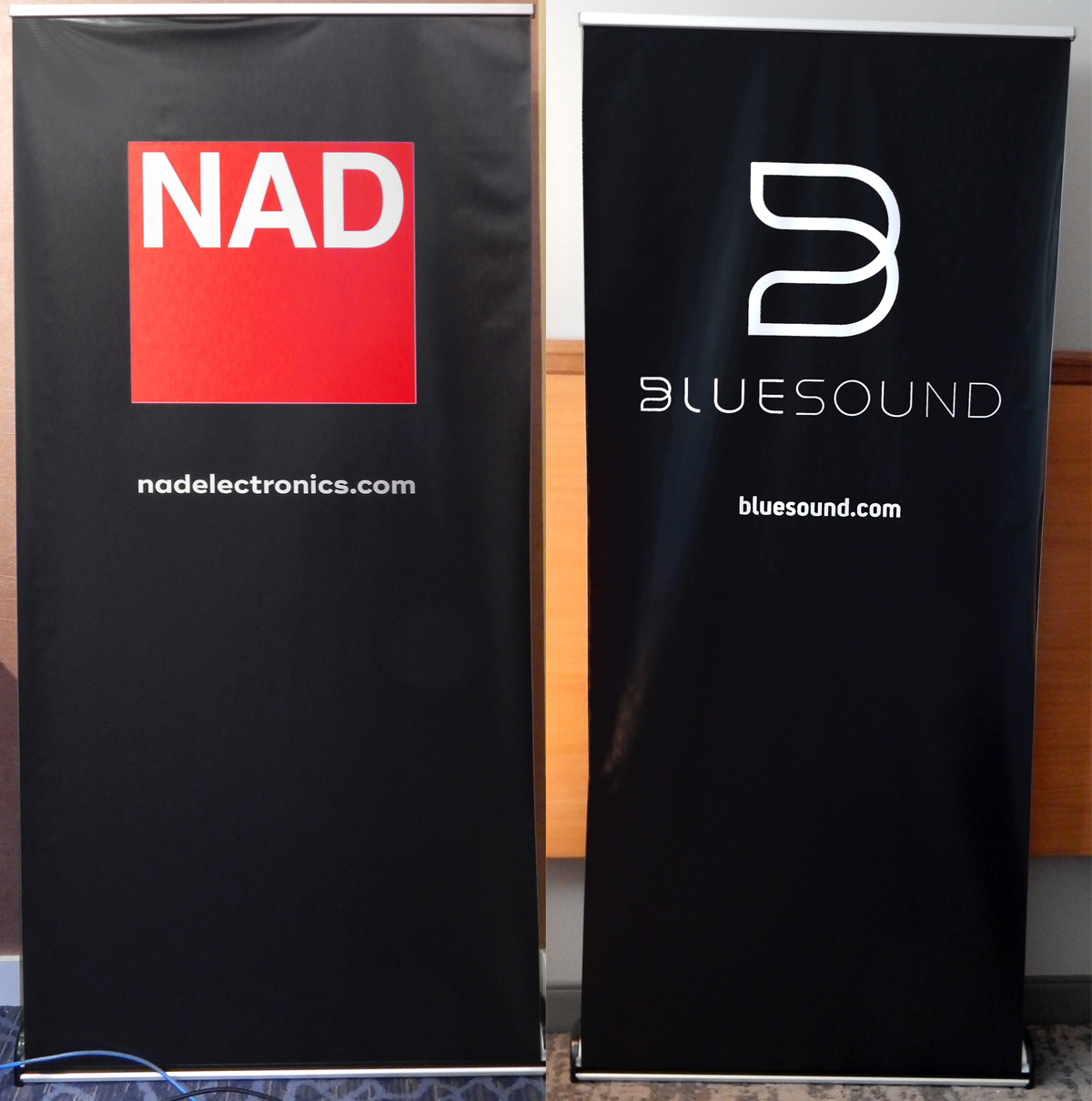 NAD, Bluesound, and PSB had a large presence at the show, hosting two of the large ballrooms on the first floor, plus NAD and Bluesound sharing a couple of rooms in the tower with DALI Speakers and Holm Audio, as well as the Lenbrook room also in the tower. Two systems were on display in their main showroom, one consisting of the NAD M33 BluOS Streaming DAC Amplifier ($5,999USD) driving a pair of PSB Synchrony T600 Tower Loudspeakers ($8,999USD), and the other of a NAD M10 V2 BluOS Streaming DAC Amplifier ($2,999USD) driving a pair of PSB Synchrony B600 Bookshelf ($2,799USD/pair) with PSB Synchrony SST-24 Speaker Stands ($599USD/pair) and two PSB SubSeries 350 – 12″ Subwoofers ($1,299USD) with a duplicate of the second system in the Saturday Audio Exchange room. On static display was the rest of the NAD line of electronics as well as the Bluesound NODE Wireless Multi-Room Hi-Res Music Streamer ($599USD), Bluesound POWERNODE Wireless Multi-Room Music Streaming Amplifier ($949USD), Bluesound VAULT 2i High-Res 2TB Network Hard Drive CD Ripper and Streamer ($1,399USD), and the Bluesound PULSE MINI 2i Compact Wireless Multi-Room Music Streaming Speaker ($499USD).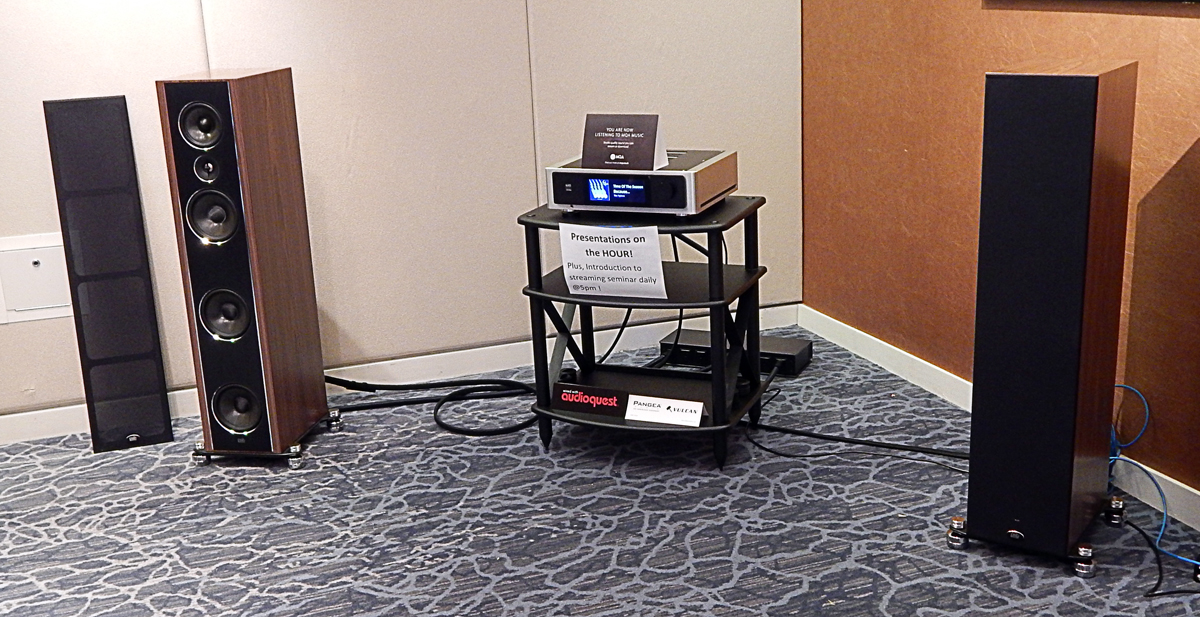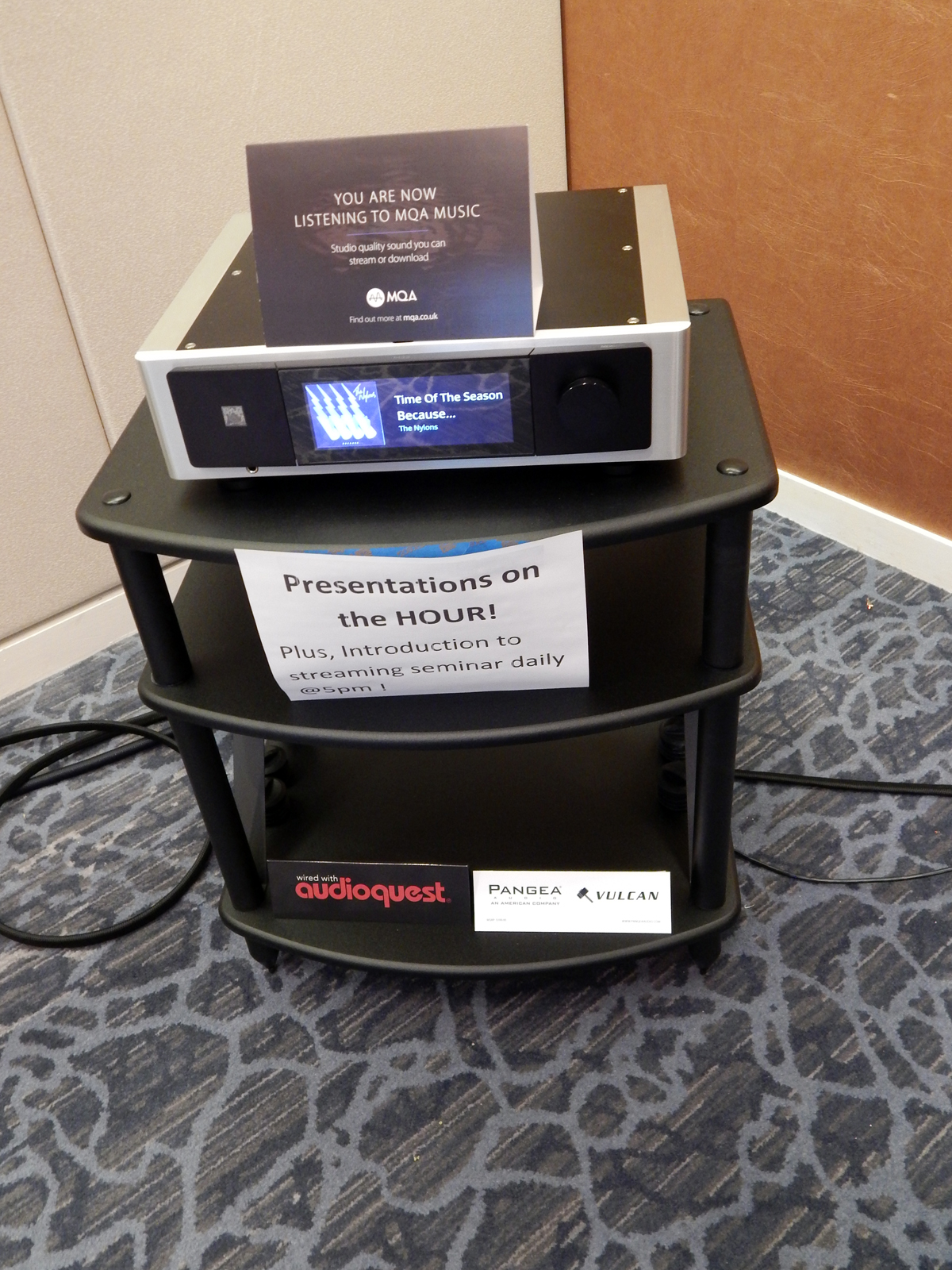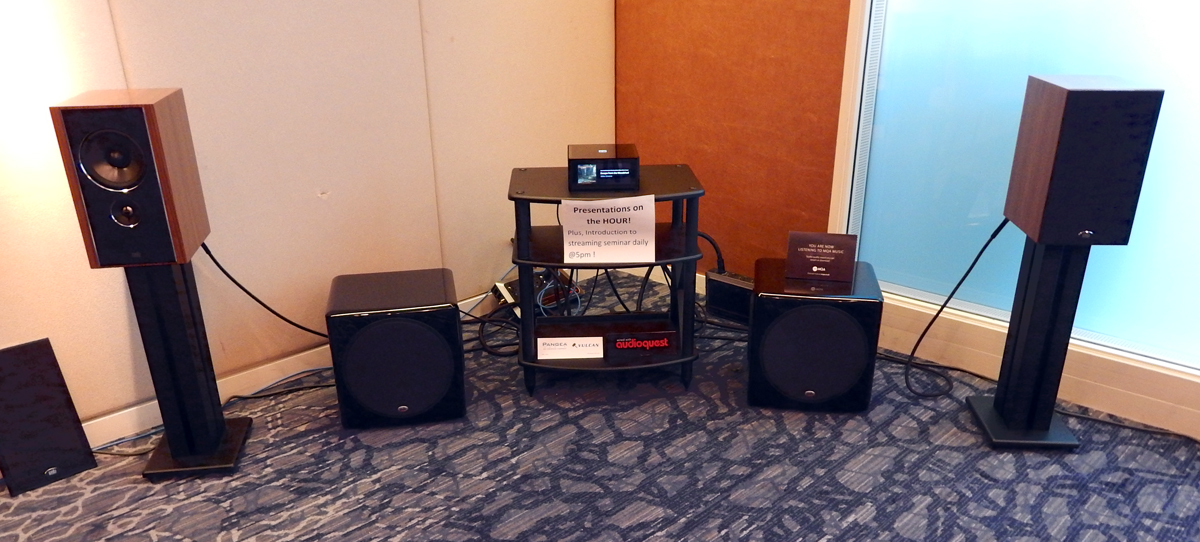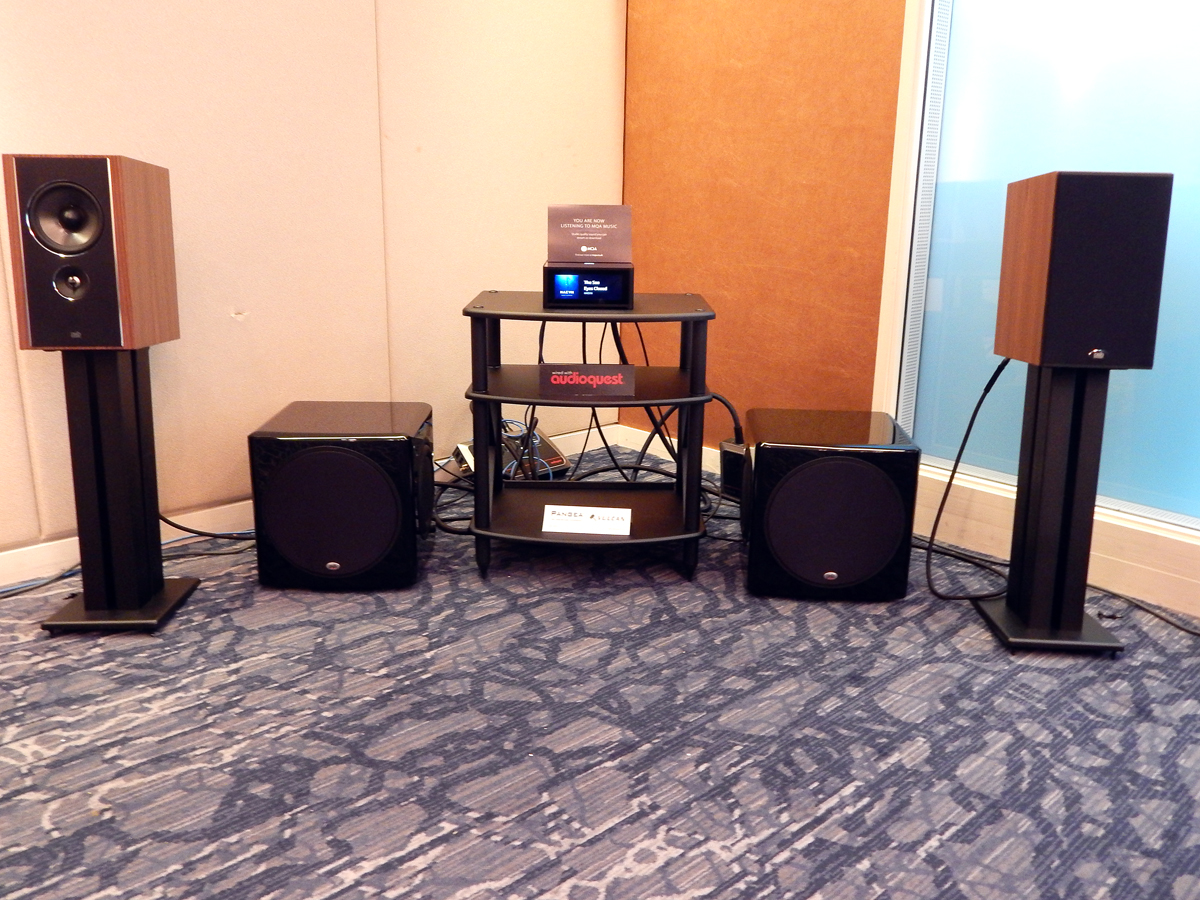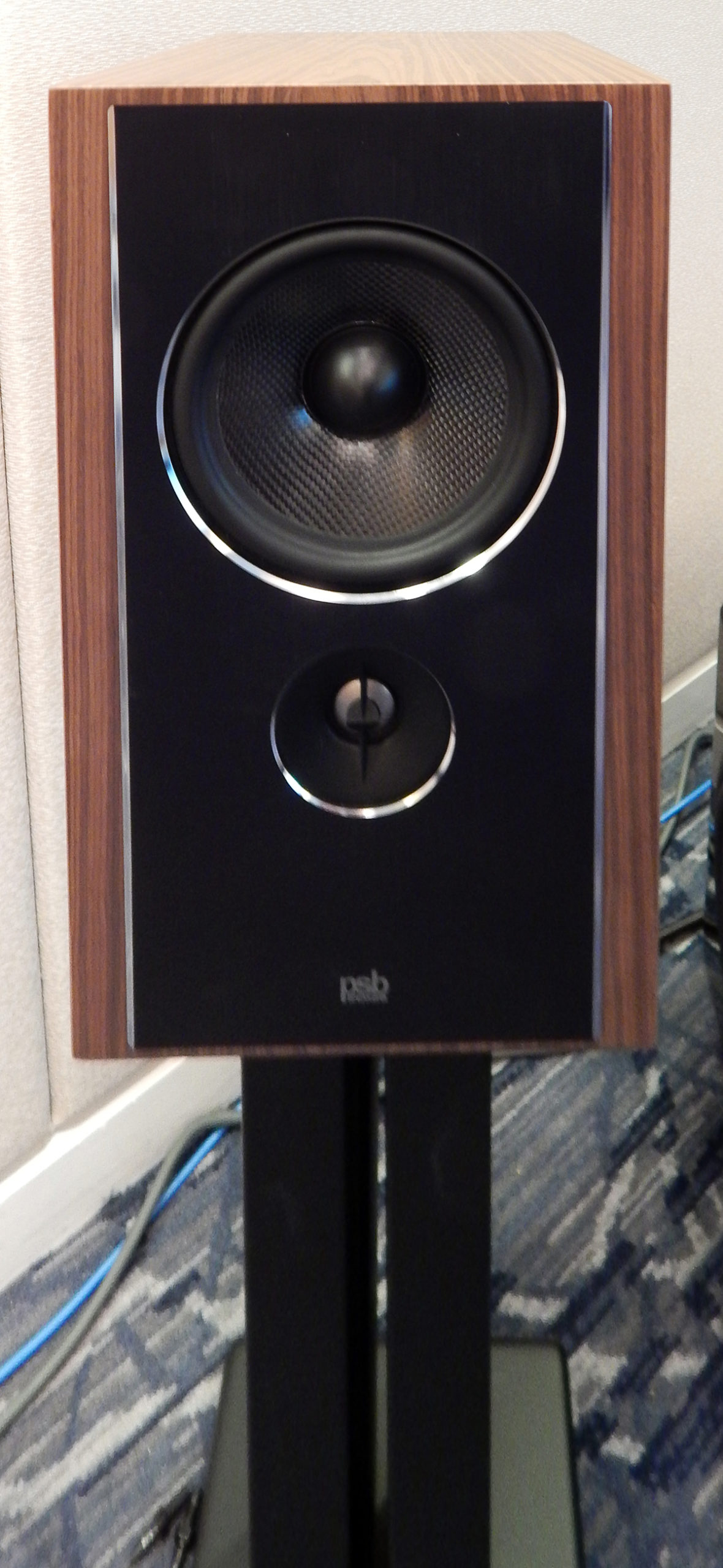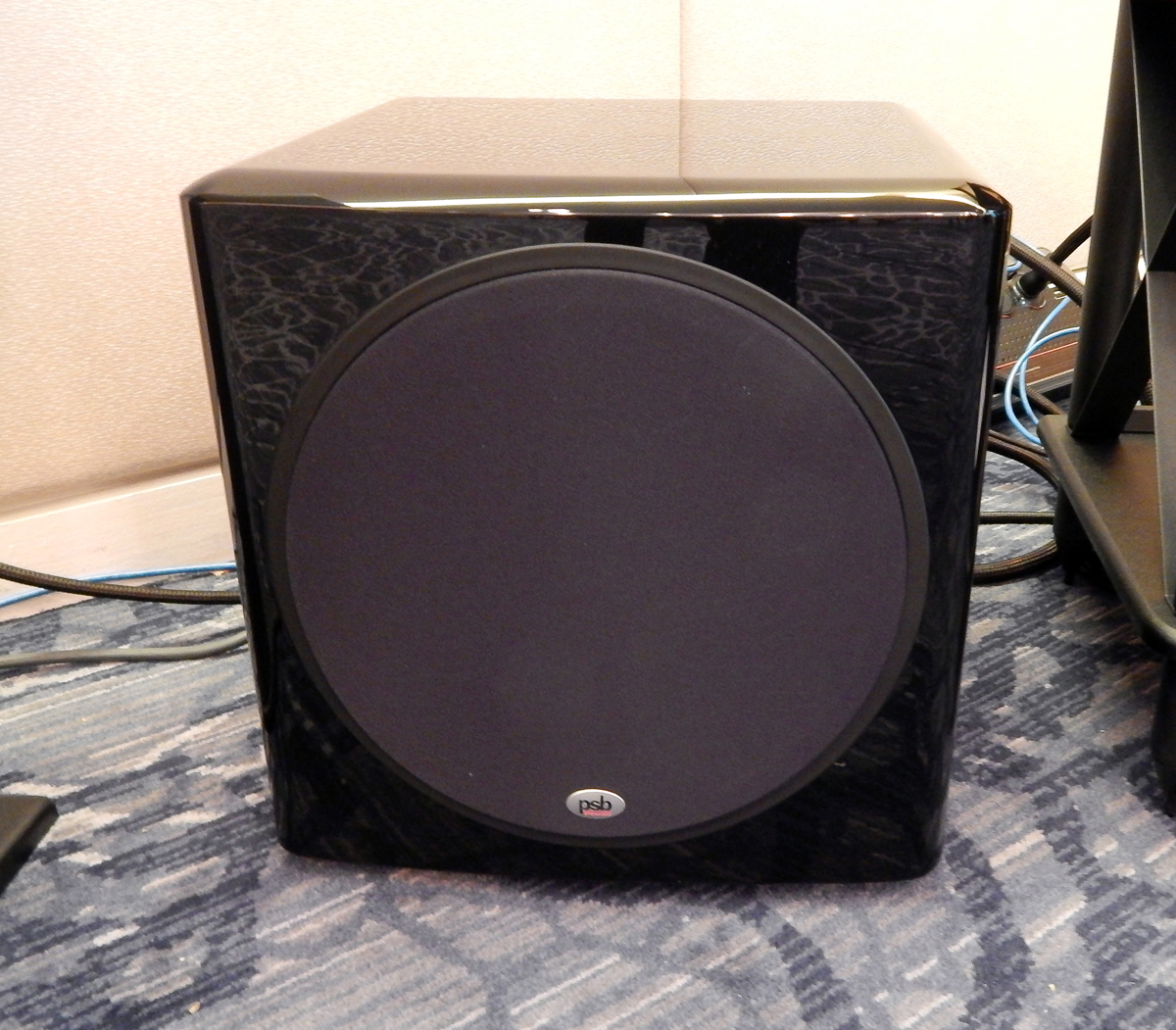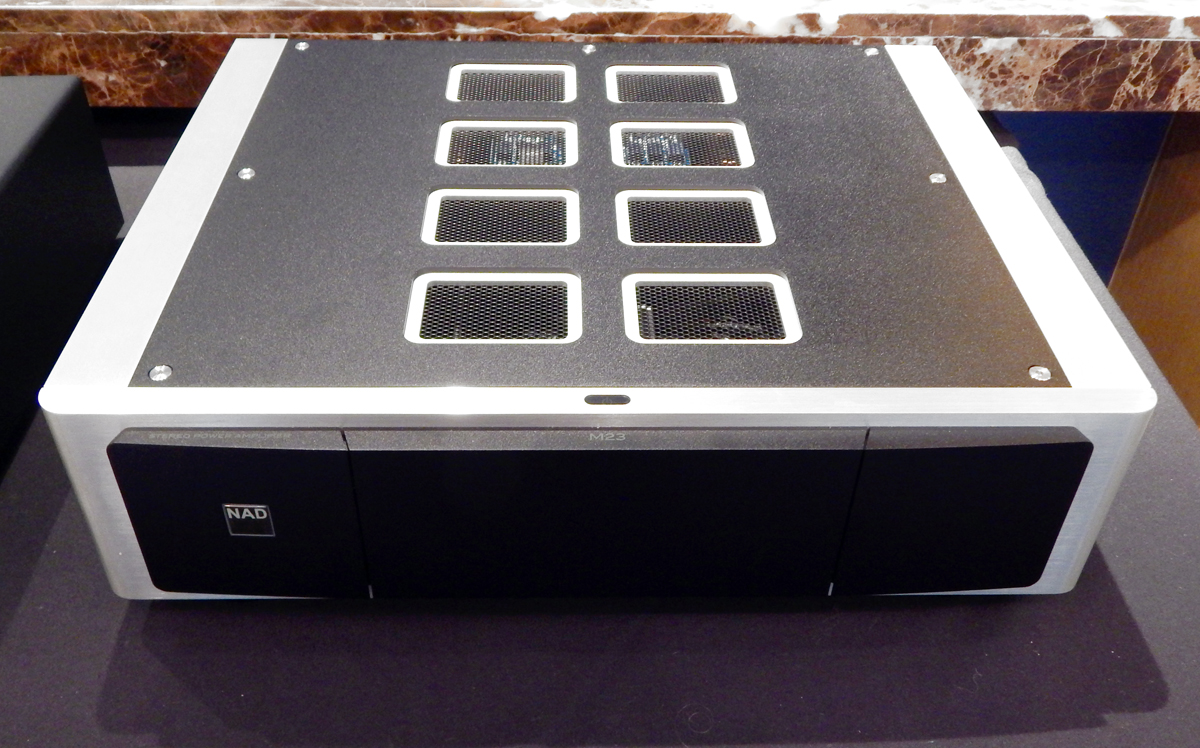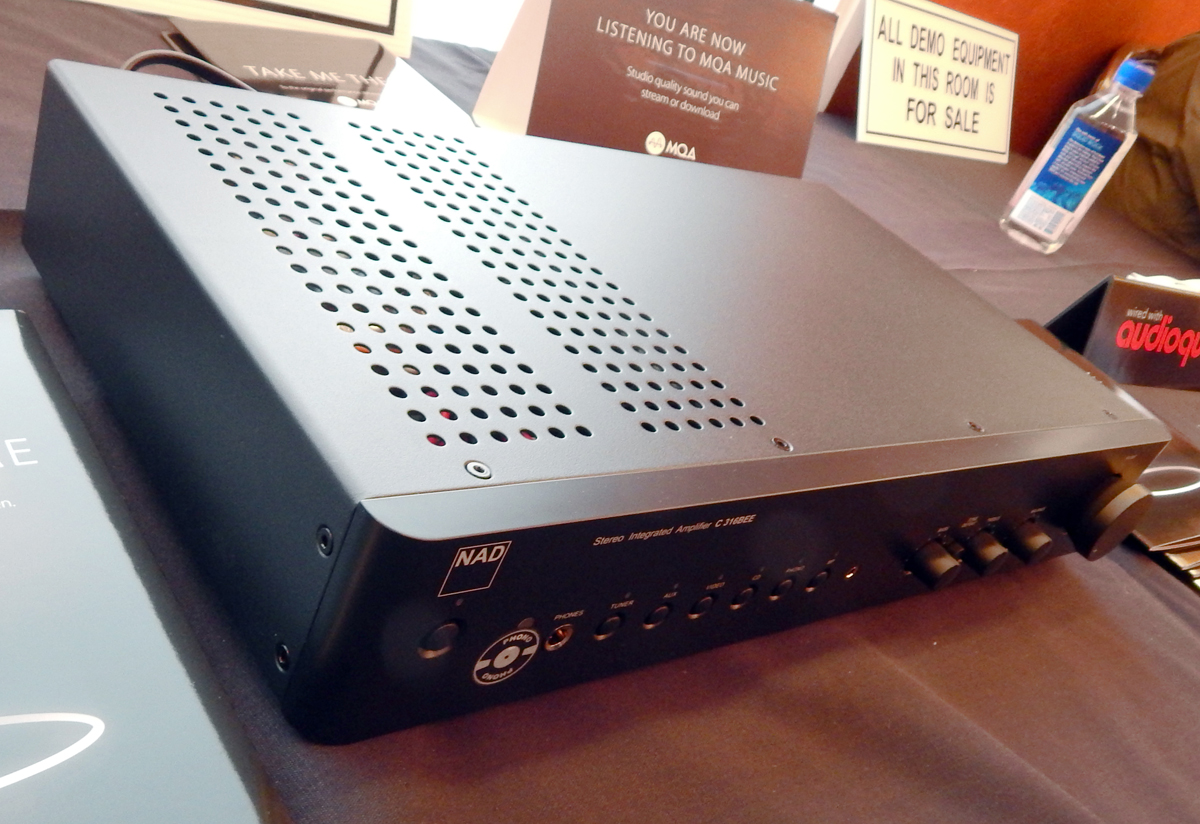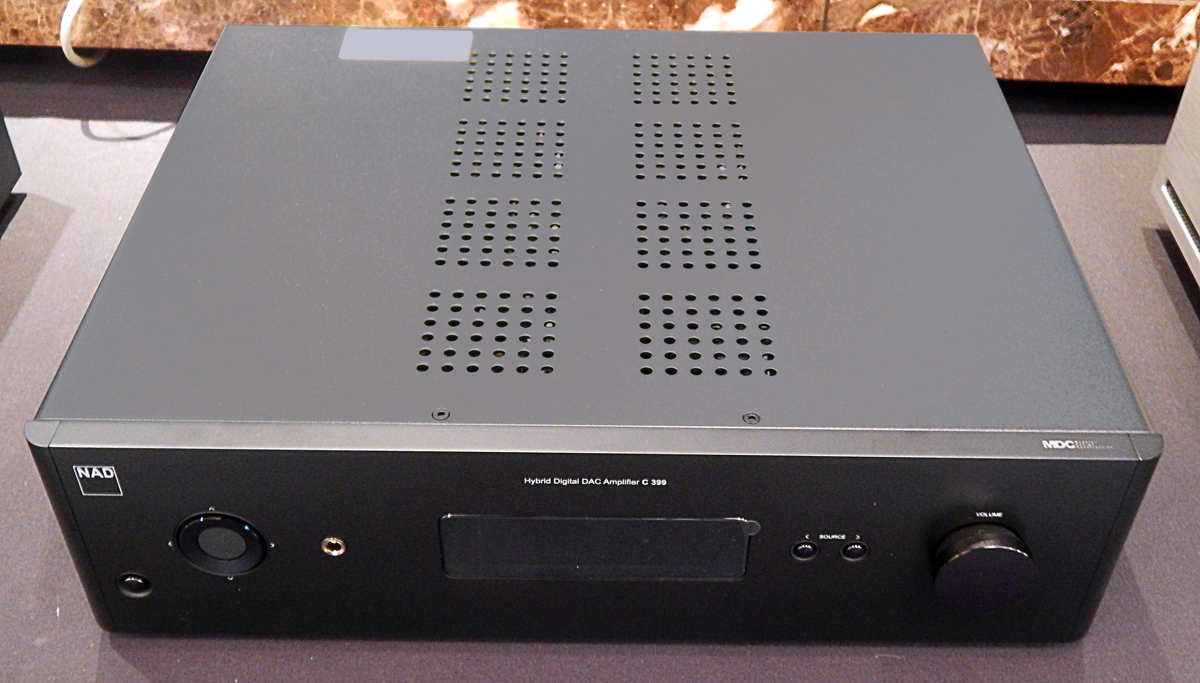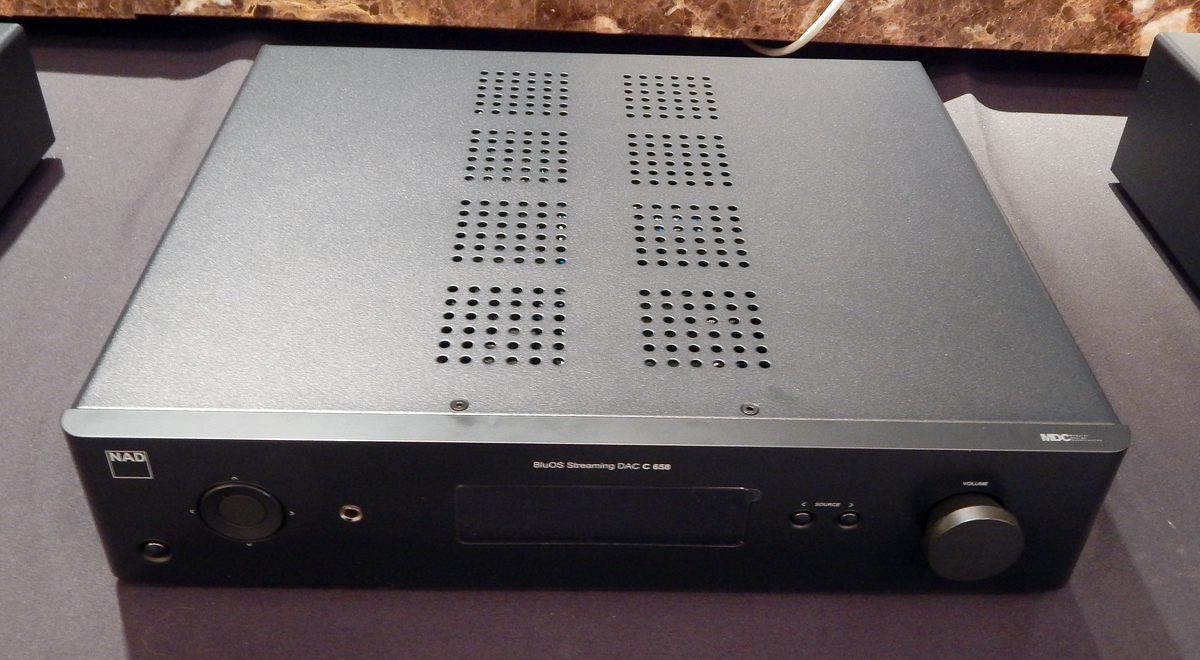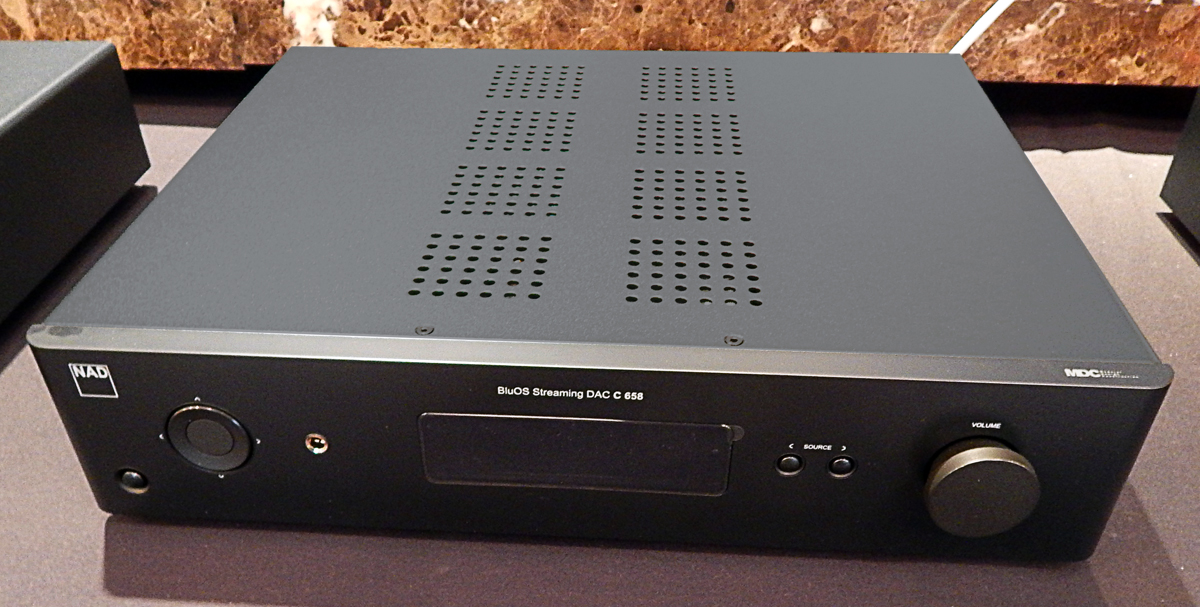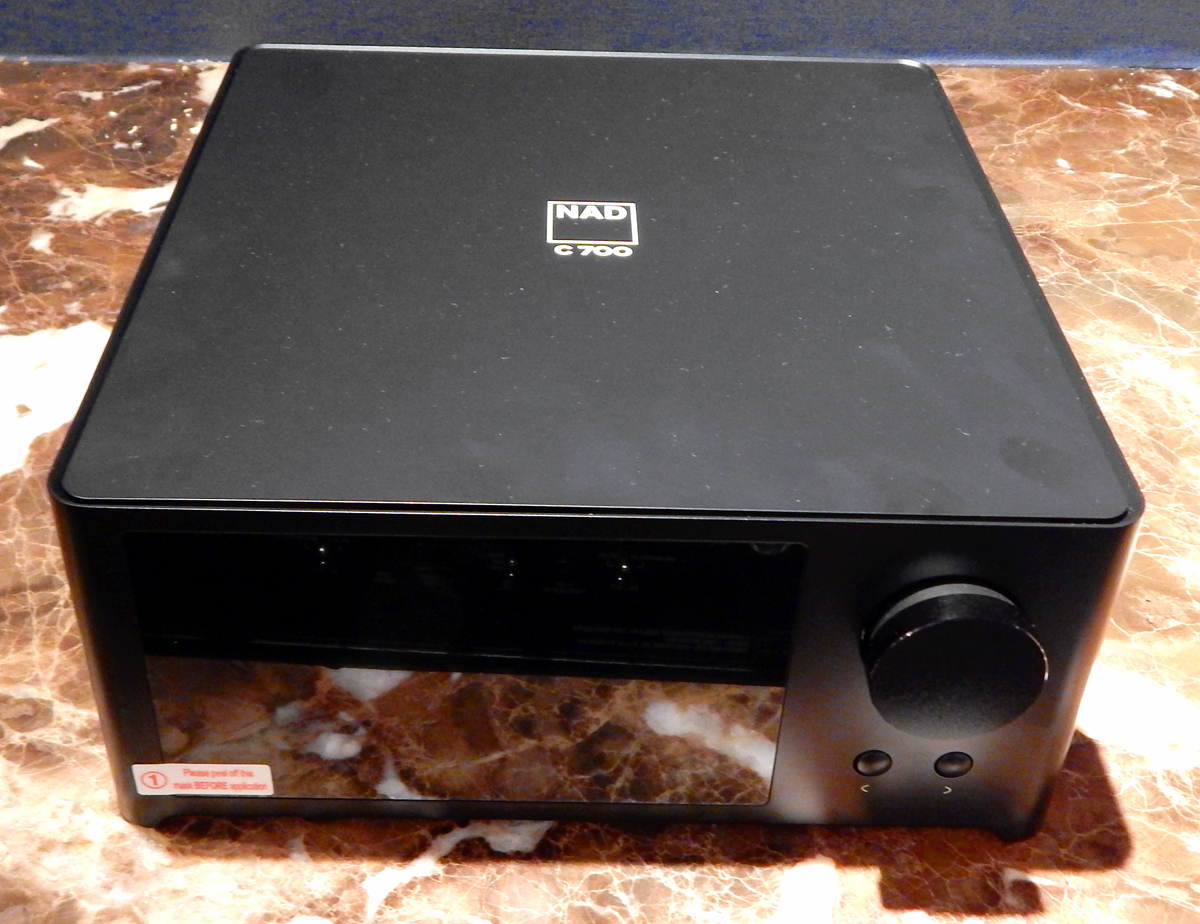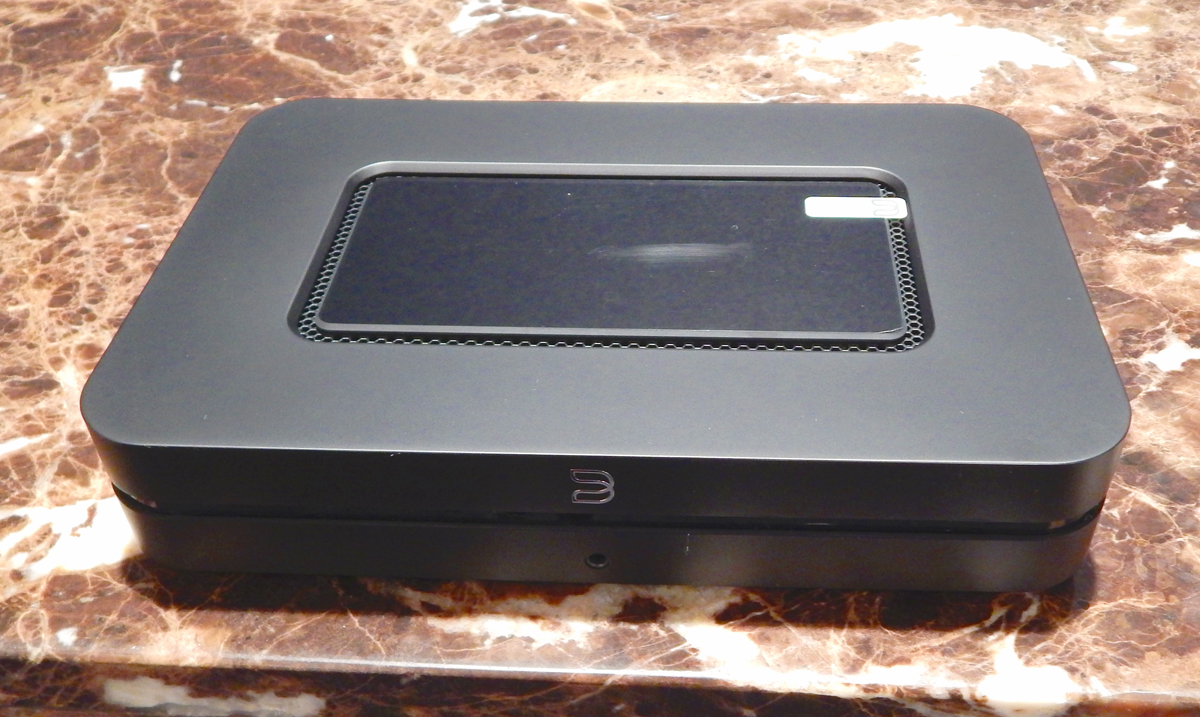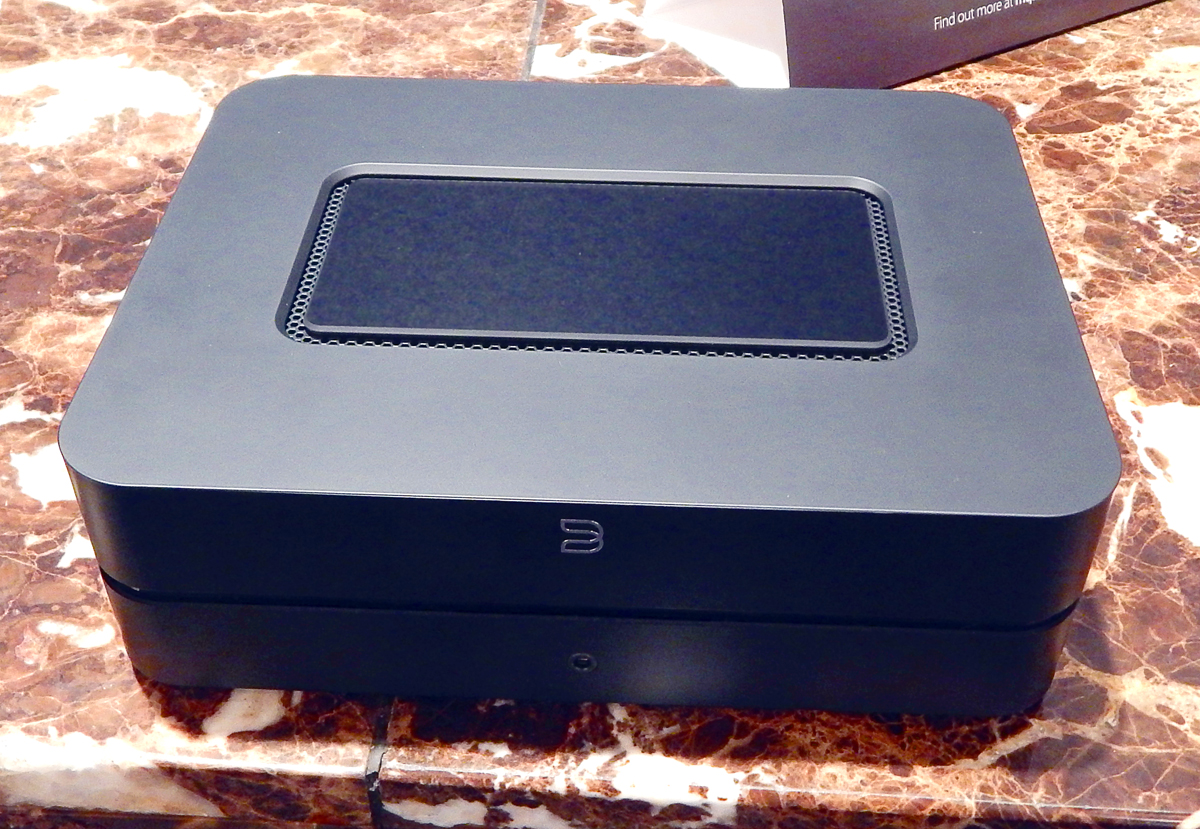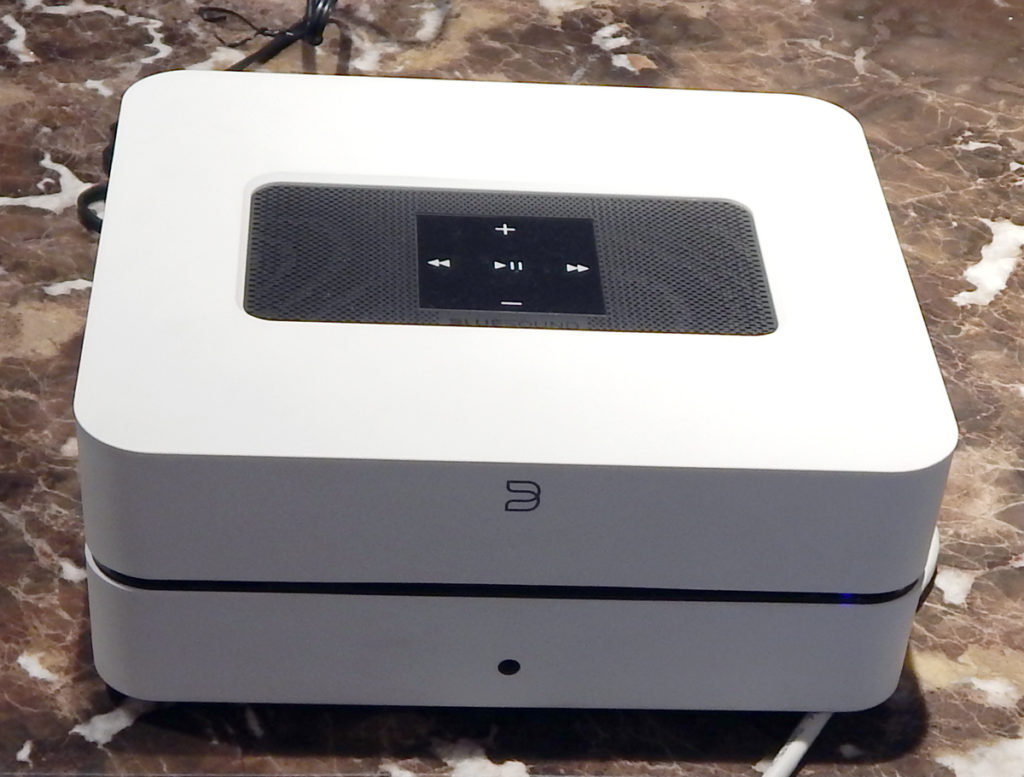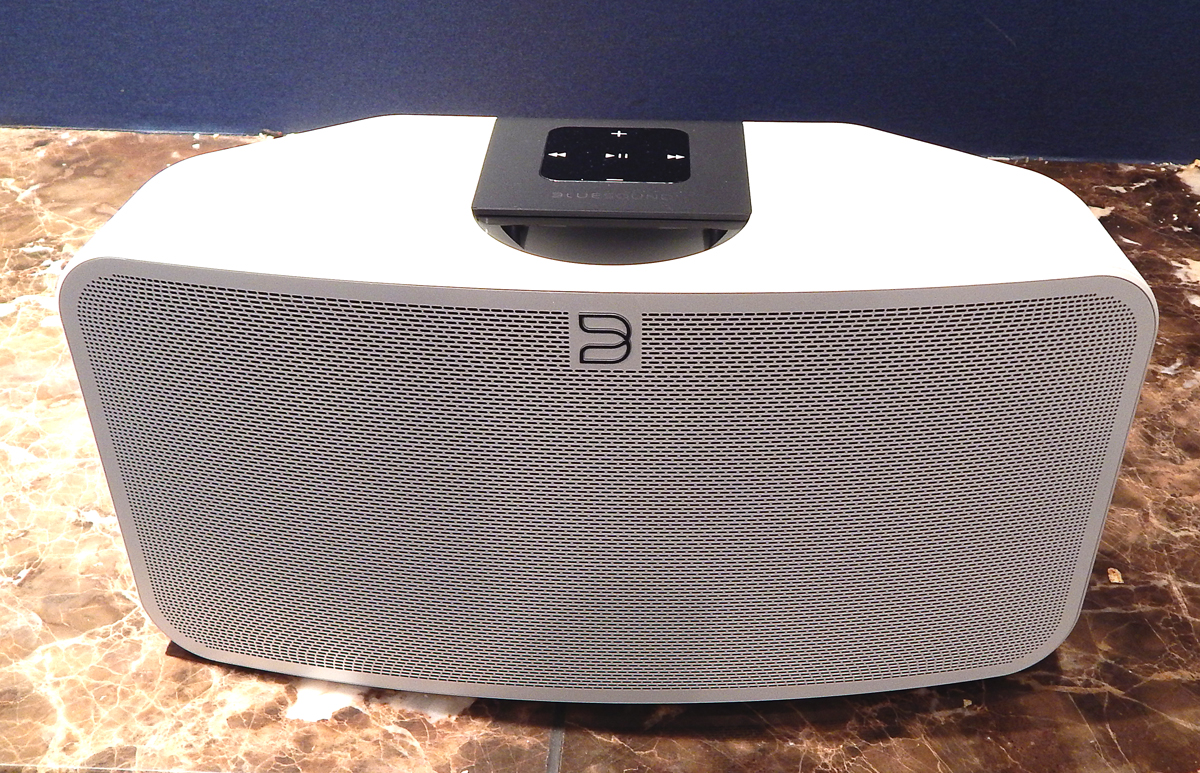 Gingko Audio, Salk Sound, Mc Gary Audio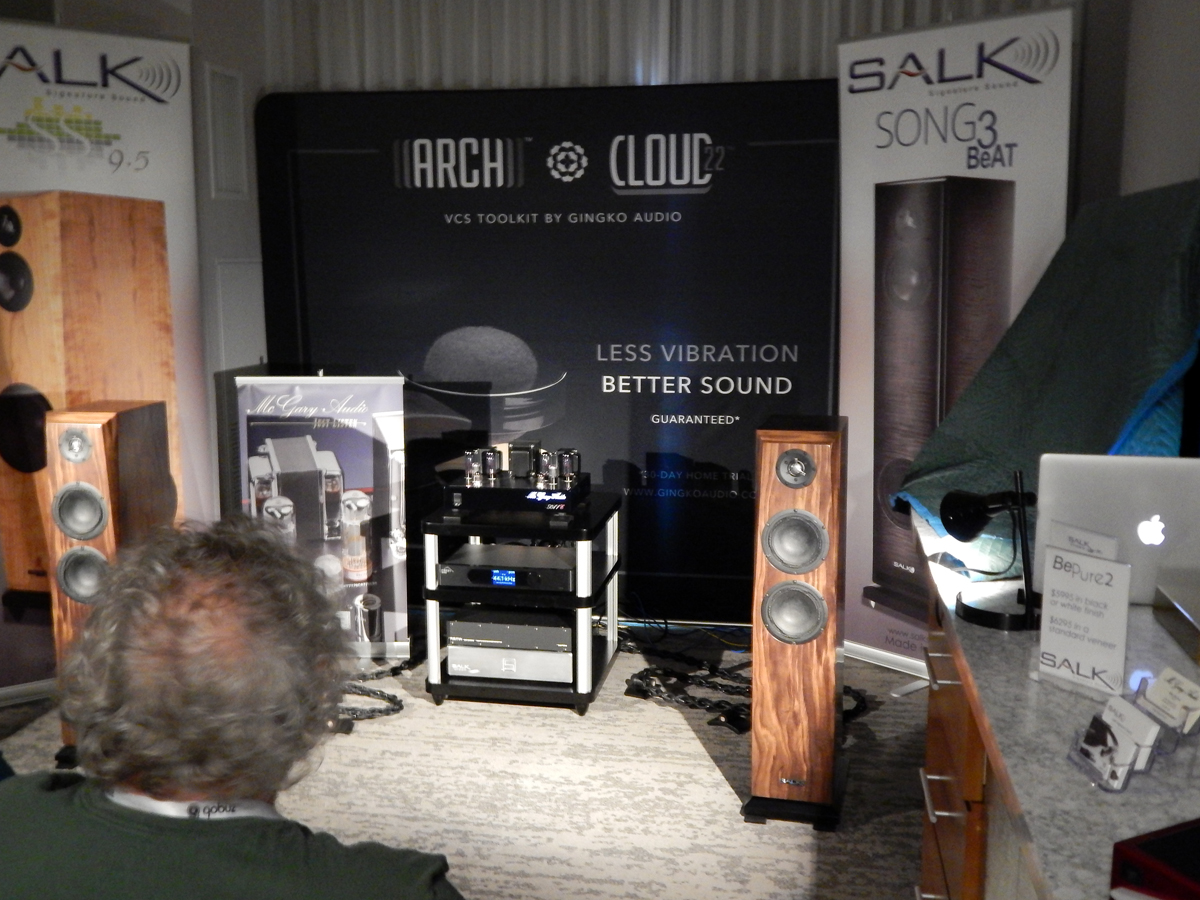 One of the better sounding rooms at the show was the Gingko Audio, Salk Sound, and Mc Gary Audio room, in no small part due to the amazing effect of the Gingko Audio ARCH Acoustic Resonance Clarifiers and Gingko Audio's Cloud22 isolation bases which are now available in two convenient packages called VSC (Vibration Control System) Toolkits (VCS Starter Toolkit $599USD and VCS Premium Toolkit $899USD). The system on display consisted of a Mc Gary Audio SA1E Vacuum Tube Stereo Amplifier ($6,600USD), Salk Sound BePure2 Loudspeakers ($6,295USD/pr), an Ideon Audio IΩN DAC/Preamp ($17,900USD), a Puritan Audio Laboratories PSM156 Studio Master Mains Purifier ($1,875USD), a Salk Sound StreamPlayer Gen III SE ($2,695USD), DanaCables Ultra Summa Speaker Cables ($7,200USD for 2.5m) with Gingko Audio Cable ARCH Acoustic Resonance Clarifiers ($249USD) plus the Gingko Audio VCS throughout.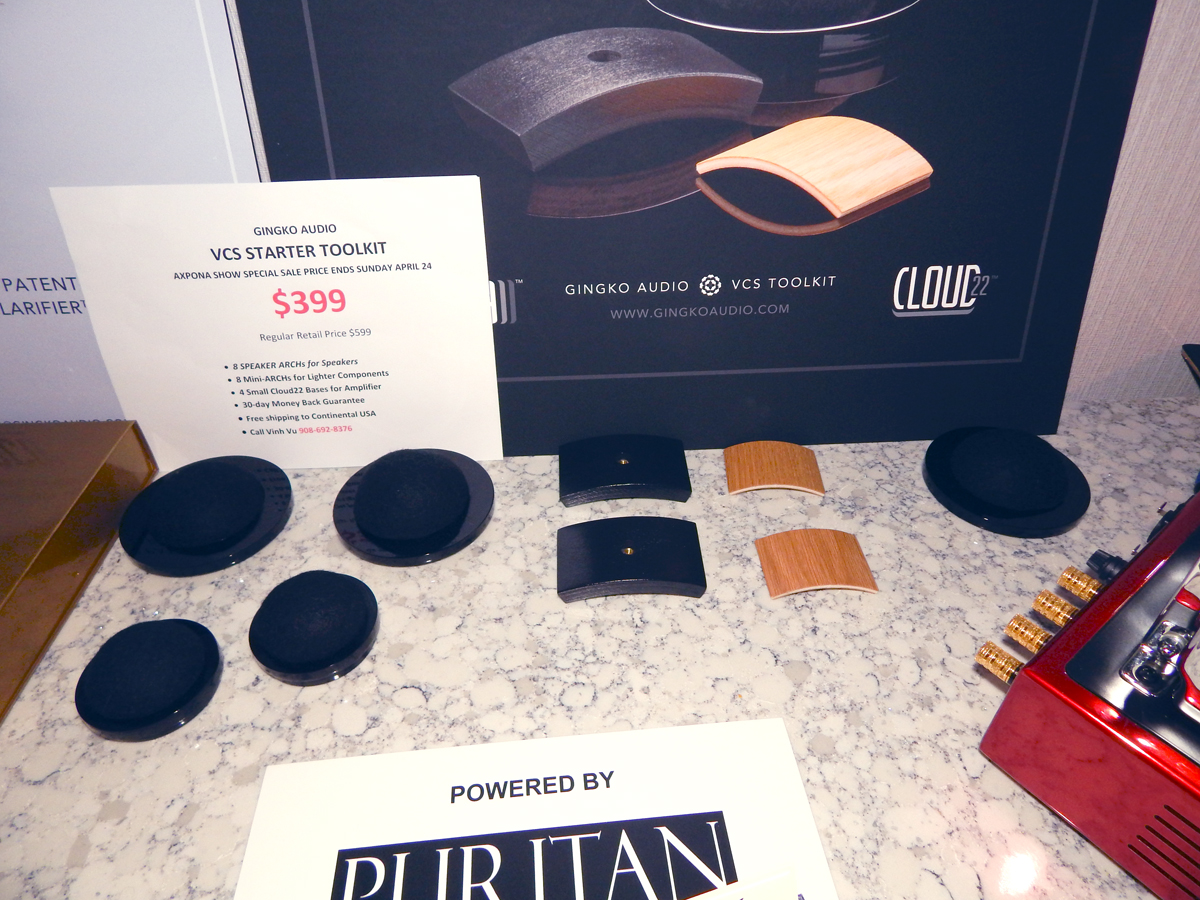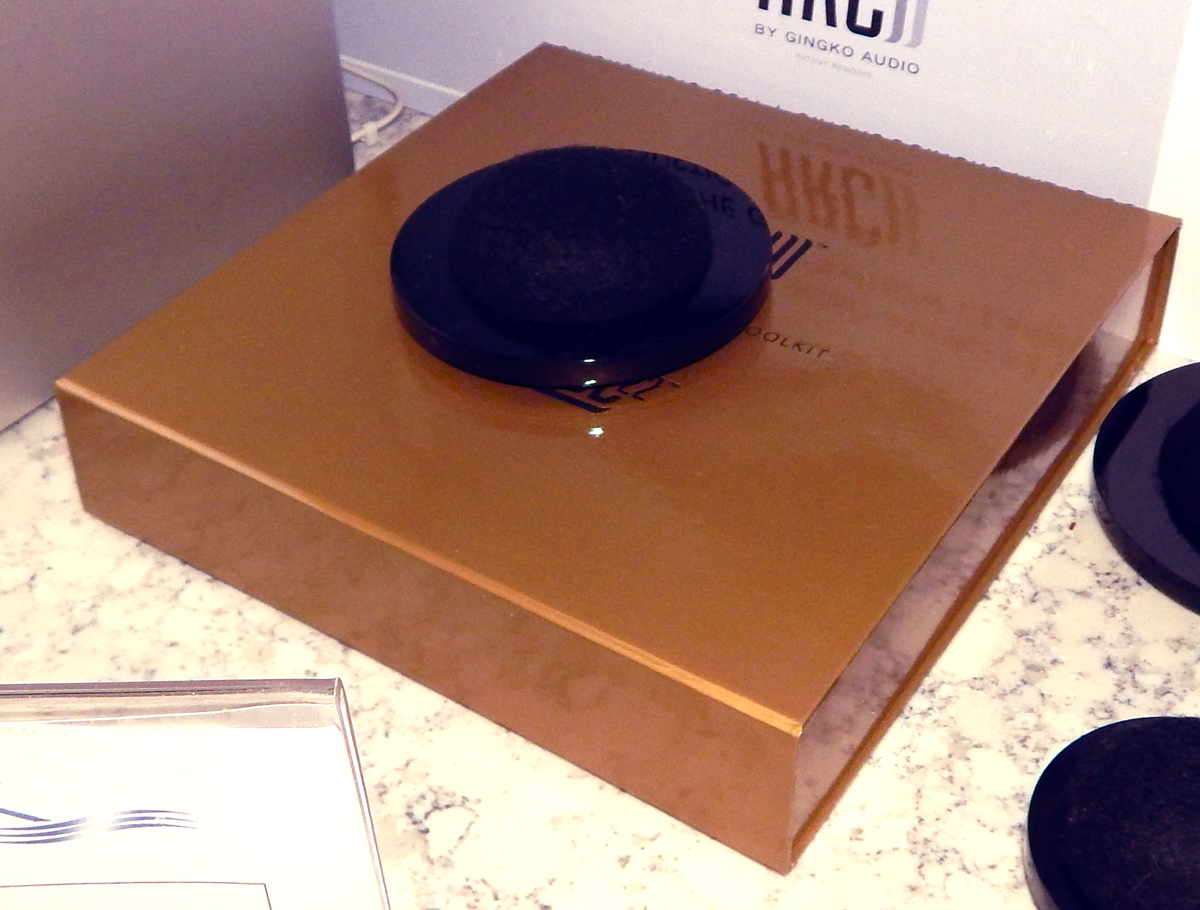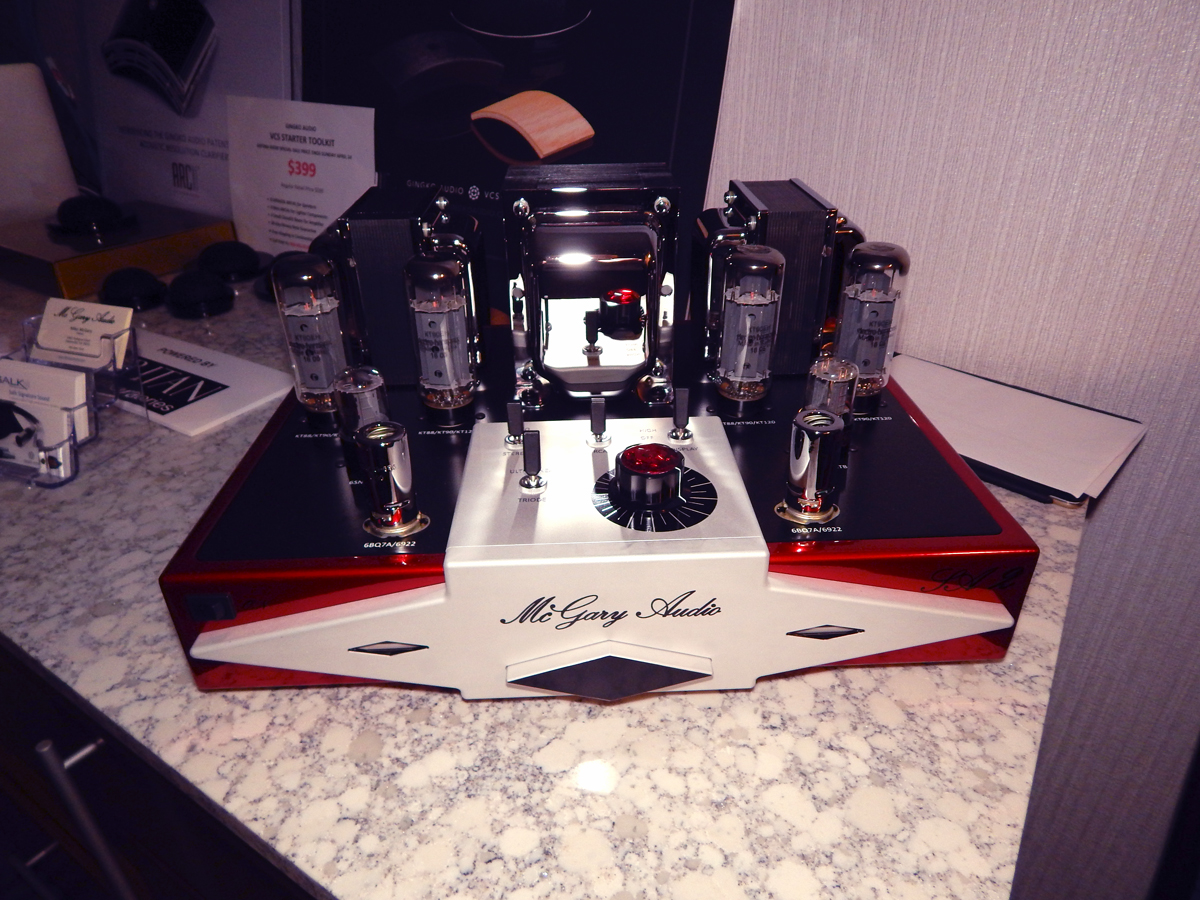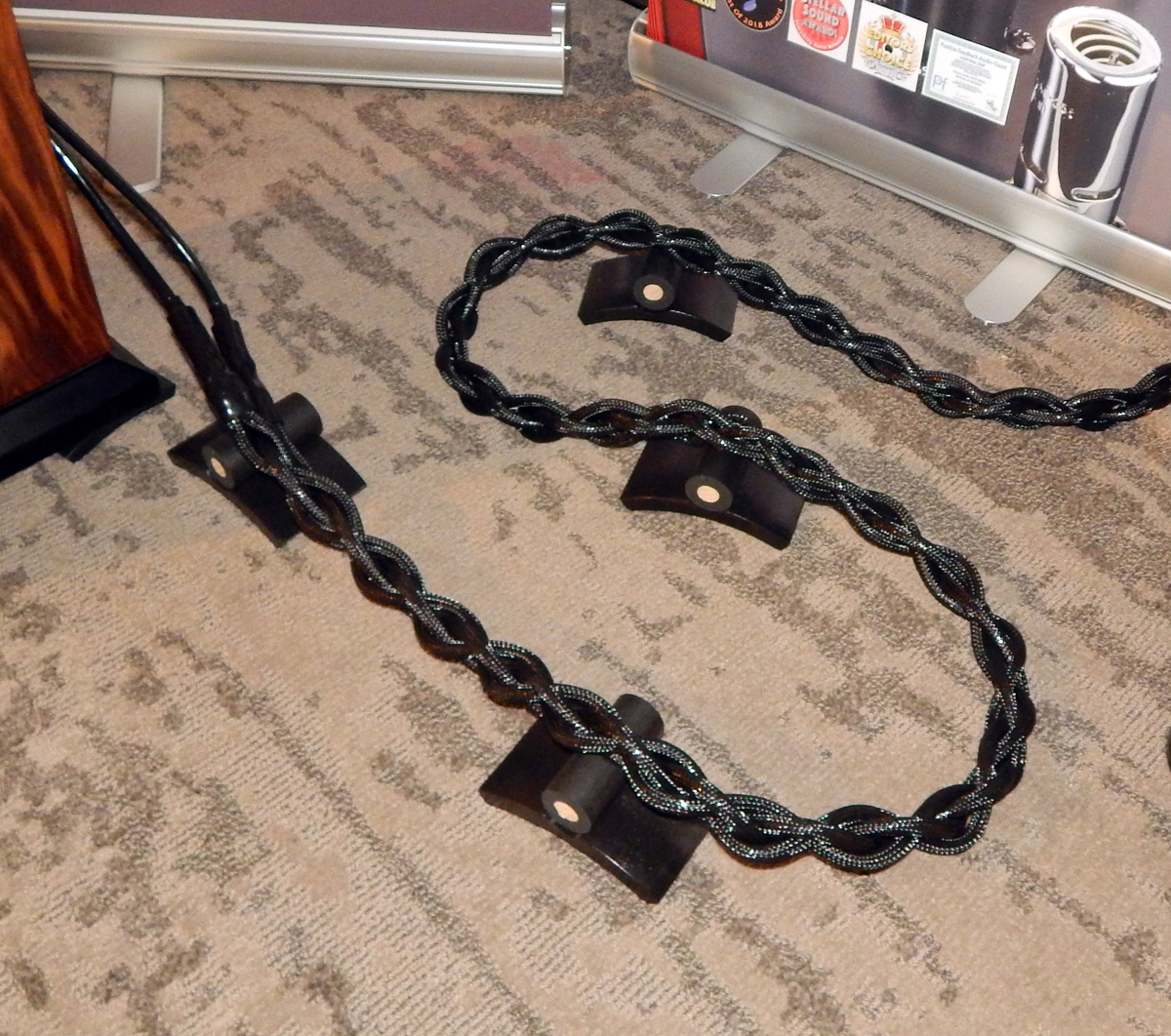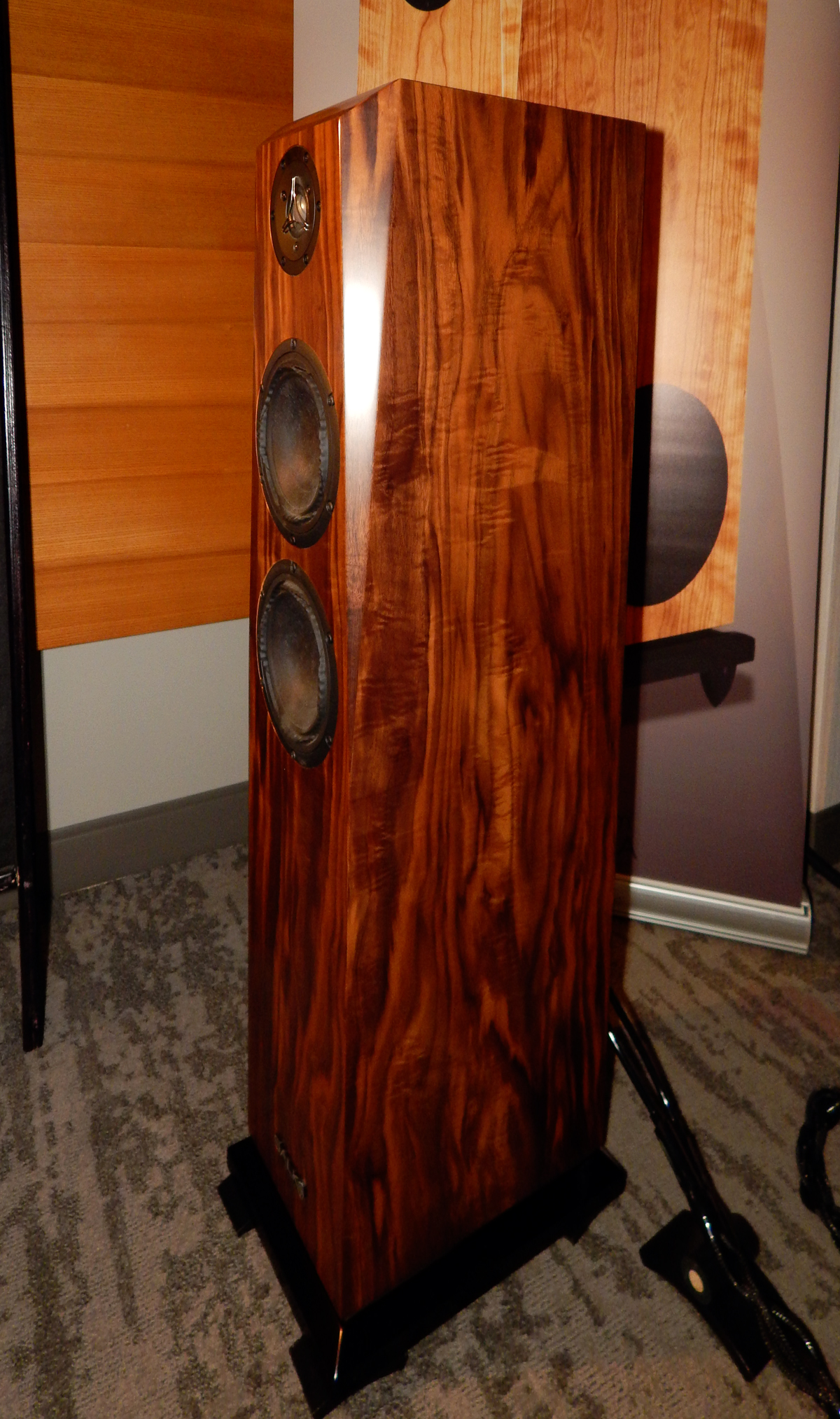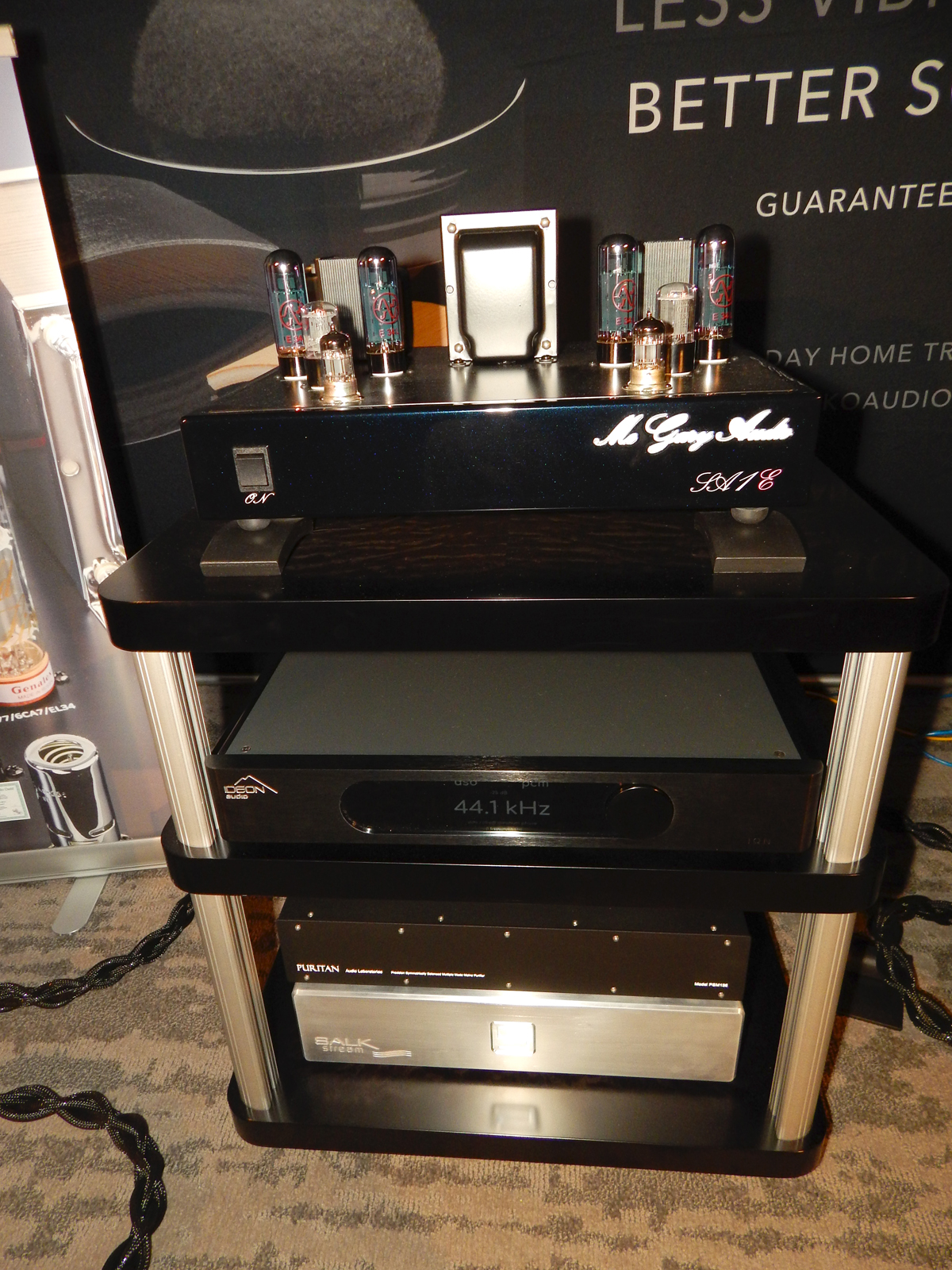 VPI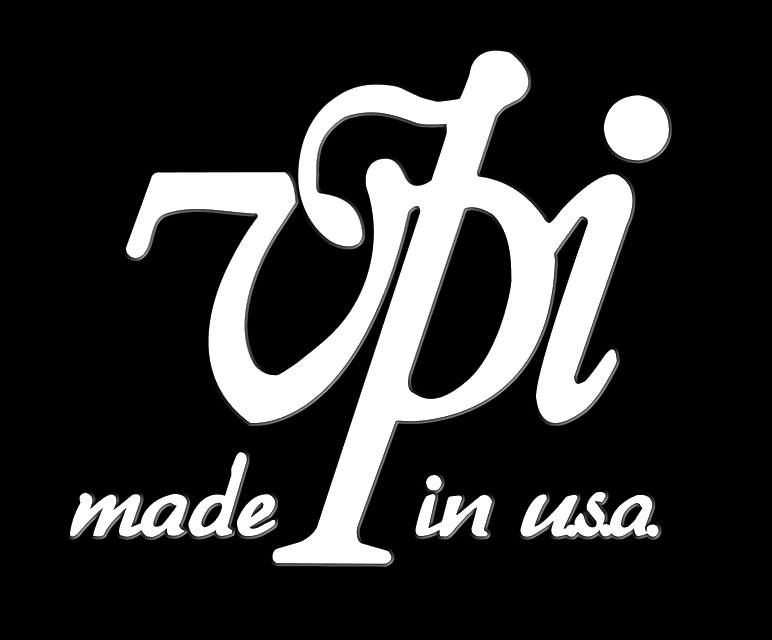 VPI didn't have their own room but instead were demonstrating in nine rooms around the show, making them the most displayed and sought-after turntable in evidence. So here is their list of appearances; VPI HW-40 ($20,000USD) – Convergent Audio Technology; VPI Avenger Direct ($30,000USD) – AudioShield, Credo Audio Switzerland, Van den Hul, VPI HW-40 – Nordost Cables, Stenheim, VTL, WADAX; VPI Player ($2,000USD) – Elusive Disc, Inc.; VPI Prime ($4,000USD) – Sweat Vinyl; VPI HW-40 – Krell Industries, Alta Audio; Avenger Direct – House of Stereo, TAD, T+A North America; VPI Avenger ($12,500USD) – AV Luxury Group International, Raidho Acoustics, Margules, RSX Tech; VPI Titan ($47,000USD) – American Sound of Canada.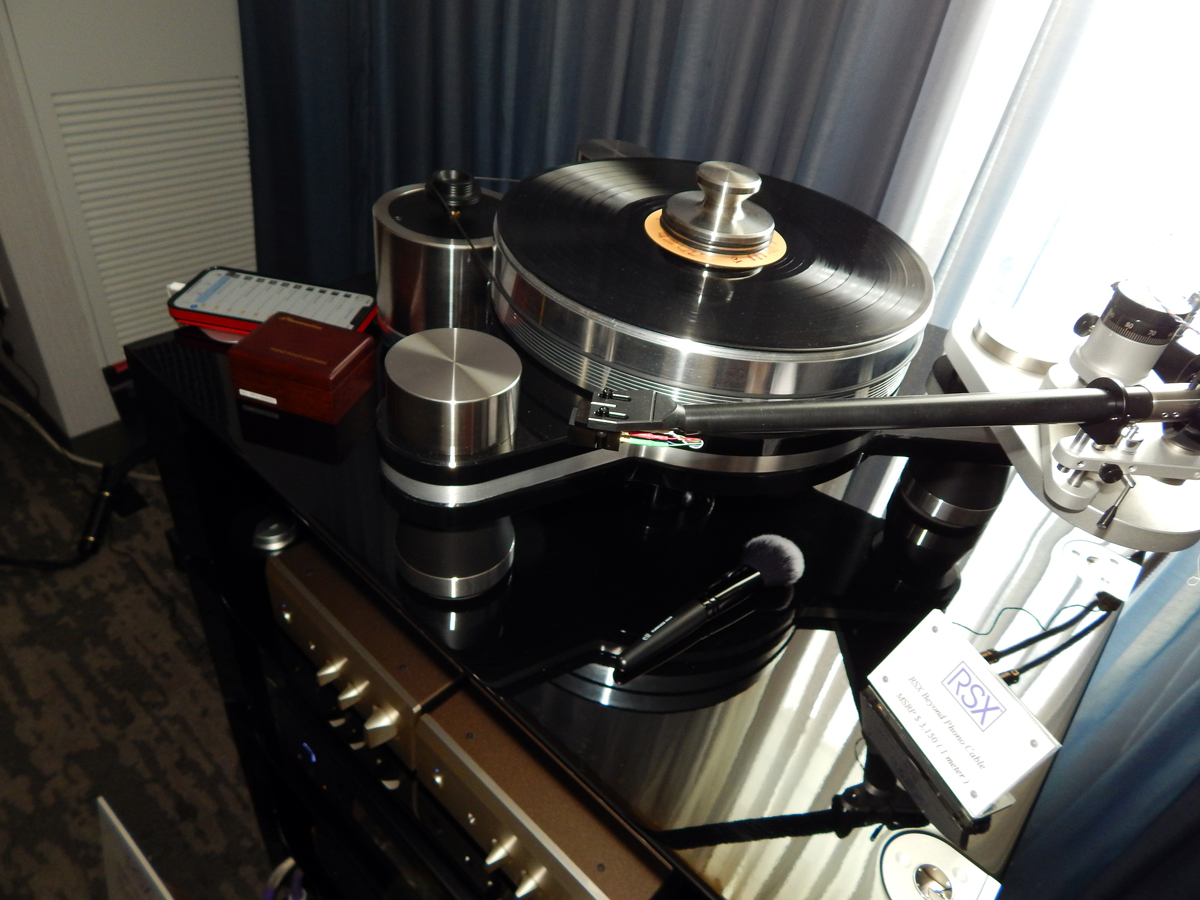 Nordost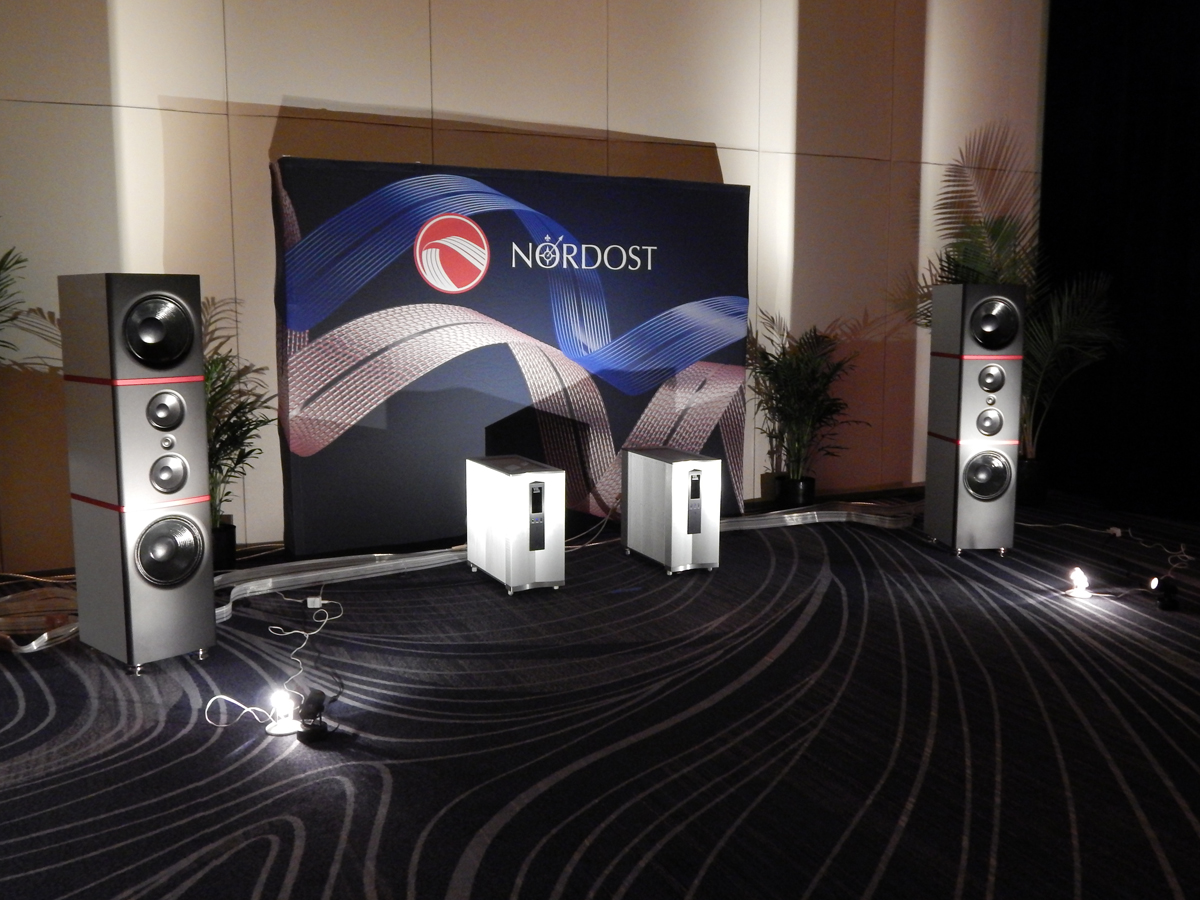 Per usual, Nordost had one of the large ballrooms and one of the more impressive displays, sharing the room with VPI, Wadax, VTL, and Stenheim Switzerland. The system consisted of Stenheim Switzerland Reference Ultime Two Speakers ($153,000USD/pr) driven by a pair of VTL S-400 Series II Reference Stereo Amplifiers ($37,500USD), a VTL TP-6.5 Series II Signature Phono Preamplifier ($12,500) feeding a VTL TL-7.5 Series III Reference preamplifier ($30,000USD) connected to a VPI HW-40 Turntable with all Nordost cables including Nordost Odin 2 Speaker Cables ($35,999.99 USD/pr) for the analog system and a WADAX Atlantis Reference Server ($59,000USD) and WADAX Atlantic Reference DAC ($145,000USD) featuring the WADAX Akasa Optical system ($17, 495) fills out the digital side.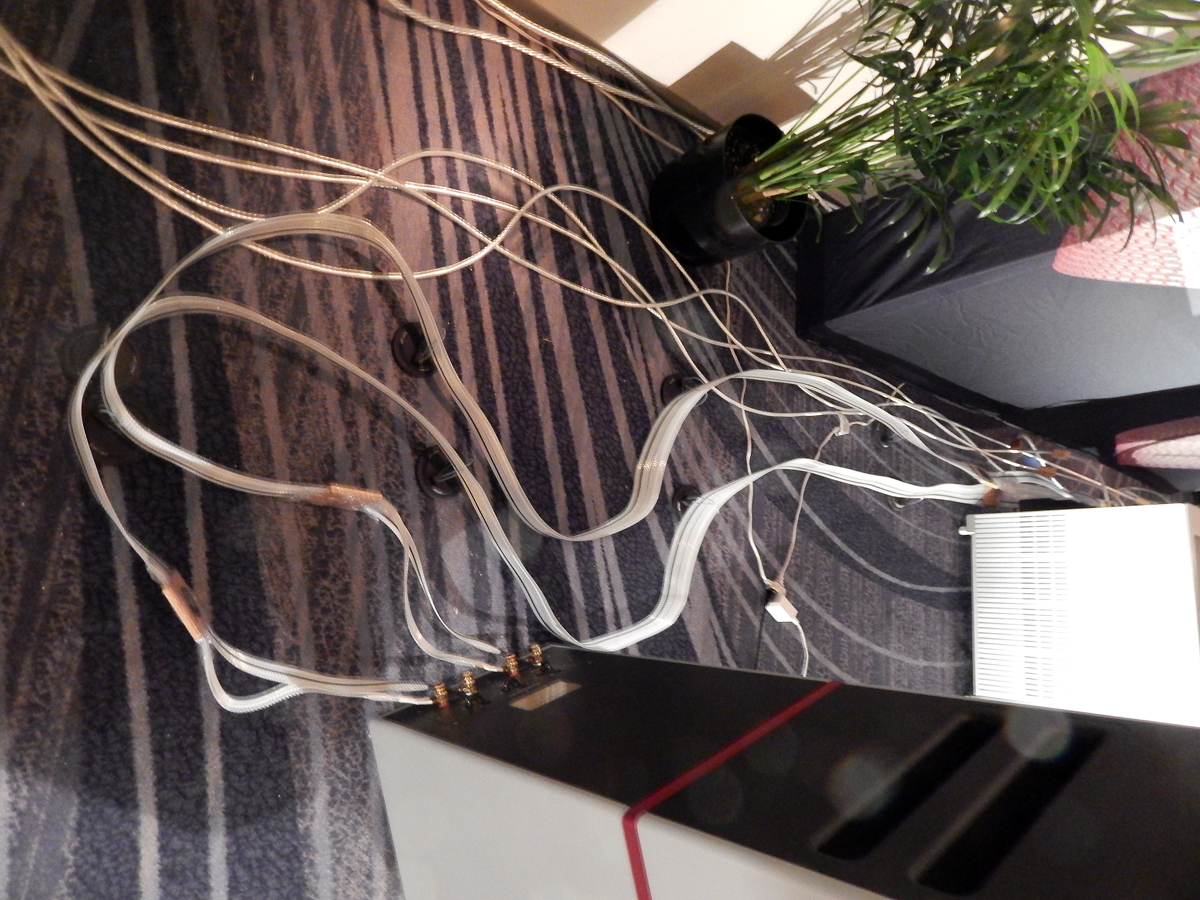 Lenbrook/NAD/DALI/Bluesound/PSB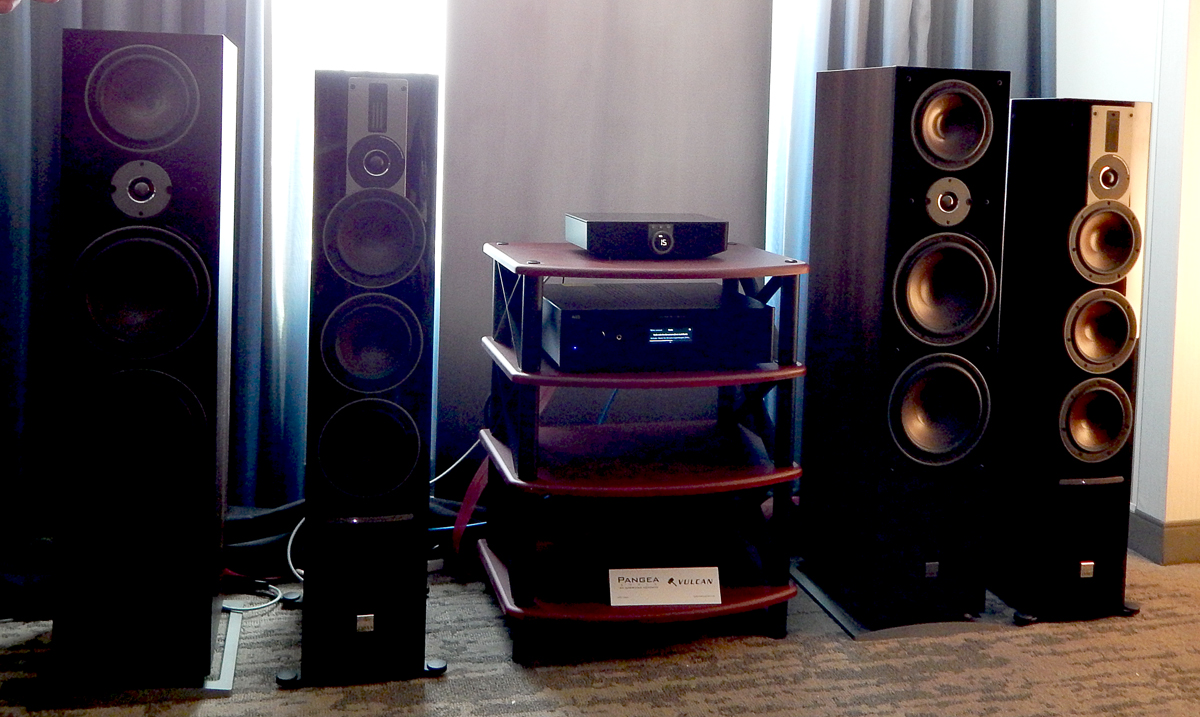 Lenbrook, distributer for NAD, DALI, Bluesound, and PSB had a room of their own, which confused me a bit while writing this report being next door to the Holm Audio rooms, I thought it was one of Holm Audio's until I looked it up in the guide to figure out how four rooms worth of gear was packed into three rooms. On active display was a NAD C 399 HybridDigital DAC Amplifier ($1,999USD) driving a pair of DALI OBERON 9 Loudspeakers ($2,499/pr), and a pair of DALI RUBICON 8 C Active Loudspeakers (TBA) being fed wirelessly via a DALI Sound Hub BluOS Multi-room Music Streamer ($899USD).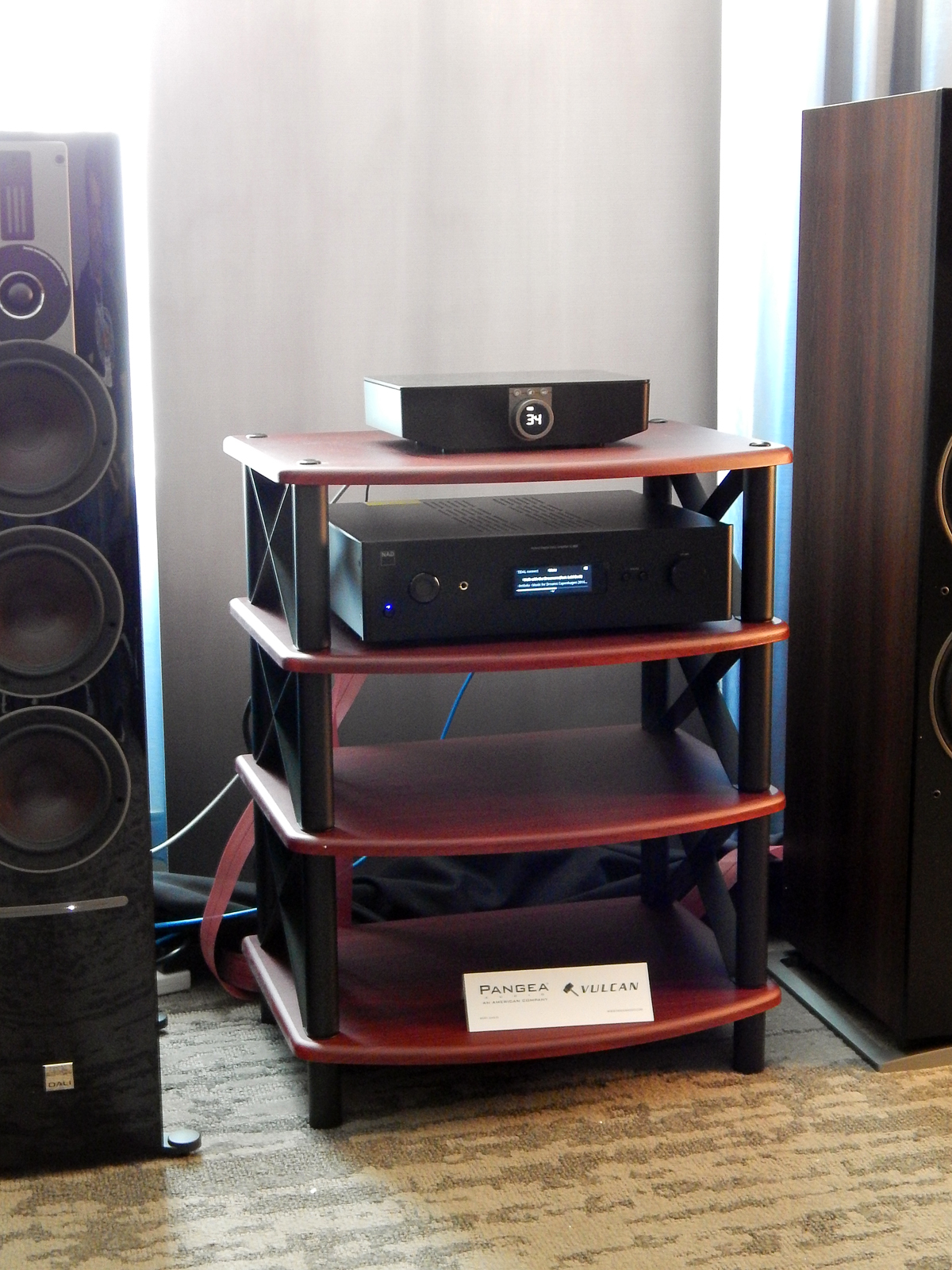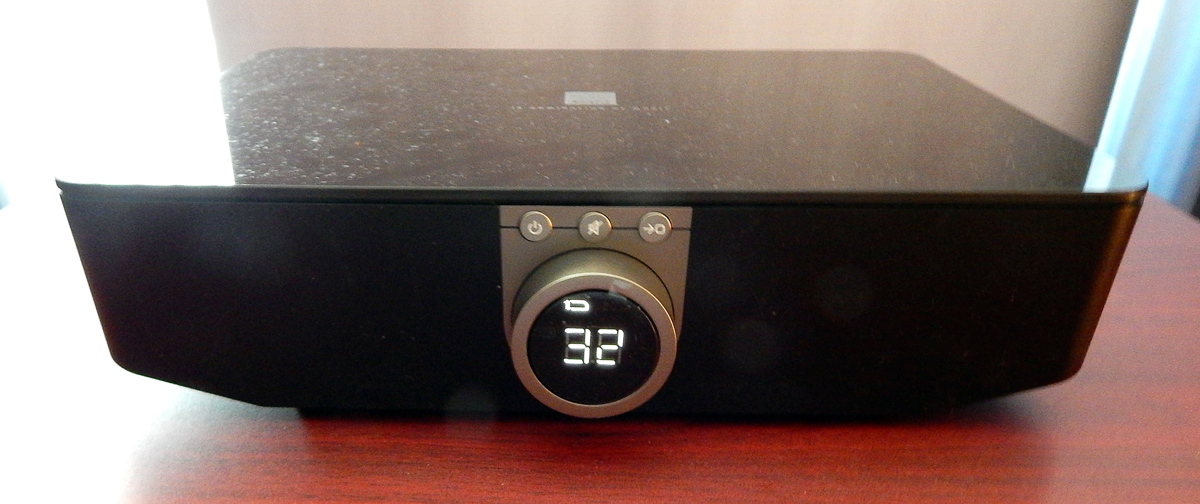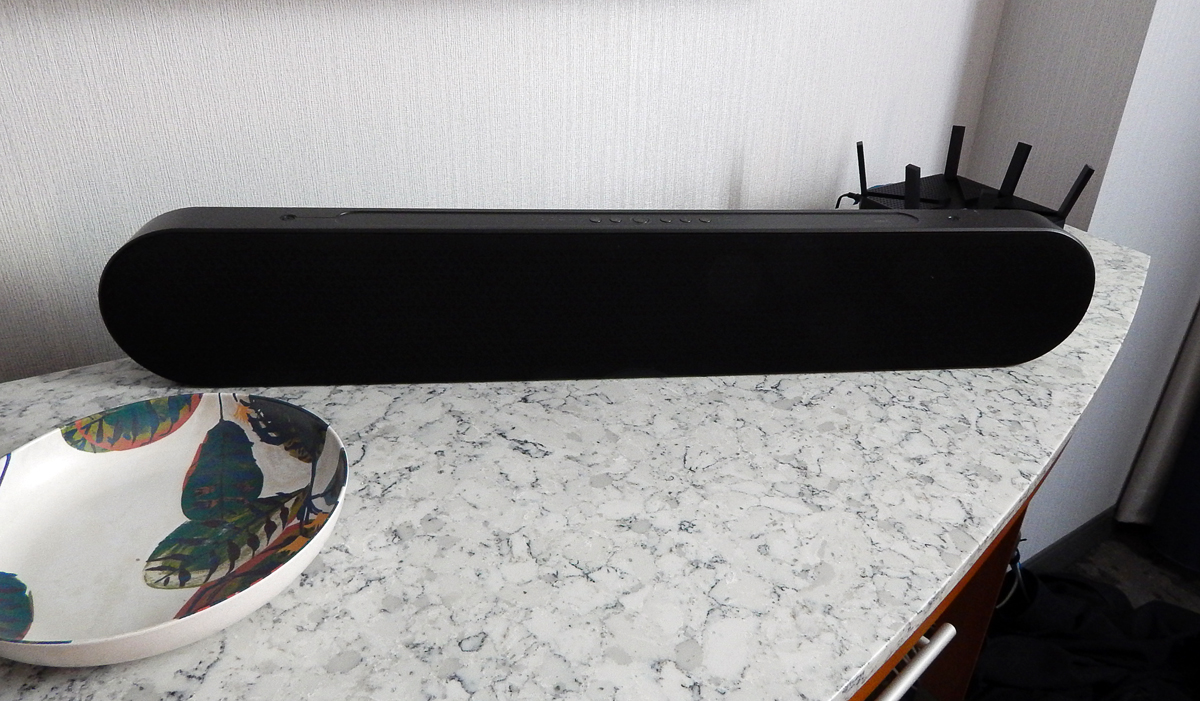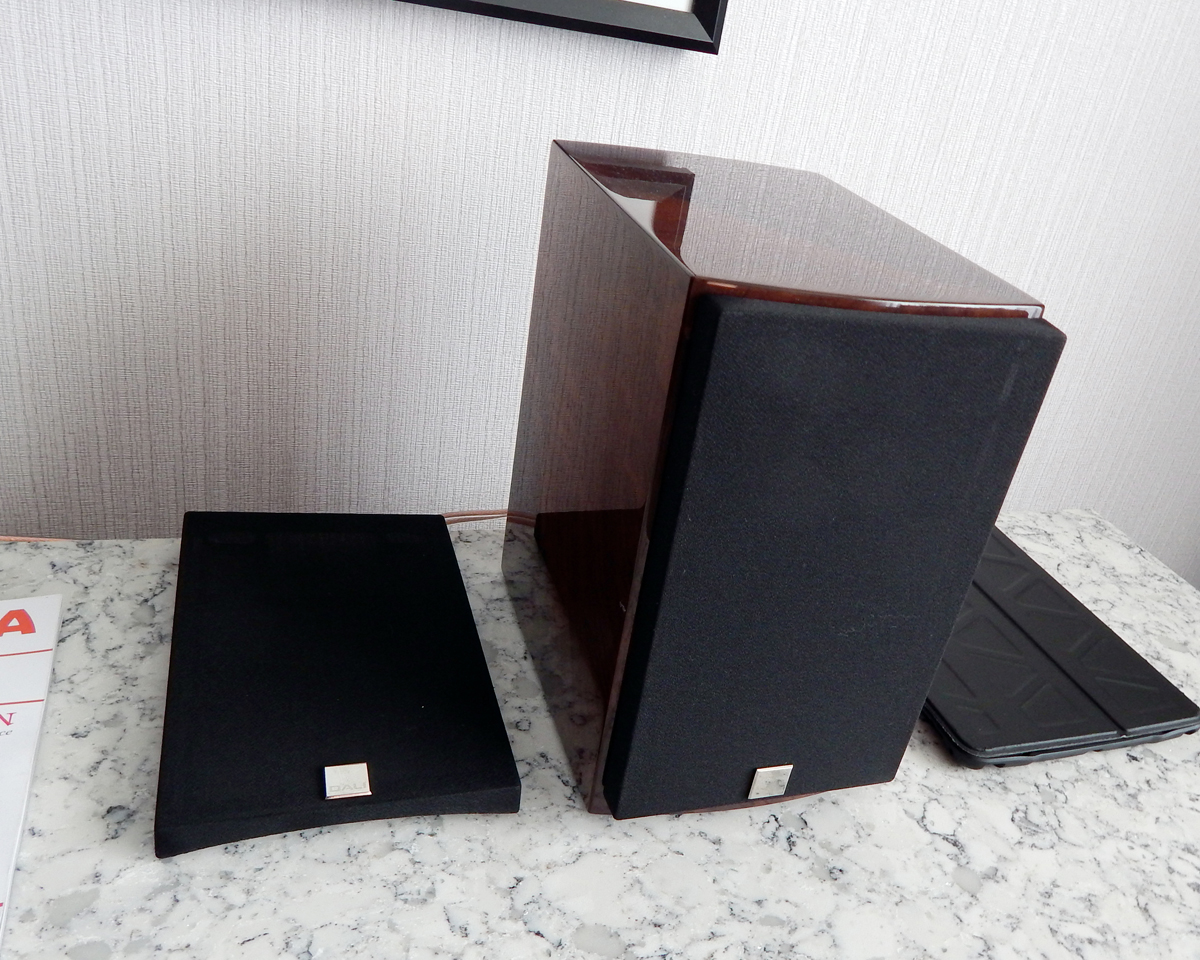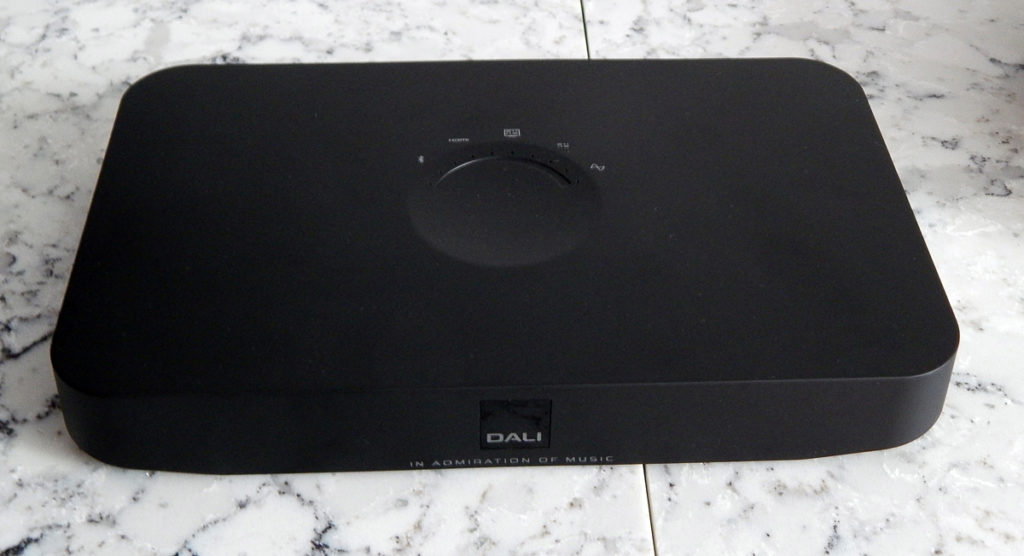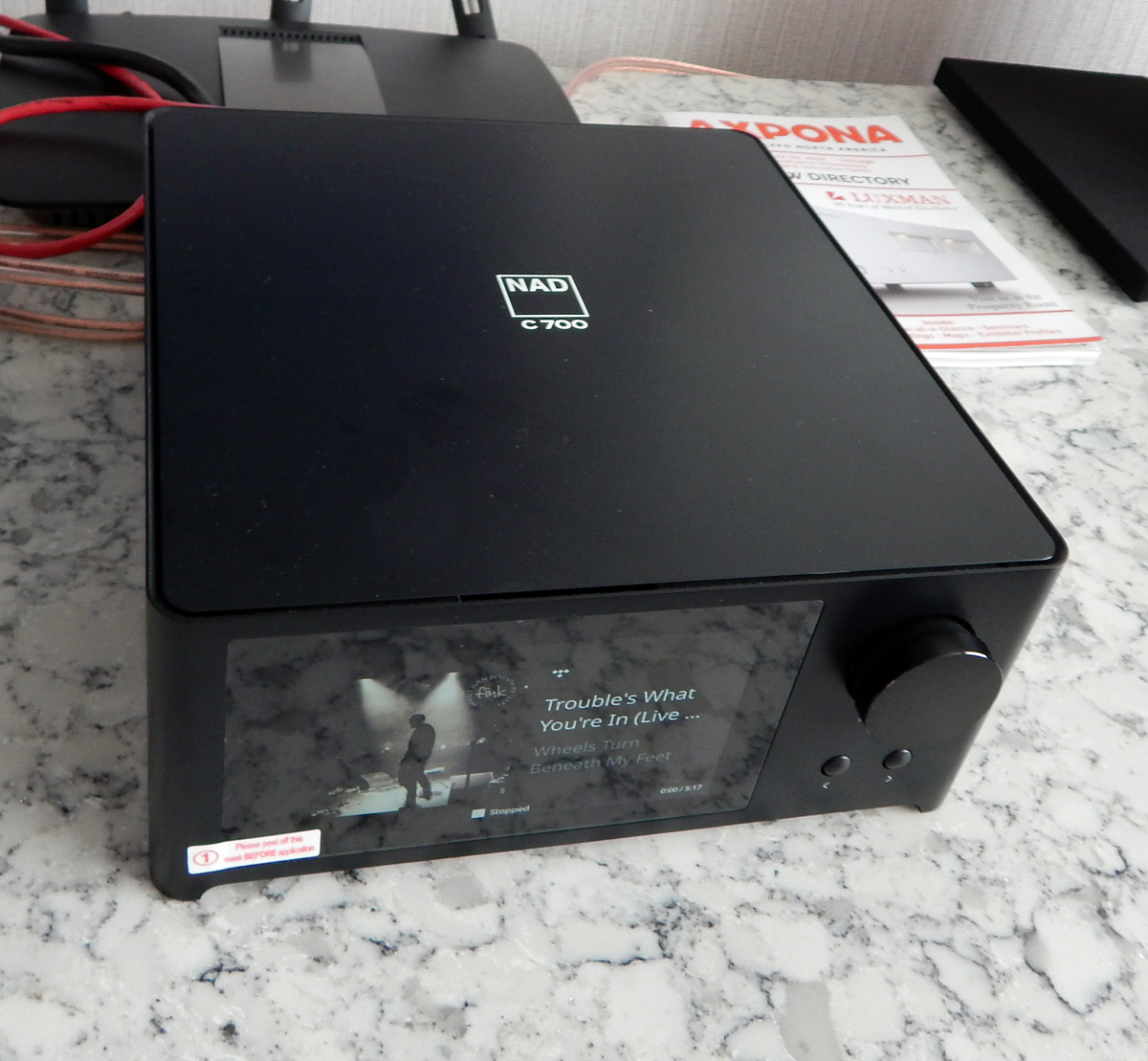 Holm Audio/NAD/DALI/Bluesound/Nordost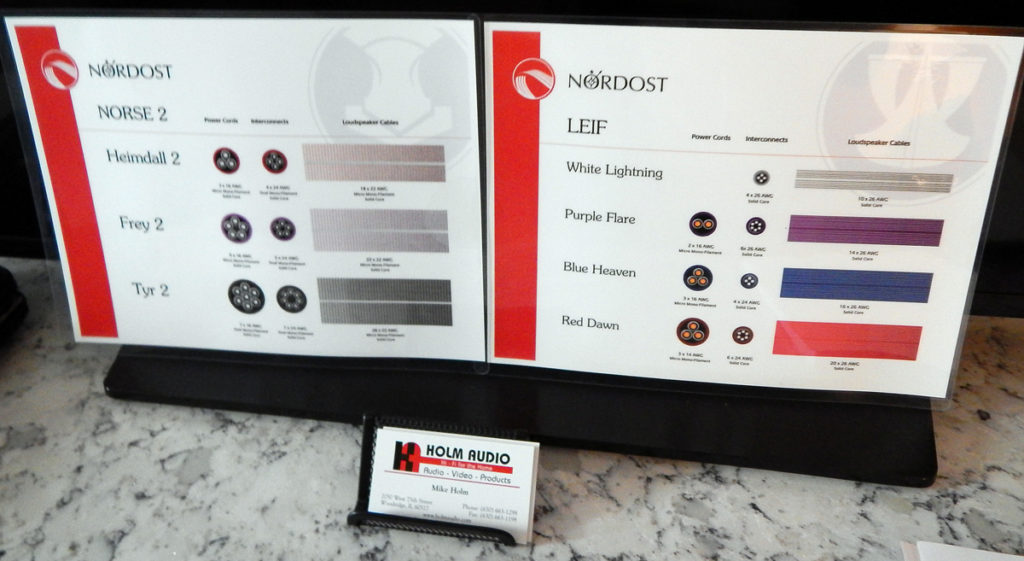 Holm Audio is a local Illinois dealer who had four rooms at the show including the main NAD ballroom covered above. One of the rooms in the tower was dedicated to NAD, DALI, Nordost, and Pangea Racks with three NAD/DALI systems on display; a NAD M33 BluOS Streaming DAC Amplifier ($5,500 USD) driving DALI Rubicon 8 Loudspeakers ($8,000USD/pr), a NAD M10 V2 BluOS Streaming DAC Amplifier ($2,750USD) paired with DALI OPTICON 6 Loudspeakers ($2,500USD/pr), and a NAD M50.2 Digital Music Player ($4,400USD) with a pair of DALI MINUET Special Edition Loudspeakers ($1,800USD/pr).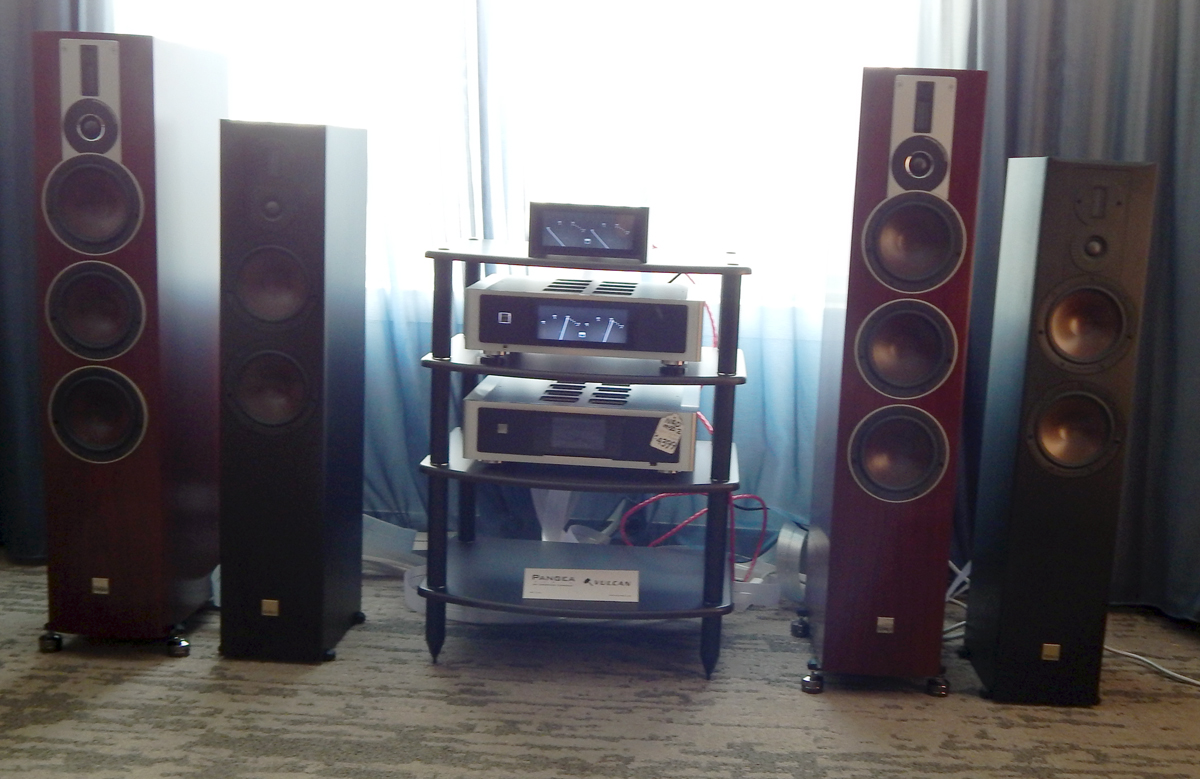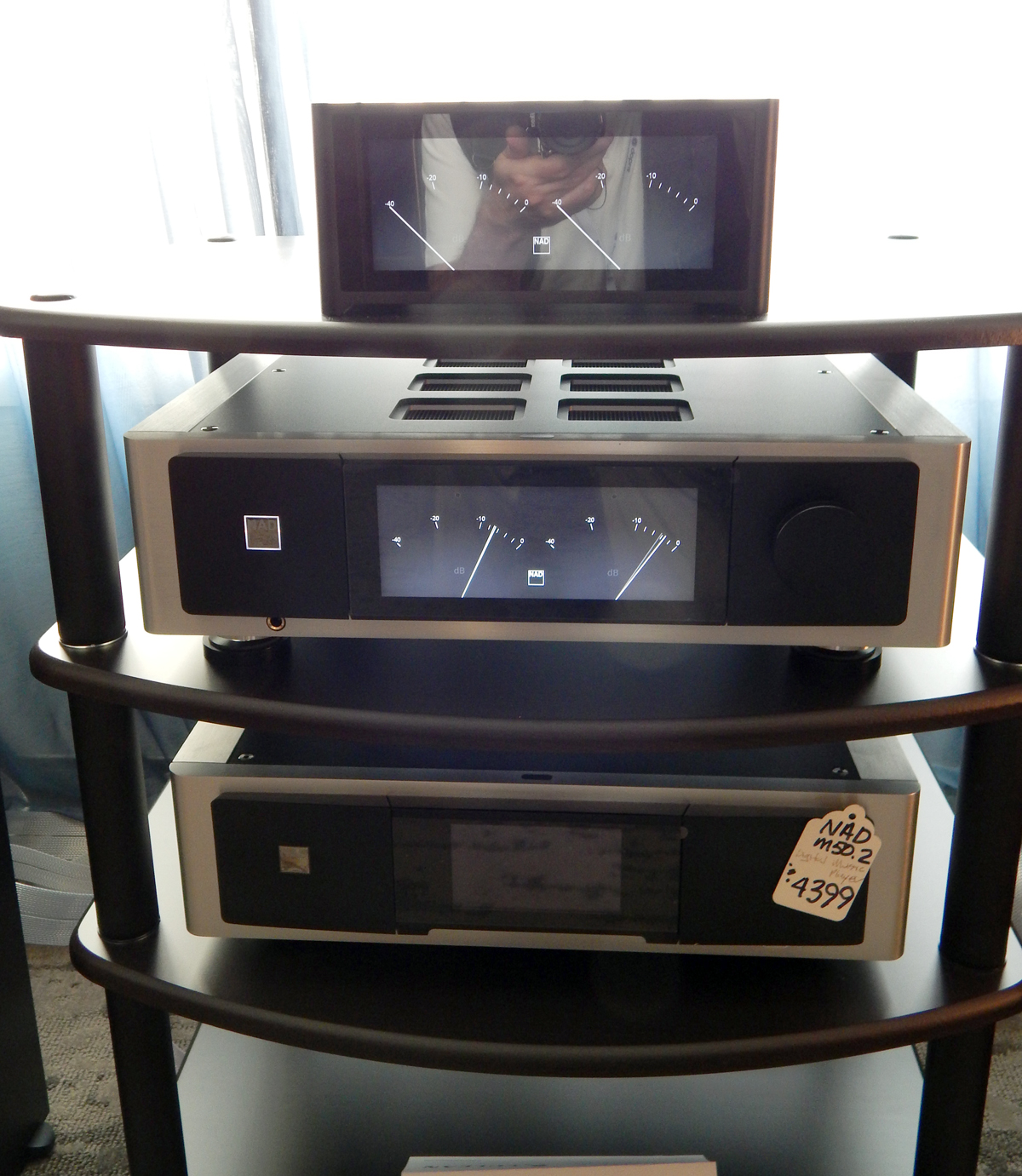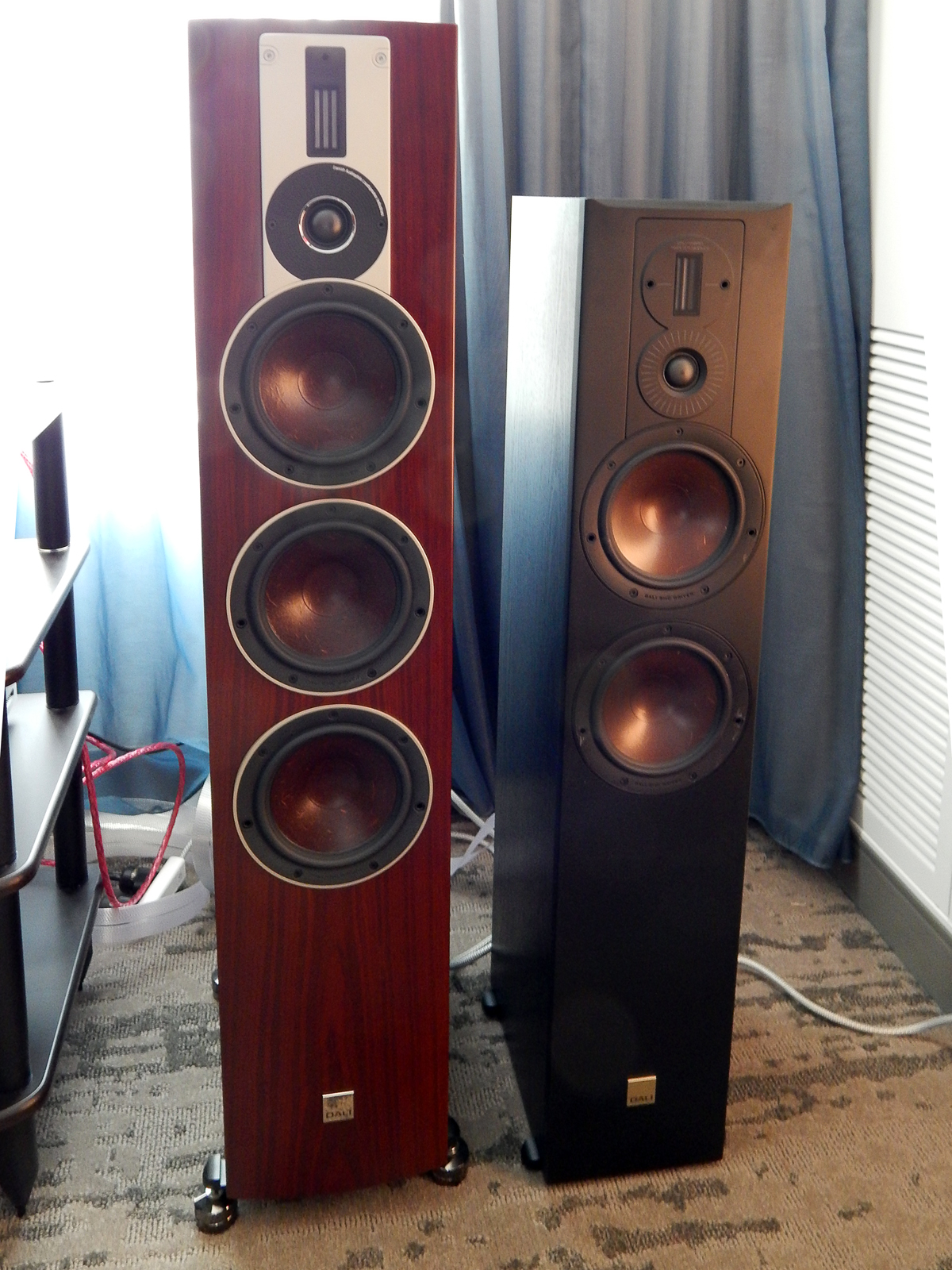 Upon entering his second room (which I believe was actually the first I entered) the first thought through my head was, "Ah, . . music." Which is my cue to soapbox for a moment, up to this point every room I entered (I started on the 14th floor and this was the 7th floor, though 8th through 12th had no exhibits) had two things in common, they were all playing what I call "HiFi Rock", which is electronic music that almost seems to be made to make stereo systems sound impressive, and they were all playing too loud. Now I am known to listen to my music loud, but when demonstrating high-end audio to audiophiles, the singer should sound like they are in the room with you, not like they are singing through a PA (Public Address) system, and the only way to judge if a system is authentic sounding is via acoustical instruments. I invariably, if I wanted to listen to a system critically, had to ask them to play something Classical. In this room, they were playing Classical when I entered, at a volume that allowed one to picture themselves in a concert hall. The system on display consisted of Audio Physic Midex Loudspeakers ($12,500USD/pr), a LUMIN P1 Streaming DAC/Preamp ($10,000USD), a Margules U-280 SC 30th Anniversary Edition Tube Class A Amplifier ($10,000USD), a Sutherland 20/20 MK2 Phono Stage ($2,650USD), an EAT B-Sharp Turntable ($2,000USD) with an Ortofon Black LVB Cartridge ($1,000USD), and Nordost Cables. While it may not have been the best-sounding room at the show, it was certainly close.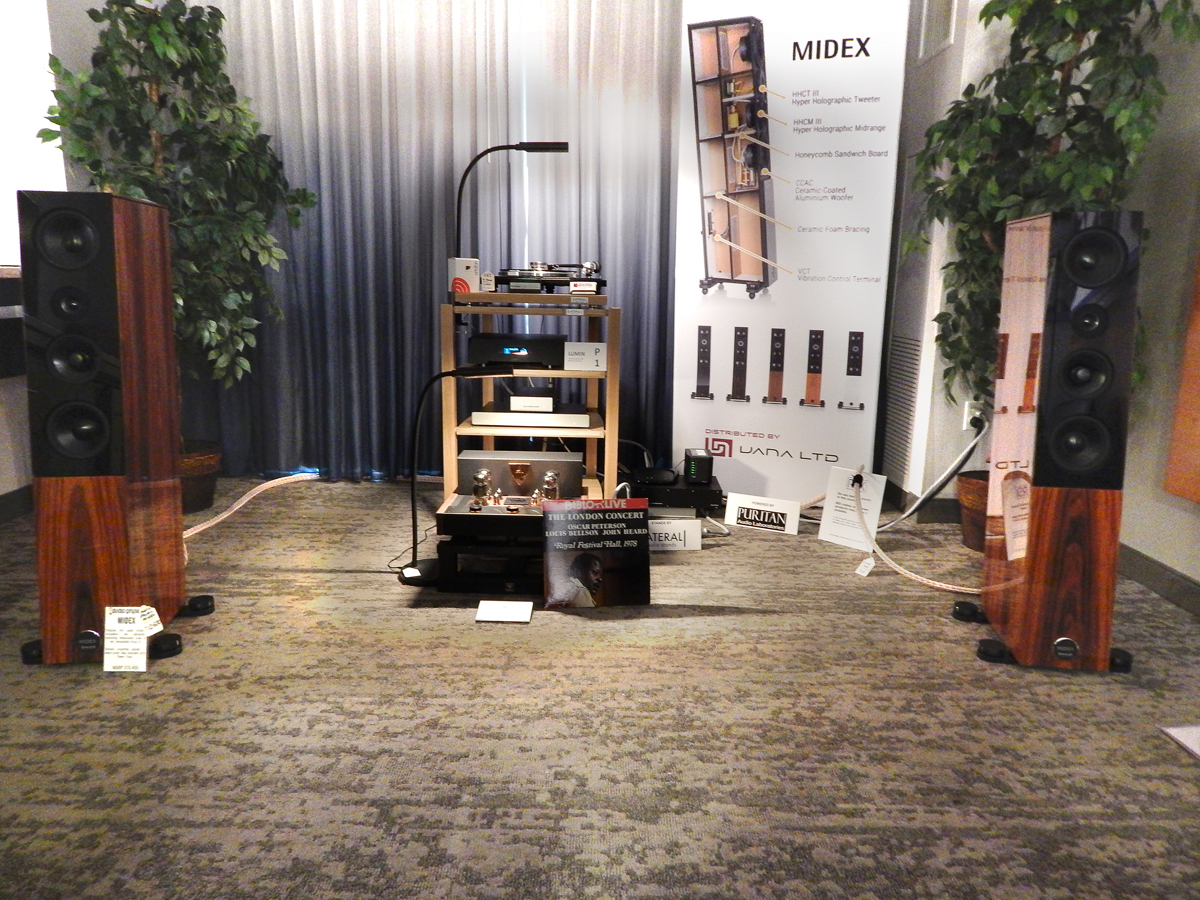 In the final room was an Ayre Acoustics system composed of an Ayre Acoustics CX-8 CD Player ($5,450USD), an Ayre Acoustics QX-5 Twenty Streaming DAC($7,950USD), an Ayre Acoustics KX-R Twenty Preamp ($29,950USD), two Ayre Acoustics MX-R Twenty Monoblock Amplifiers ($16,750USD ea) driving KEF Reference 5 Meta HiFi Speakers ($21,999.98USD), again wired with Nordost Cables.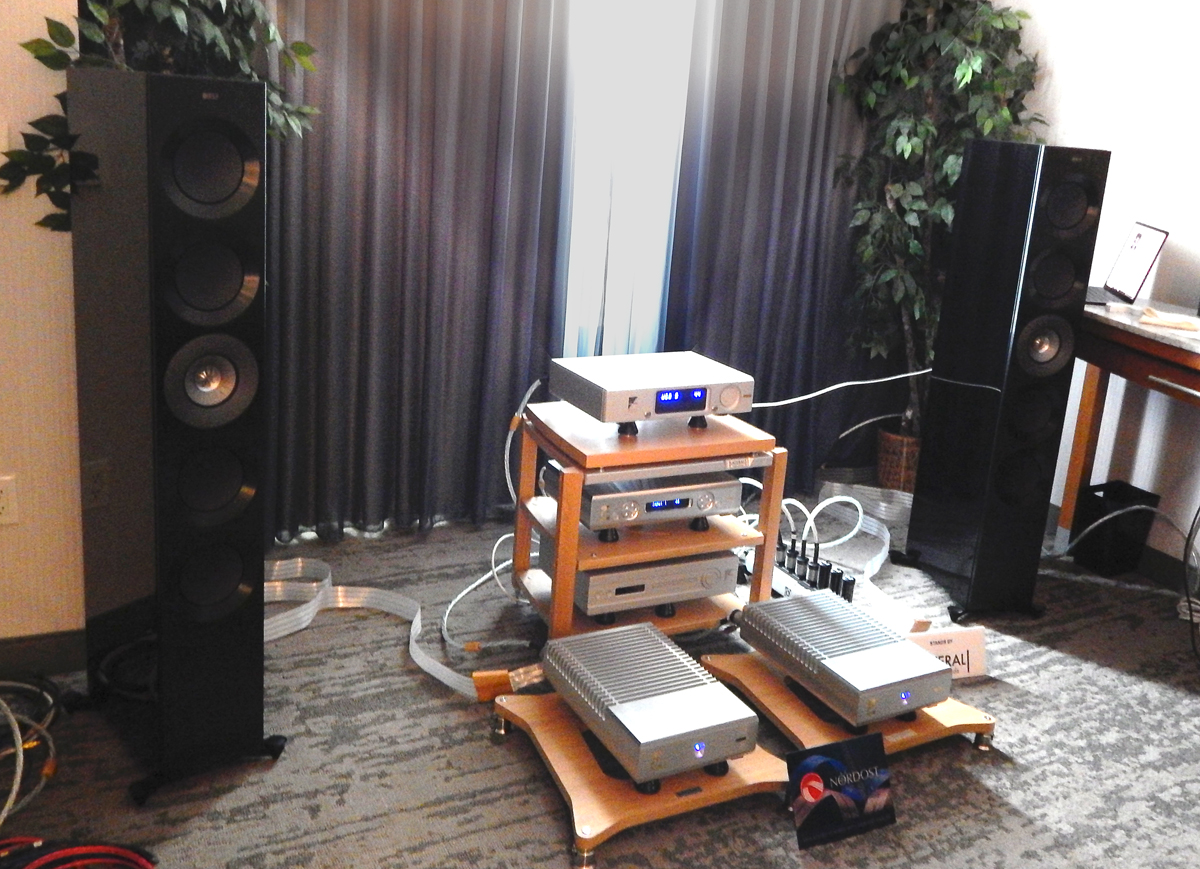 Shure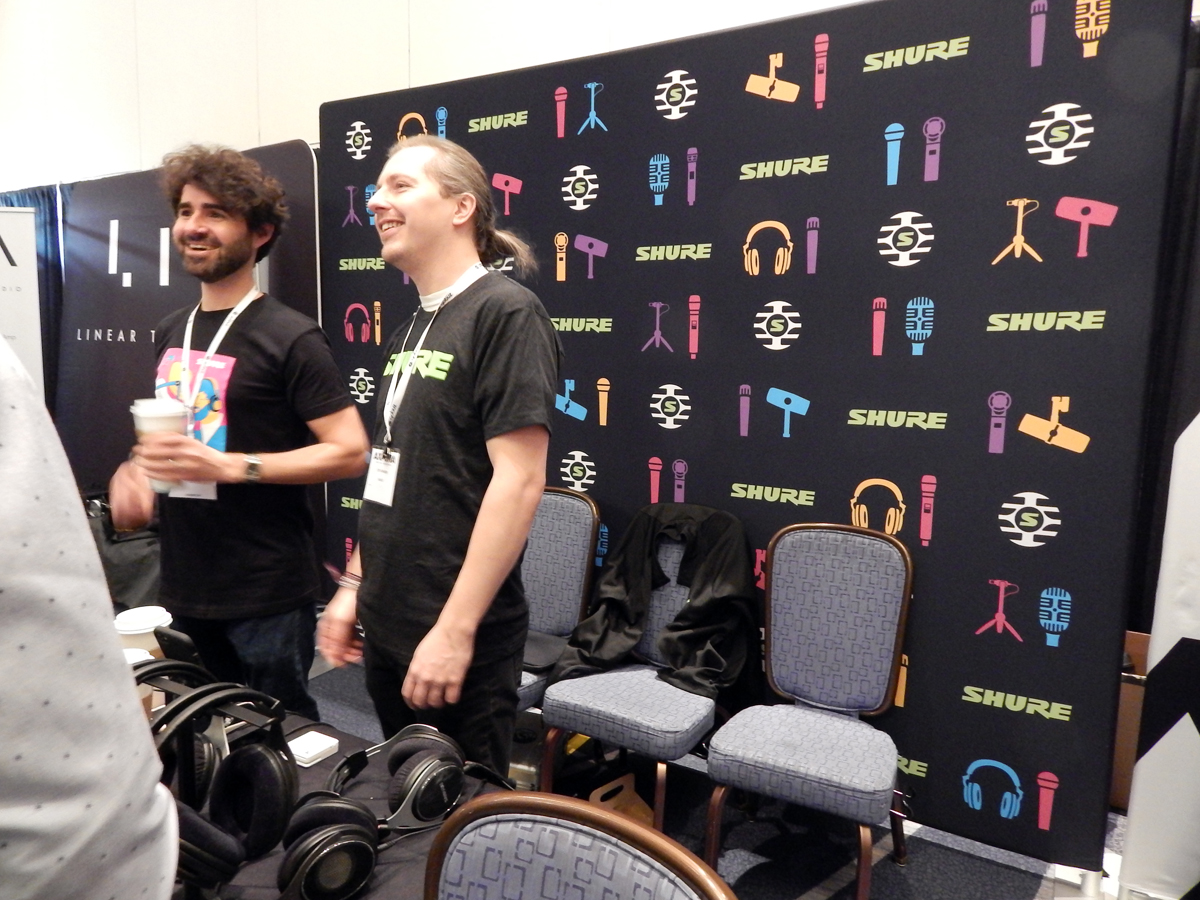 Shure is a household name among Pro-Audio enthusiasts, and Personal Audio lovers alike and they were present with their extensive line of headphones and IEMs. Of particular focus for this show was their wireless line including their Shure AONIC 50 Wireless Noise Cancelling Headphones ($299USD) and Shure AONIC 40 Wireless Noise Cancelling Headphones ($249USD) featuring 50mm and 40mm dynamic drivers respectively. On the IEM front, they were showing their Shure True Wireless Secure Fit Adapter Gen 2 which comes with an MMCX connection making it easy to pair them with most Shure IEMs, as well as the Shure AONIC 3 IEM ($199USD), Shure AONIC 4 IEM ($299USD), and Shure AONIC 5 IEM ($499USD) that are available in True Wireless Earphone Bundles at a package price ($349USD, $449USD, $649USD).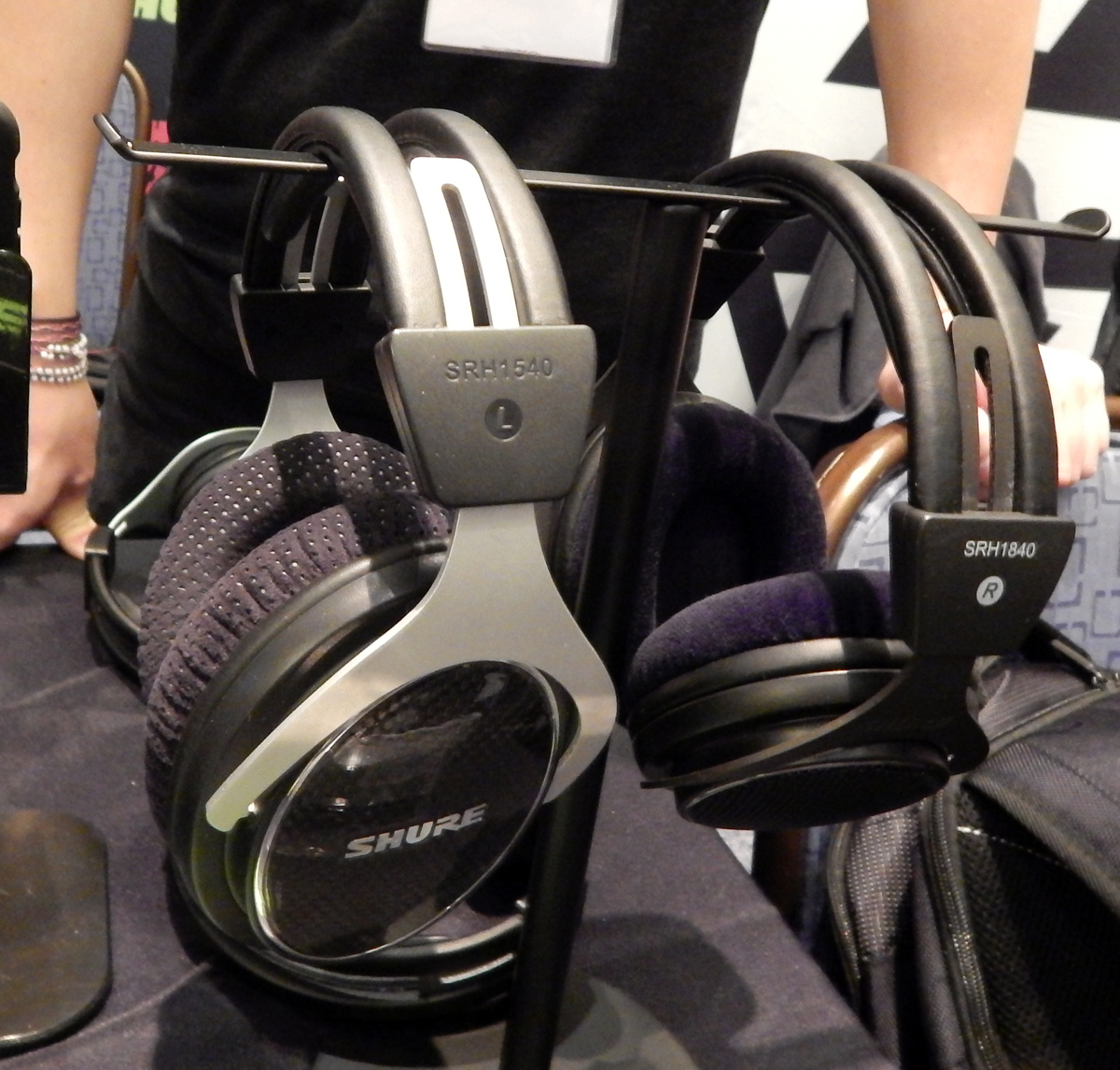 LTA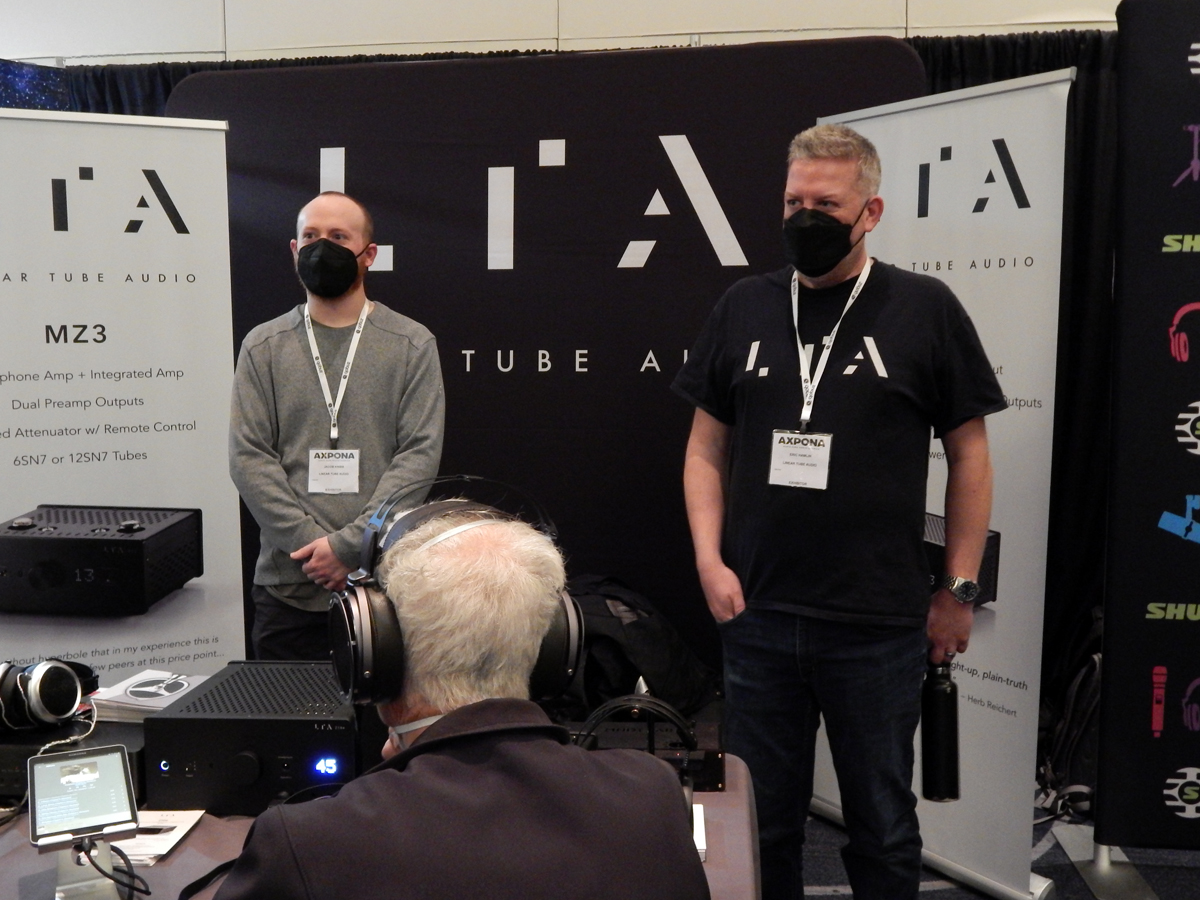 Linear Tube Amplifiers had their amazing ZOTL headphone amplifiers on display in the Personal Audio room as well as two separate two-channel loudspeaker rooms in the tower. They had their MZ2 Headphone Amp / Preamp / 1-Watt Speaker Amp ($1,295 USD) fitted with an acrylic top so you could see inside. I was able to compare the new STAX SR-X9000 to the Dan Clark Audio VOCE and the AUDEZE CRBN Electrostatic using their wonderful 12-Watt LTA Z10E Electrostatic Headphone Amp/Integrated Amp ($6,950USD). Next to that was their LTA microZOTL MZ3 Headphone Amp/Preamp/Integrated Amp ($3,700USD). In their first listening room, they had their LTA microZotl Preamplifier ($5,750USD) and LTA ZOTL Ultralinear+ Amplifier ($6,800USD) driving Devore Fidelity Gibbon Super Nine Speakers ($9,990USD) with a Lampiztor Baltic 3 Tube DAC ($6,600USD) as source and Cardas Audio cables throughout. In the second room, they were driving Spatial Audio Lab X4 Premium Speakers ($7,500USD) with their LTA Z40+ Integrated Amp ($7,650USD) with a Holo Audio May DAC (KTE) ($5,598USD) provided by Kitsune Hifi as source, and all cabling (power, interconnects, speaker) were provided by Anticables.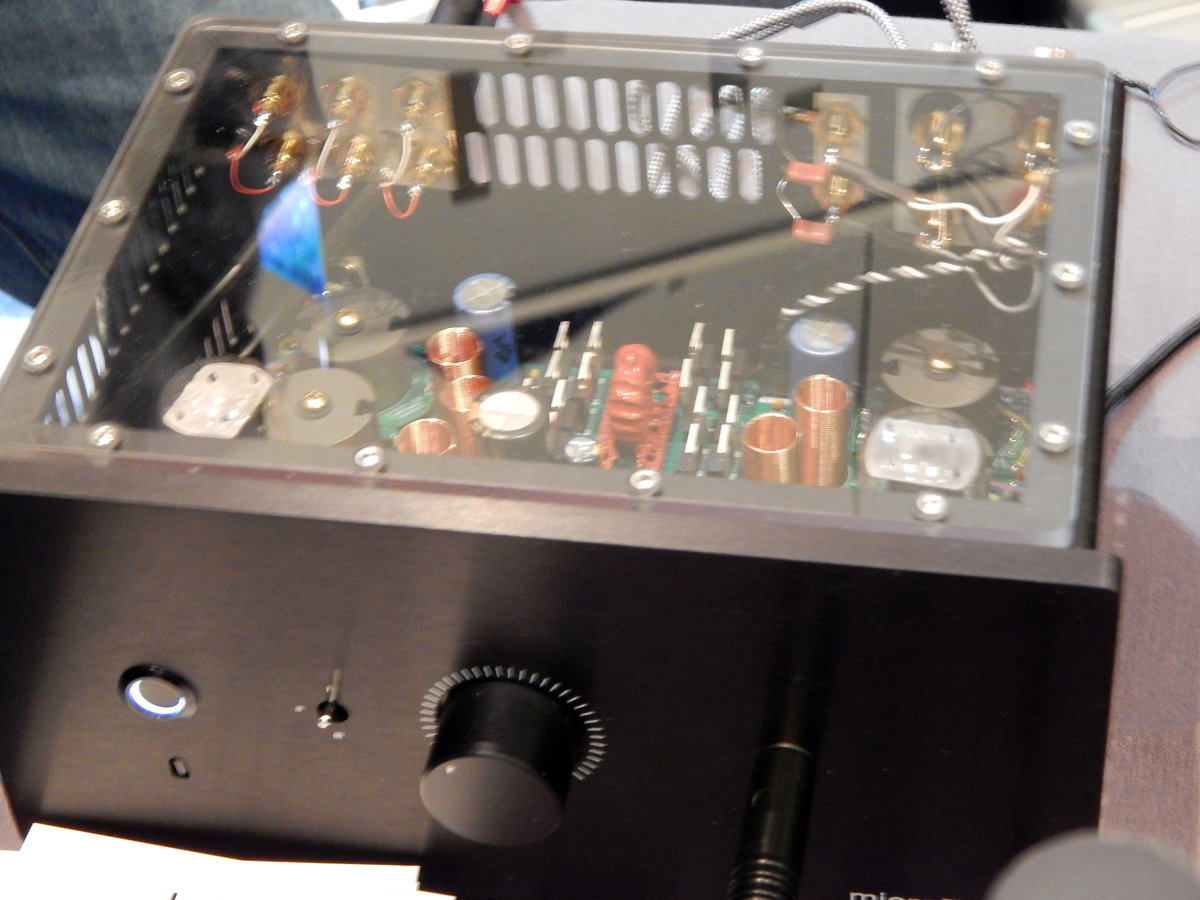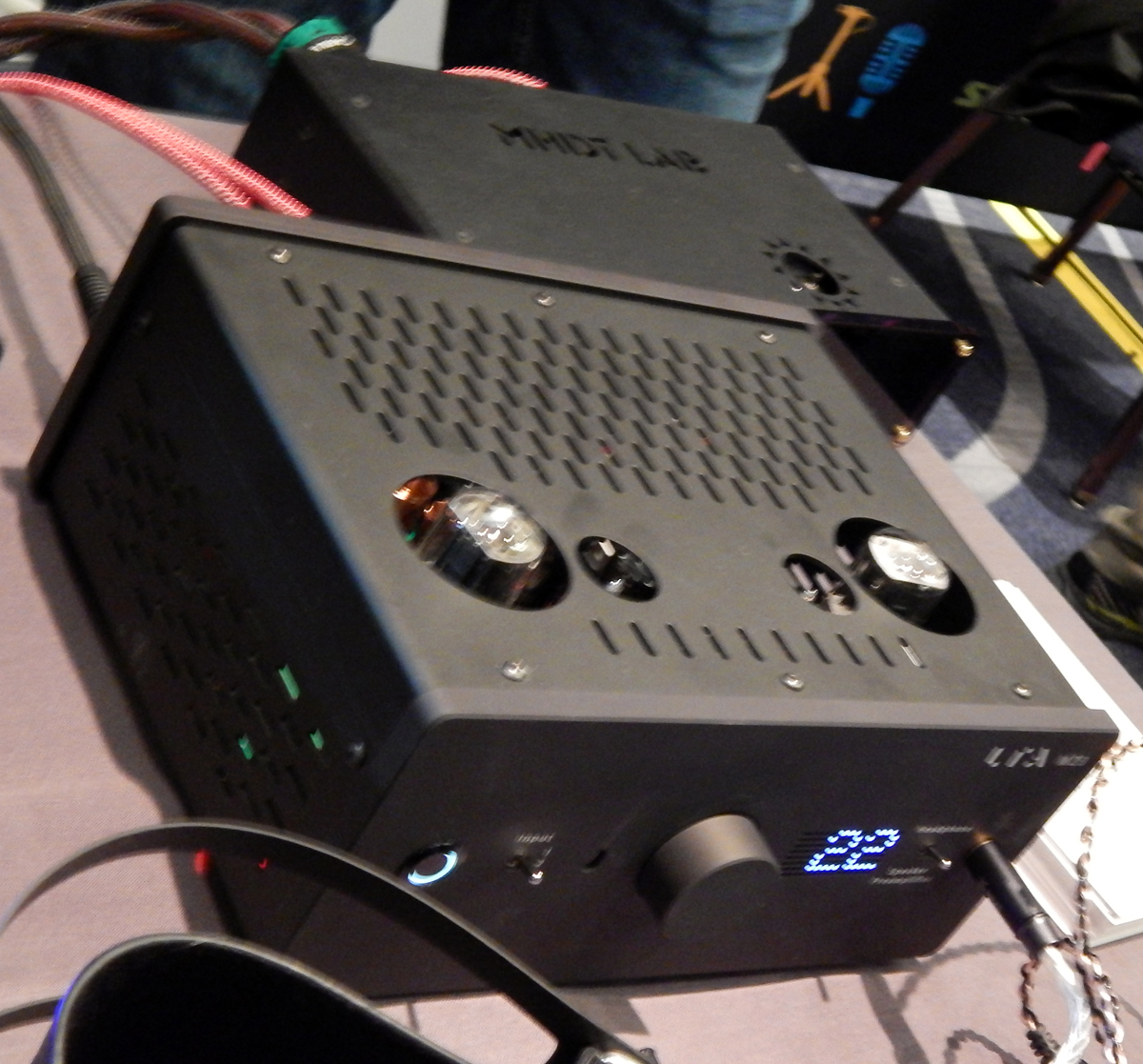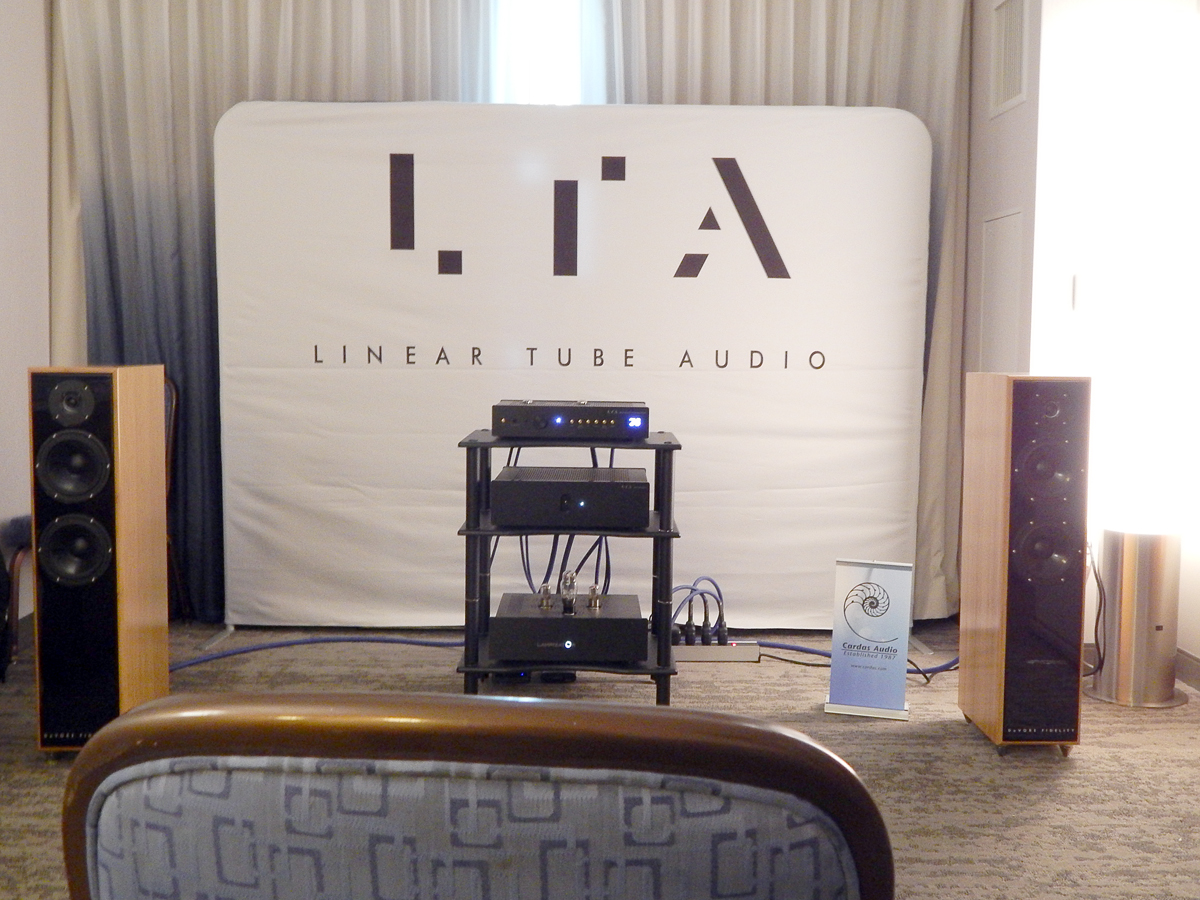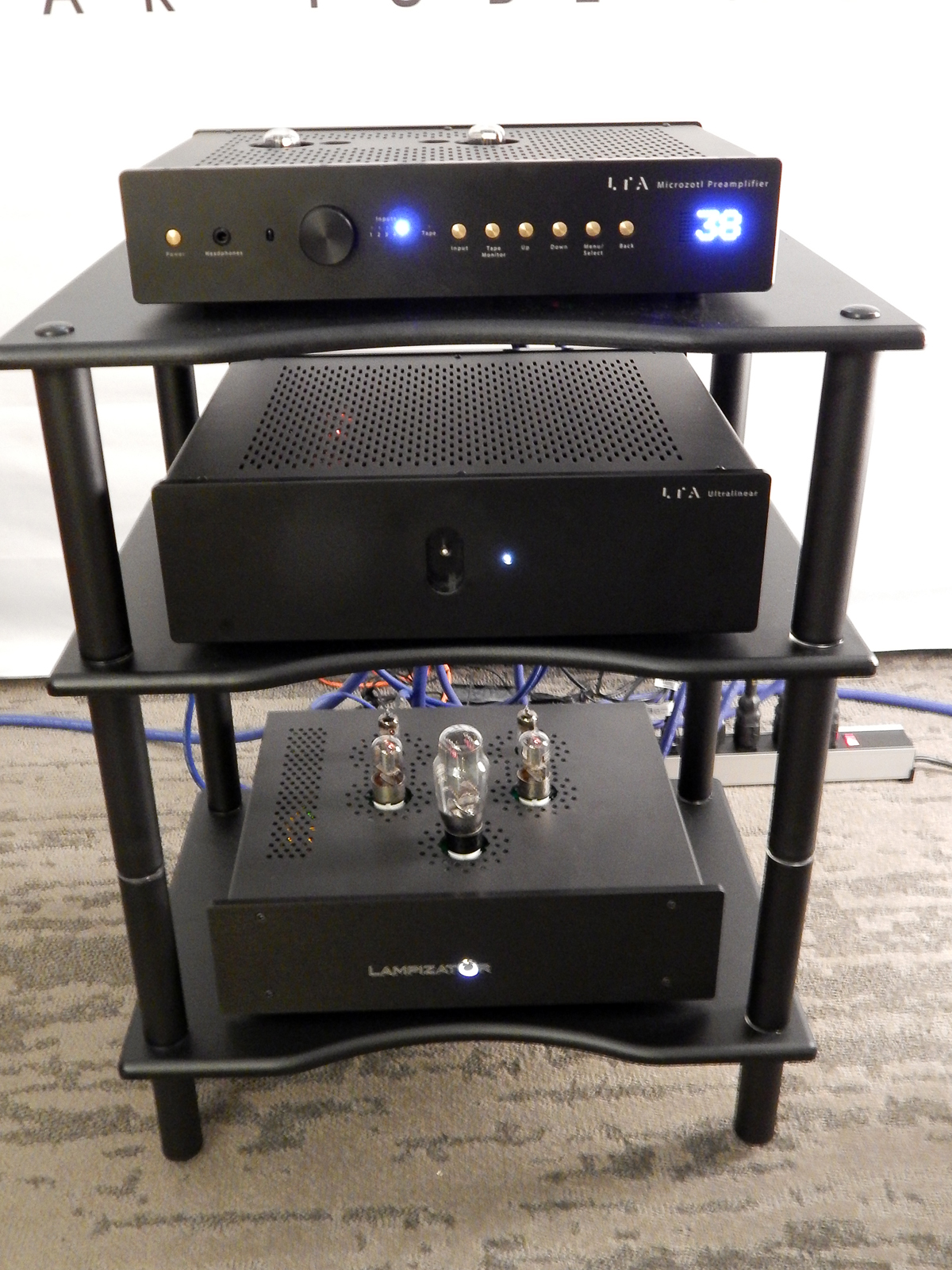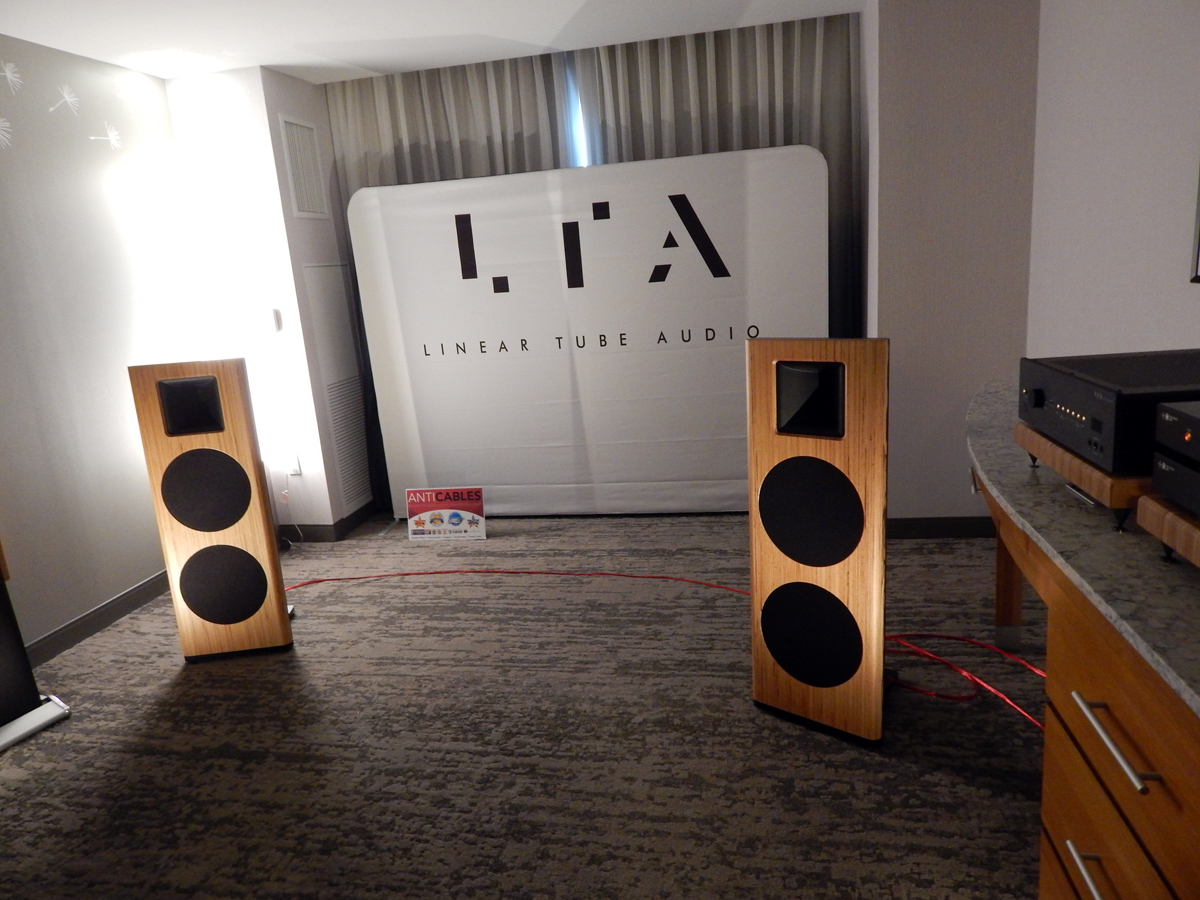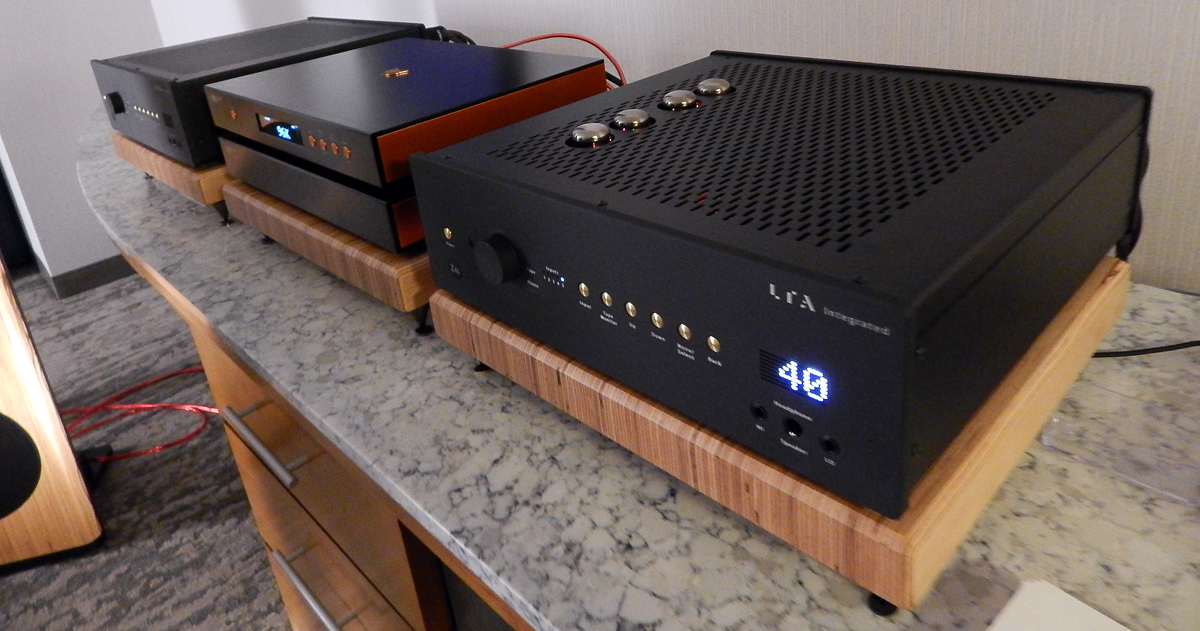 Stay tuned for Part 4 of our AXPONA 2022 coverage once again brought to you by Underwood HiFi, https://www.underwoodhifi.com/.