(October 13, 2023) Enjoy the Music.com, premium audio's celebrated site for 28 years is pleased to announce that we're sponsoring the Toronto Audiofest 2023 Saturday night Exhibitor / Press Party. Show exhibitors and members of the press are invited to join us on Saturday at 6:30 p.m. for fun friends, delectable drinks, and melodic music! Toronto Audio Fest 2023 celebrates the exciting fifth edition of its popular annual meeting from October 20th through 22nd at the Westin Airport Hotel. Back to the Westin Airport Hotel, the Toronto Audiofest isn't just the perfect place to discover, admire, and experience the world's finest audio components gathered under one roof. It's also a place to meet like-minded hi-fi enthusiasts away from the hustle and bustle of social media.
Located a footstep away from the Pearson Airport, the hotel will once again be transformed into a multitude of listening rooms to accommodate thousands of audio enthusiasts and hundreds of brands from the world of high-fidelity luxury audio. Visitors will hear, see, and touch many brands of audio products all under one roof.
At the Toronto Audiofest you'll find components for every budget, from a complete system for $5,000 to a single pair of speakers at $500,000 to satisfy all your preferences. There will also be enlightening conferences, live music, a record fair, a headphones lounge, and free ice cream, yes, free ice cream! Don't miss out on experiencing this fast-growing get-together of luxury premium audio/video manufacturers and retailers in Canada. We invite you to see World Premiere equipment announcements with other passionate music lovers.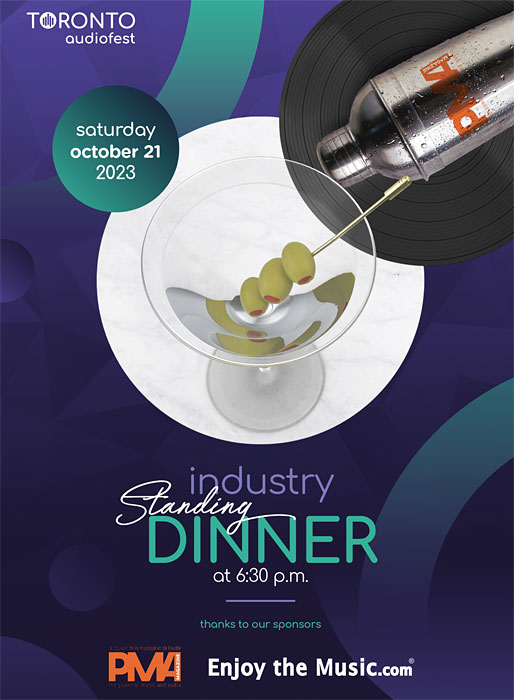 "Join us on Saturday evening for an industry and press cocktail followed by a gourmet dinner, where the industry can bond and meet new people in a festive ambiance," said event organizer Sarah Tremblay. "Thanks to our sponsors, who are committed to uniting our audio community. Steven R. Rochlin and his media partners hold a special place in our hearts, and we deeply respect them all. Audiofest 2023 promised to be a spectacular show with numerous Canadian and World premieres of the finest audio products. There will be live music every day, but make sure to attend Saturday at 2 p.m. in the PMA lounge, the launch of the new album of the G!ve Band, which will play live accompanied by a choir of seven singers."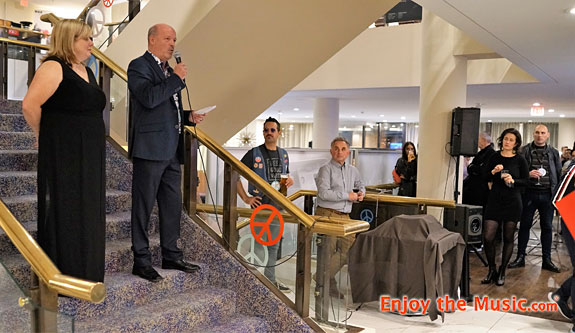 "With a shared passion for music, we are honored to once again sponsor the Toronto Audiofest," said Enjoy the Music.com's Creative Director Steven R. Rochlin. "This sensational annual luxury audio event showcases many of the very best premium audio and video gear in the world. We're truly honored to be working alongside Sarah Tremblay and Michel Plante of Toronto Audiofest, an amazing duo who have many years of experience in producing successful luxury events. From the curious observer, novice, or seasoned audiophile expert, their fascinating high-fidelity audio and video show showcases gear from entry-level to the ultimate in top luxury high-end exotica. We look forward to seeing you there."
We invite you to see Enjoy the Music.com's Toronto Audiofest 2023 show report.

About Toronto Audiofest
The Toronto Audiofest brings in thousands of visitors who want to hear, see, and touch hundreds of luxury brands all under one roof. It's a very friendly get-together of audio/video industry manufacturers, distributors, and retailers in Canada. This premium audio/video show will feature many exhibitors demonstrating some of the world's finest sound systems.
Toronto Audiofest's fourth edition of its popular annual meeting will be held from October 20th to 22nd at the Westin Airport Hotel in Mississauga. The hotel will be transformed into a multitude of listening rooms to accommodate many audio enthusiasts and exhibitors, representing hundreds of brands of products from the world of high-fidelity audio.
More information is available on their website.

About Enjoy the Music.com
Enjoy the Music.com is one of the Internet's leading information sites for premium luxury high-end audio and music news, equipment reviews, plus show reports of both home and portable gear since 1995. We have received critical acclaim from our worldwide readership, like-minded audio publications, and notables such as the President of the Consumer Electronics Association (now CTA). Being associated with nine print publications and four web-based magazines, Enjoy the Music.com is part of a robust grouping of magazines and journalists that features the best minds within the industry.
Enjoy the Music.com also offers its Review Magazine, the industry's most extensive online daily industry news, plus over 260 show reports online. During 2023, Enjoy the Music.com proudly sponsored all industry-operated luxury audio major events within the USA and Canada including the AudioCon Los Angeles, Capital Audiofest, Florida Audio Expo, Montreal Audiofest, Pacific Audio Fest, T.H.E. Show, and the Toronto Audiofest. This year we're also sponsoring the UK Audio Show. Readers can connect with Enjoy the Music.com on leading social media sites Instagram and Facebook.
Enjoy the Music.com is an internet partner with print magazines audioXpress, Australian Hi-Fi, Hi-Fi+, Hi-Fi Media, The Absolute Sound, plus vintage magazines Sound Practices and VALVE. We also collaborate with online publications eCoustics, Headphone.Guru, STEREO, and StereoNET.